Nintendo sued for "immoral" Mario Kart lootboxes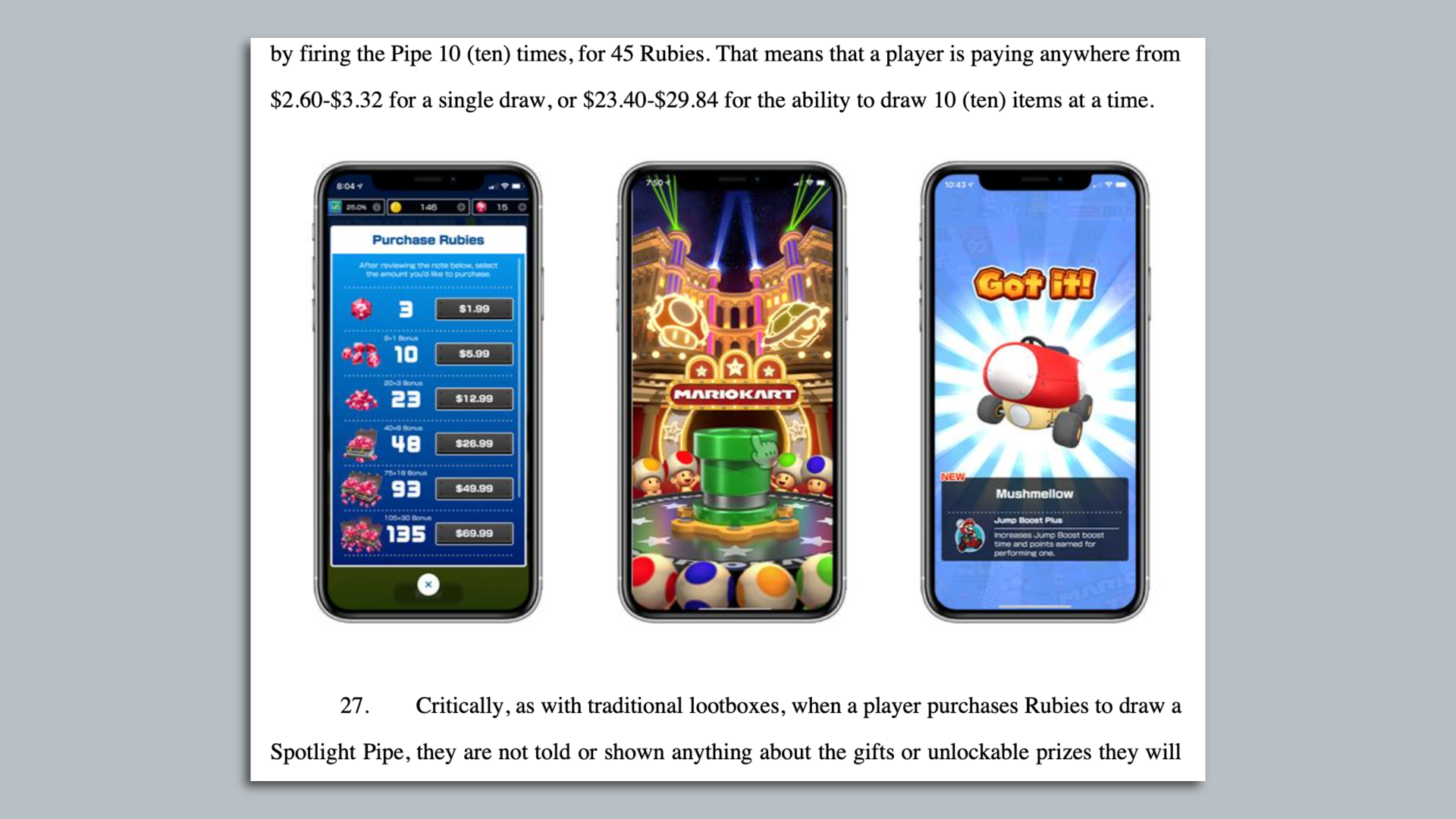 With backing from his father, a young gamer has filed a potential class action lawsuit against Nintendo over "immoral" microtransactions in the company's Mario Kart Tour mobile game.
Why it matters: The heat is now on Nintendo, as it's been on other big game companies, over one of the most lucrative and controversial ways to make money in the industry.
Details: The suit calls for refunds for all minors in the U.S. who paid to use Mario Kart Tour's "Spotlight Pipes," which delivered players in-game rewards using undisclosed odds.
Until last year, Mario Kart Tour players could spend real money to repeatedly activate the pipes, in the hope they'd randomly produce useful upgrades.
Between the lines: The suit alleges that Nintendo intentionally made the game difficult to proceed in without paying, using "dark patterns," an industry term for tricking consumers, to steer players toward spending more.
Such practices are alleged to violate Washington State's Consumer Protection Act and California business law.
The suit was filed in March but emerged on the federal docket last week after it was moved out of state court. Its plaintiff, identified as N.A., spent more than $170 on Mario Kart Tour microtransactions, via his father's credit card, which was linked to their Nintendo user account.
What they're saying: "Defendant's lootbox mechanism capitalized on and encouraged addictive behaviors akin to gambling," according to N.A.'s suit.
It states that minors are particularly susceptible to systems that involve surprise rewards.
Be smart: Nintendo discontinued use of spotlight pipes in Mario Kart Tour last September, switching to a system that lets players directly purchase items offered in its in-game shop.
The company did not respond to Axios' requests for comments about the suit.
Yes, but: A similar lawsuit filed early last year against Take Two Interactive over microtransactions was sent to arbitration last October in a partial win for the game-maker.
The same class action firm is representing plaintiffs in both cases.
The big picture: The monetization of modern video games has been drawing more governmental and legal scrutiny in recent years.
In December, the Federal Trade Commission fined Fortnite maker Epic Games $520 million in part for using "dark patterns" to dupe players into making unintentional purchases.
And, for years, European authorities have considered whether FIFA Ultimate Team, the $1 billion lootbox-style revenue stream for Electronic Arts, constituted illegal gambling or not.
In March, a Canadian judge said an attempted class action suit against EA's Ultimate Team was "bound to fail" in terms of an illegal gambling claim but could proceed with allegations of deceptive practices.
Sign up for the Axios Gaming newsletter here.
Go deeper