Hearing aids gain hipper reputation as "lifestyle" products after going OTC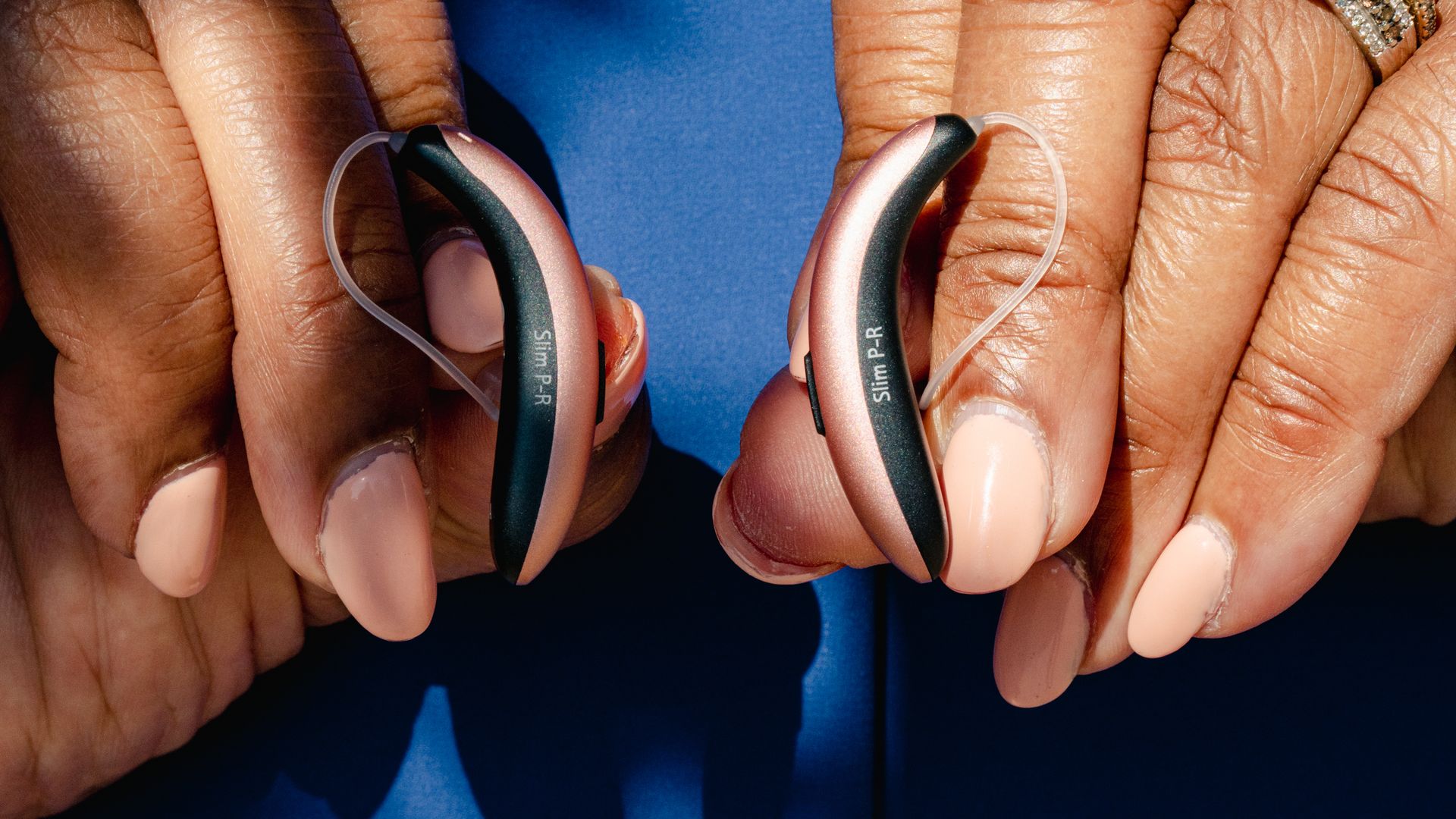 Consumer electronics giants like Sony and Bose have staked out a piece of the new market for over-the-counter hearing aids, disrupting a $10 billion segment that's been dominated by niche audiology companies.
The big picture: An FDA rule finalized seven months ago created easier-to-access options for the 30 million people in the U.S. suffering from hearing loss — and is making devices that once carried a stigma more of modern lifestyle convenience.
But the change has left consumers navigating the burgeoning market on their own and evaluating products that until recently were only available with a doctor's guidance.
Driving the news: Only about 20% of adults who could benefit from hearing aids actually use them, many because of access and affordability issues and also, because they don't realize or want to admit they need them.
OTC hearing aids retail for $1,000-3,000 a pair, less than many prescription hearing aids that can cost as much as $4,000.
The non-prescription products were found to increase uptake and were cost-effective as long as they're at least roughly half as beneficial to patient quality of life as traditional hearing aids, a study published Thursday in JAMA Otolaryngology–Head & Neck Surgery found.
Another study last month in the American Journal of Audiology found individuals with mild to moderate hearing loss were able to use self-fitted hearing aids effectively.
"Hearing aids are not what we're used to 10, 20 years ago where they're big clunky things behind your ears," De Wet Swanepoel, a co-author of the study and a professor of audiology at the University of Pretoria, told Axios.
Yes, but: It's still early in the evolution of the over-the-counter offerings, but Kristen Conners, a licensed audiologist in Palos Park, Illinois, said the over-the-counter market can't yet match what patients get seeing a doctor.
She expects people who have never been treated for hearing loss may be most curious about devices sold directly to consumers. But she said she doesn't believe existing hearing aid users will gravitate to that market after having the in-office experience of having aids custom-fitted and programmed for their level of hearing loss. "They're not going to want to sacrifice something they already have," she said.
The over-the-counter prices may also not make much sense, she said. A pair of Sony-branded hearing aids might cost $1,400, while an entry level-pair of prescription hearing aids start at around $800 and have better sound quality, Conners said.
While private health plans and Medicare typically doesn't cover the cost of hearing aids, she's found a growing number of insurers willing to pick up at least part of the tab for prescription versions.
Taxpayers can tap their flexible spending accounts to pay for over-the-counter hearing aids or claim a medical deduction for the cost, per NPR.
Between the lines: The over-the-counter hearing market was worth about $1 billion in 2022 with projections to grow to $1.7 billion by 2030, according to Research and Markets, juiced by early entrants who began selling over the counter products through hearing professionals in advance of the FDA rule change.
Growth is being driven by an aging population. But there's also an increasing number of younger people who are experiencing hearing loss — likely driven by the proliferation of the use of headphones — that's made hearing technology an appealing option, experts say.
"We thought we were going to be serving an older population. What we noticed with our data is a good portion of our users are below the age of 35 years old," said Chris Ellis, CEO of AudioCardio, a mobile wellness app that assesses hearing and provide physical therapy-like treatments, told Axios. The company plans to seek FDA approval to market the technology as a medical device.
As the technology has evolved, Conners said she's seen attitudes change, particularly among the younger set. "My 30- and 40-and 50-year-olds don't see it as 'I'm getting older. It's just something that needs to be addressed so I can communicate at work better or at home," Conners said.
Be smart: COVID helped prime this market as people became more comfortable taking the lead on their health care from their homes, Swanepoel said.
Mask-wearing during the pandemic also led to a huge uptick in people seeking care for mild hearing loss, Conners said. 'That was huge issue for people. They are more aware of it because they were wearing masks, they couldn't hear in the stores. They couldn't use the visual cues they normally would use."
There's also a growing recognition of how hearing can impact our health with studies indicating hearing loss is linked to dementia, the risk for falls and increased risk for anxiety and depression.
Then, Swanepoel said, "There is a destigmatization happening with consumer brands coming into the hearing space," Swanepoel said. Both prescription models and over-the-counter hearing aids have evolved to allow users to use Bluetooth to stream calls or music, as well as rechargeable batteries.
"Previously people didn't recognize what these hearing aid brands were. But now you see a Bose logo on a device, or Jabra or Sony, that does change the narrative for people. It makes it a little more acceptable," Swanepoel said.
Hearing aids are now available in a variety of shapes, sizes and colors aimed at either disappearing or standing out.
Companies like the startup Orka aim to make hearing aids as cool as Apple's AirPods, Forbes wrote earlier this year. Meanwhile researchers have found evidence that the actual Apple AirPods may serve as hearing assist devices.
People have become accustomed to walking around with wireless devices in their ears, making it easy to market these products as "more about your lifestyle," Justin Miller, co-founder and managing director of Nuheara, which licensed HP's name for its device, told Fast Company.
Zoom in: Still, the growing market for hearing aids can bedevil consumers unaccustomed to shopping for assistive devices.
"When I started the process, the main thing I experienced was it's difficult to know where to start and how to start, just figuring out which way was up," Blake Cadwell, 32, told the New York Times recently. He created Soundly, a website that allows users to compare hearing aid brands and prices.
Providers have warned there is a learning curve that comes with these devices, which typically require guidance from experts. That's also something researchers found was crucial to consumer success with the devices.
While the OTC category is aimed at helping those with mild to moderate hearing loss, those who have more serious signs of hearing loss should still see a hearing professional, federal officials advised.
The bottom line: "We think OTC has massive potential but we also need to understand the nuance there that it's not just a product," Swanepoel said. "It's a product that needs to be coupled with the necessary support, counseling handholding processes."
Go deeper