Planes are more crowded — with dogs and cats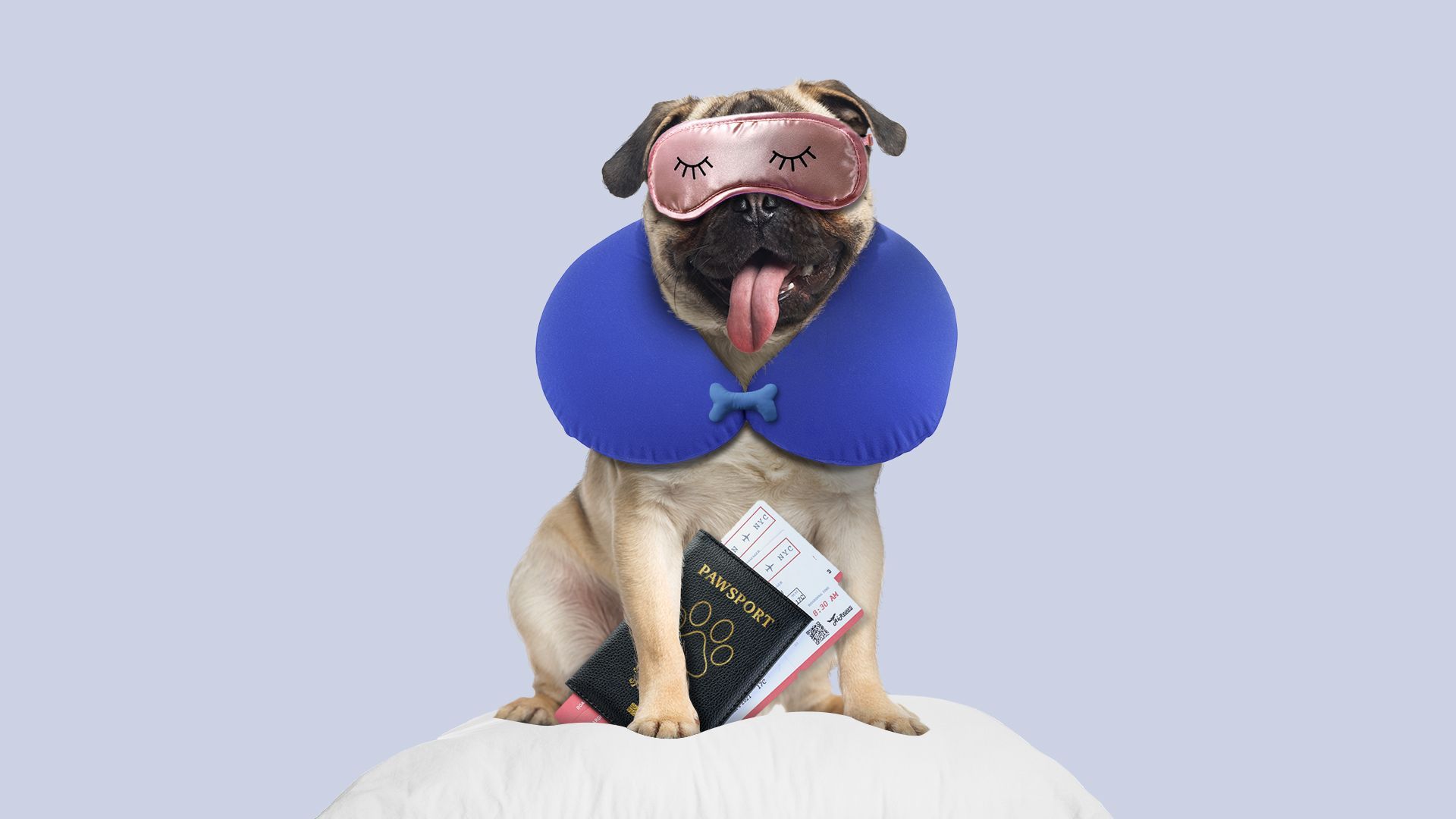 Nobody likes being cramped on a flight for several hours — especially when your seatmate keeps licking you.
Take it from me. My bare arm tasted delicious to the fluffy white pup sitting next to me on a recent Delta flight.
Why it matters: Passengers put up with a lot when they travel. Sitting cheek to jowl with other people's pets increasingly seems to be part of the experience.
By the numbers: Industrywide statistics are hard to come by, but Delta Air Lines alone reports that approximately half a million pets (excluding service animals) travel onboard every year.
The big picture: Pets are like family members for many people, and they wouldn't consider leaving Fido or Fifi home when they travel any more than they'd leave behind a child.
Isolation during the pandemic intensified many people's attachment to their fur babies.
More than 23 million American households — nearly 1 in 5 nationwide — adopted a pet during the pandemic, according to the American Society for the Prevention of Cruelty to Animals (ASPCA).
Service animals have always been allowed on planes, but over the years airlines were having to accommodate a wider variety of creatures that travelers say they need for emotional or psychological support.
After complaints from airline crews and passengers, the Federal Aviation Administration in 2021 tightened the rules for service animals.
Now the FAA defines a service animal as a dog that has been "individually trained to do work or perform tasks for the benefit of a qualified individual with a disability, including a physical, sensory, psychiatric, intellectual, or other mental disability."
No more emotional support peacocks or pigs onboard.
Yes, but: Most airlines still allow passengers to travel with small dogs or cats, and in some cases birds.
Animals are supposed to remain in their carrier, which must be stowed under the seat like all carry-on baggage, per FAA rules.
But many people bend those rules. On a recent packed plane, Axios' Dan Primack sat in Comfort class next to a dog with its own seat, curled under a blanket.
Larger dogs are usually relegated to a crate in the cargo hold, which can be stressful for pups and owners alike.
The intrigue: New pet-friendly private airlines are helping animals travel comfortably with their people, as the Washington Post and the New York Times recently reported.
On NetJets charters, for example, pets under 150 pounds can occupy a passenger seat, as long as they are belted during taxi, takeoff and landing. Larger animals must remain on the floor, out of the aisle, and leashed to a passenger seat belt.
On VistaJet flights, pets are offered prime cuts of meat and fish, or "natural flower essences" in their water to help them relax.
K9 Jets, a private jet charter company based in Birmingham, England, specializes in long-haul flights for jet-setting pets.
It's a pricey way to travel, though: New York to London via K9 is $8,925.
If you're afraid of dogs or allergic to cats, well... too bad.
The FAA says you're exposed to pet dander on every flight, even without any animals onboard, because passengers carry allergens into the cabin on their clothes.
The agency suggests flying on an airline that doesn't allow pets in the cabin. (Good luck with that.)
If that's not an option and you're near a pet, you can ask to be reseated.
Pro tip: Axios' Alexi McCammond says she travels everywhere with her dog, Marlin.
"It's $125 per ticket. That's roughly the same amount I'd pay for a dog sitter for two nights, and he's basically become a little extension of me, so I've found it's just easier and nicer when I bring him along."
"The real trick is that when you have a pet, you should board with the group at the very beginning that needs extra time or assistance because you actually do need time to get the carrier in and under those tiny seats."
Have you had any airborne animal encounters, or do you regularly take your pets flying? Share your story with us at [email protected].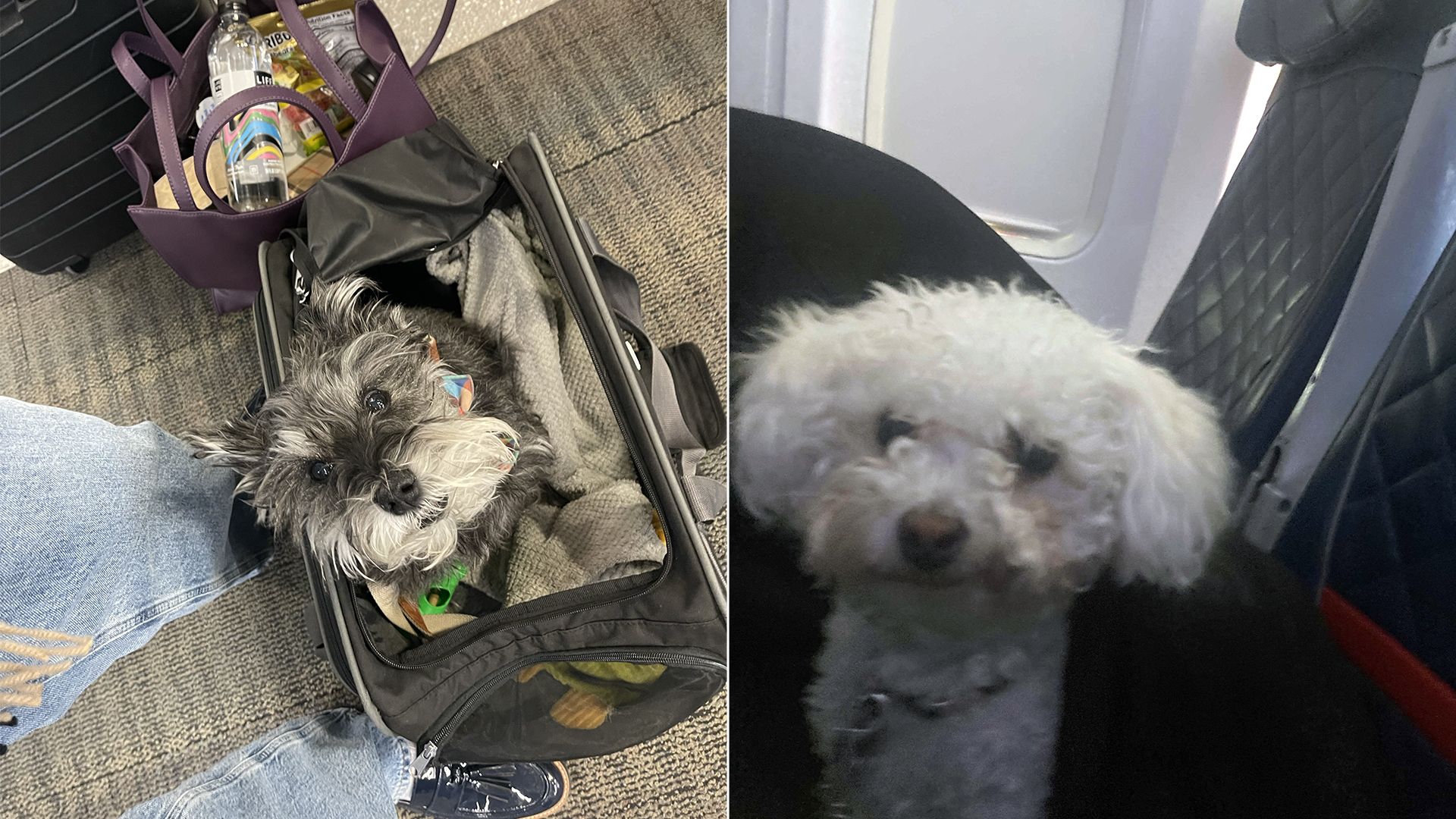 Go deeper