Syria's Assad sheds pariah status despite 12 years of brutality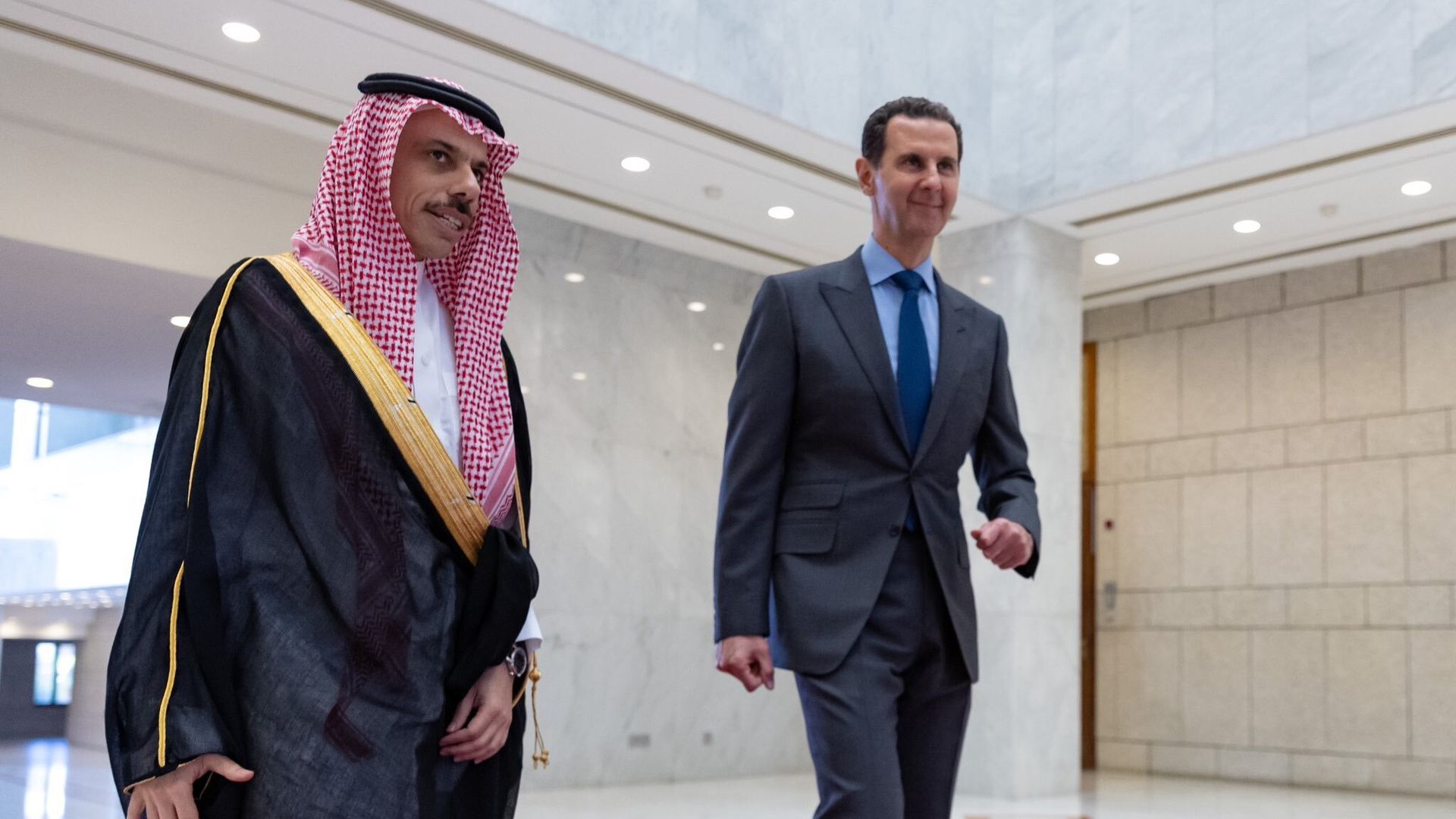 Syrian President Bashar al-Assad arrived in Saudi Arabia Thursday to attend an Arab League summit, 12 years after he was shunned for ordering a violent crackdown that left entire cities destroyed and tens of thousands of civilians dead.
The big picture: Assad didn't work his way back into the fold through meaningful concessions or reforms. He's still in power and back at the table due to a decade of determined brutality and shifting regional winds.
More than half of Syria's population was displaced by the civil war, with 6 million refugees fleeing abroad. Most of those who remain in the country require humanitarian assistance.
Several Arab countries including Saudi Arabia supported rebel groups seeking to oust Assad. The Saudis have pursued detente with one of Assad's major backers, Iran, and are now hosting the Syrian dictator — two steps that would have been unthinkable even a few years ago.
State of play: Countries in the region want Assad to pursue a reconciliation process that allows refugees to return home and stops more from fleeing, and to restrict the flow of drugs out of Syria.
The country remains divided and unstable, with Iranian, Russian, Turkish and U.S. troops present, along with ISIS remnants, and Israel conducting cross-border strikes on Iranian and Hezbollah targets.
Efforts by the Obama and Trump administrations to work with Moscow to establish a step-by-step process to resolve some of those issues yielded little progress, acknowledges James Jeffrey, a veteran diplomat who served as U.S. envoy for Syria engagement from 2018-2020.
The recent normalization steps in the region are driven by a general sense that isolation has failed, and the U.S. — which has long opposed detente with Assad — "doesn't care about Syria and is too distracted by the war in Ukraine" to push back, Dareen Khalifa, a Syria analyst at the International Crisis Group, tells Axios.
Between the lines: "This [U.S.] administration clearly had no taste for Syria, probably based on the bitter set of experiences they had repeatedly with Syria in the Obama administration," Jeffrey tells Axios.
Jeffrey argues that deprioritization has a cost, however, given the influence Iran and Russia wield after helping Assad keep power.
"In year two of the Russian aggression in Ukraine, aided and abetted by Iran, to not care about a Russian-Iranian strategic victory in the middle of the Middle East — that's the thing I can't f***ing figure out, man," says Jeffrey.
The U.S. discouraged the Arab League from readmitting Syria, and Secretary of State Tony Blinken said ahead of the summit that Washington will not normalize relations with Assad "and does not support others normalizing" absent "UN-facilitated political progress."
A senior U.S. official told Axios it would be "a bit overwrought" to view Assad's participation at the summit as a "transformative moment in Middle East history," and said that while there had been disagreement with Arab states on "tactics and sequencing" they was "generally alignment on ultimate objectives" and on U.S. sanctions remaining in place.
What's next: Officials from Jordan, which is playing a key role in Syria diplomacy, have said it's now time for "an Arab-led political path."
Syria's deputy foreign minister told the Asharq al-Awsat newspaper: "We all hope that after the year of the 'Arab hell,' we can move toward more dialogue, mutual respect and non-interference in domestic affairs."
Jeffrey says the Jordanian initiative has its merits, but argues Arab countries have limited leverage over Assad, particularly once they've given him the symbolic win of normalization.
Big decisions on foreign troops, sanctions and reconstruction can't be made by the Arab states alone, he notes.
The bottom line: While the summit is unlikely to have any tangible impact on the massive issues still facing Syria, "that doesn't mean this won't have significant ramifications," including in terms of the message it sends other dictators, Khalifa says.
Go deeper