Boeing's new tool lets airlines plan for net zero emissions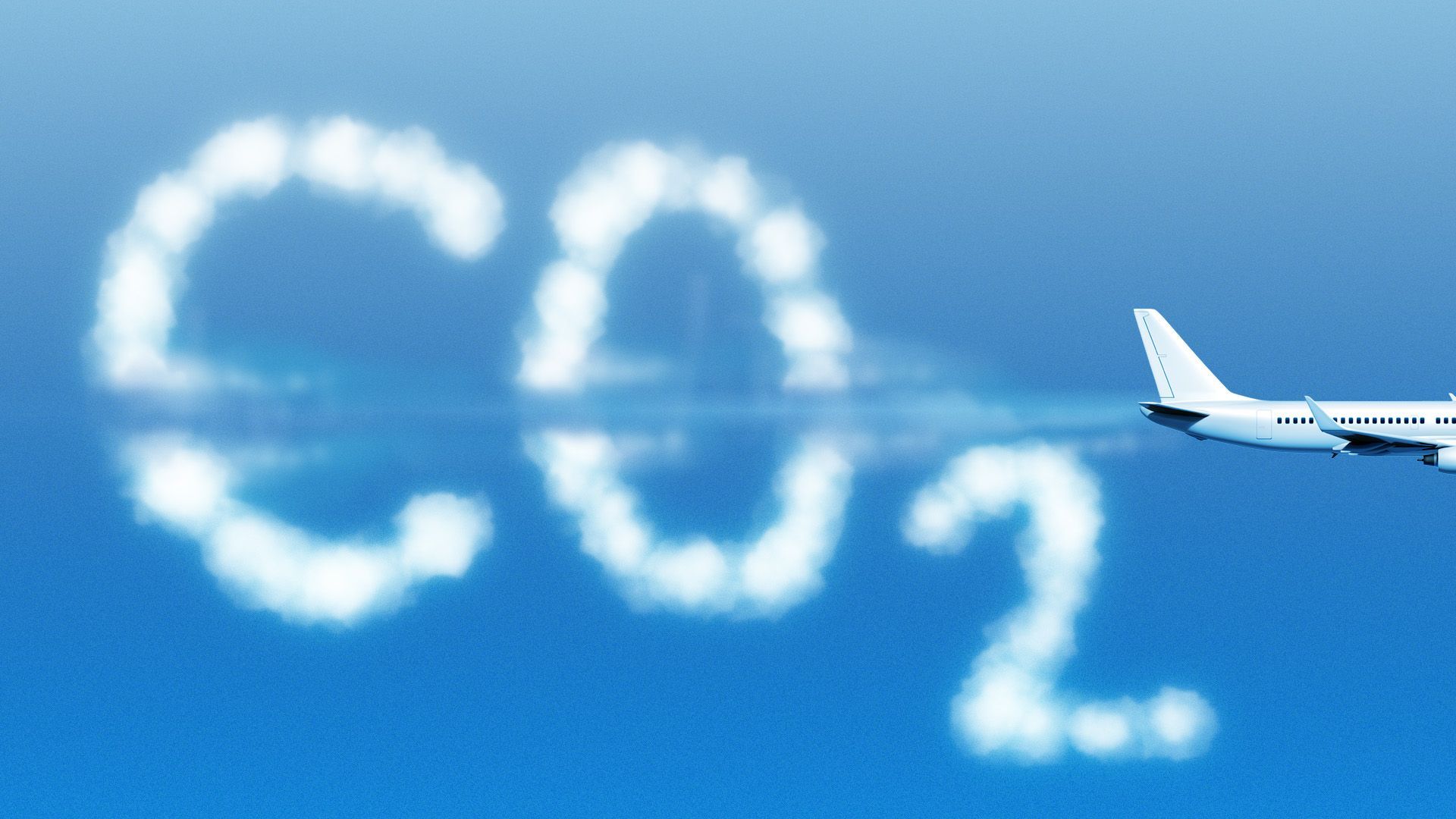 As the aviation industry wrestles with meeting its net zero emissions goal by 2050, Boeing is offering a new tool meant to help executives, policymakers and other leaders explore the risks and rewards of potential pathways.
Why it matters: Aviation's global CO2 emissions have doubled since 1987 and now account for about 2.5% of the worldwide total, according to the World Economic Forum.
CO2 output will keep growing as demand for freight and passenger air travel increases — unless the industry undertakes substantial measures to reverse the trend.
What's happening: The urgent decarbonization challenge is front and center this week for government leaders and aviation experts.
U.S. Transportation Secretary Pete Buttigieg met Monday in Detroit with his counterparts from the U.K., Canada and Singapore to find ways to accelerate sustainable aviation fuel (SAF) development.
And today, aviation leaders, policymakers and investors are gathering in Seattle to examine a complex range of solutions, including expanded use of SAF, deployment of innovative new aircraft, and various carbon offsets outside aviation.
Driving the news: Boeing's new modeling tool, launching publicly today, will help stakeholders play around with different scenarios over time before deciding how best to invest their capital resources.
The software, dubbed Cascade, allows users to consider advancements in technology, energy and aircraft operations in the context of future growth in aviation demand.
It can also factor in emissions offsets and carbon removal opportunities.
That holistic approach, designed to improve upon conventional models, can help stakeholders visualize the fastest, most economical path to decarbonization, Boeing says.
What they're saying: "It's as much meant to engage government agencies and energy companies as it is the airline industry," Boeing chief sustainability officer Chris Raymond tells Axios.
"They'll be able to explore and discuss different scenarios, and see in a real-time way what the impact would be," he said.
With input from a users' group that includes the University of Cambridge, the Massachusetts Institute of Technology, the International Air Transport Association and NASA, Raymond says Cascade "will get better and better" over time.
How it works: Boeing gave Axios a preview of Cascade to demonstrate that there's no silver bullet to decarbonizing air travel — instead, it will require layered solutions.
The trick is figuring out which combination of strategies will reduce emissions fastest at the lowest cost.
What they found: Cascade has already delivered some important lessons inside Boeing.
"It reminded us that we have to look at the total life cycle emissions of any of these solutions," Raymond says.
Promising technologies, such as electric- or hydrogen-powered aircraft, might not be as impactful when you factor in the emissions involved in producing their batteries or fuel, for example.
Other key takeaways:
SAF is essential. Made from cooking oil, animal fats and other waste, SAF is the most immediate solution and will likely be the largest contributor to meeting aviation's net zero goals.
SAF can be blended with regular jet fuel up to 50% without any changes to today's fueling infrastructure.
"We're going to need SAF no matter what you believe hydrogen or electricity will do for this industry," Raymond says.
Airlines for America expects airlines to use 3 billion gallons of SAF by 2030, equivalent to about 17% of all jet fuel used in 2022.
Yes, but: SAF development is still in its infancy, which is why countries and industry leaders want to ramp up production.
Replacing aging fleets with more efficient, modern planes can significantly reduce CO2 emissions even without SAF.
But planes are expensive, and airlines only replace them every 20-25 years.
Low-emission electric- and hydrogen-powered aircraft make sense for shorter flights of less than 500 miles or so — assuming the energy comes from renewable sources.
But such aircraft are still under development and will require certification and the buildout of new infrastructure, which will take time.
The bottom line: There is no easy or quick answer to decarbonizing aviation.
Go deeper