Public trusts childhood vaccines but support for school mandates wanes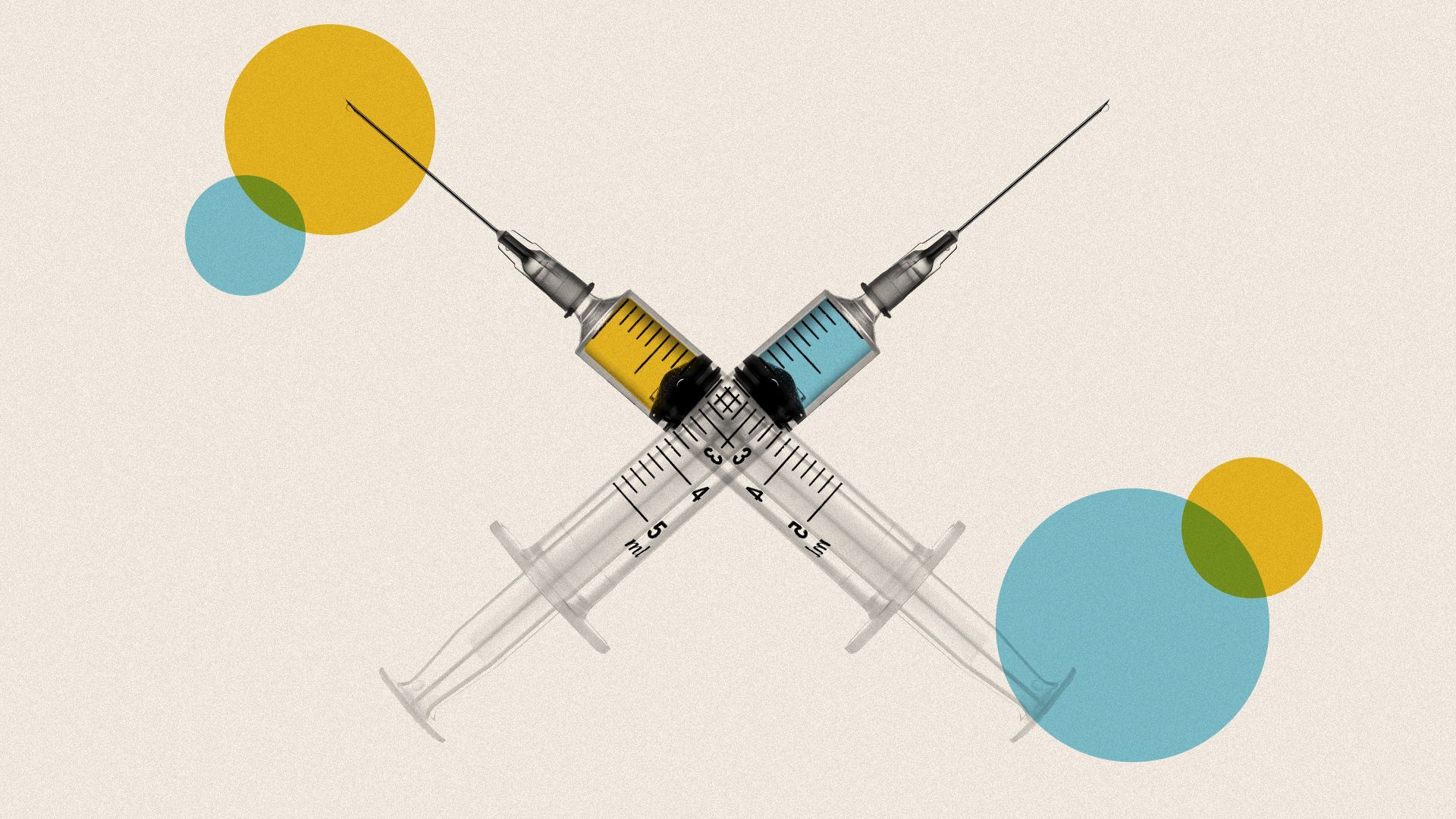 Americans are much more confident in routine childhood vaccines than COVID-19 shots, but support for vaccine requirements in schools has slipped from pre-pandemic levels, according to a new Pew Research Center study.
Why it matters: Responses from the study of more than 10,000 adults suggest that vaccine hesitancy around COVID hasn't fueled significantly wider anti-vax sentiment.
But the share who say parents should be able to decide not to vaccinate their children now stands at 28%, up 12 points from four years ago.
What they found: 88% of Americans believe the benefits of childhood vaccines for measles, mumps and rubella outweigh the risks, compared to 62% who have the same views about COVID-19 vaccines.
70% say healthy children should be required to be vaccinated in order to attend public schools, down from 82% in 2019 and 2016.
There are major partisan splits over school requirements, with 57% of Republicans supporting them, down from 79% before the pandemic. White evangelical Protestants, in particular, have become much less supportive.
Democrats' support has held steady over the last four years, at around 85%.
Fewer than half of U.S. adults (45%) believe the preventative health benefits of COVID-19 vaccines are high. And a majority of adults (58%) see a medium to high risk of side effects attached to the COVID shots.
The end of the COVID-19 public health emergency has left Americans in roughly three groups when it comes to COVID vaccination decisions, the study found.
Roughly a third are enthusiastic about vaccines and up-to-date, while a similar, more ambivalent share is fully vaccinated but not recently boosted. A smaller segment (21%) has deep doubts about the shots.
While the COVID vaccines have been hailed as game-changers that showcased the power of biomedical science, most respondents at least somewhat agree with the statement "we don't really know if there are serious health risks from the COVID-19 vaccines."
Between the lines: The study found doctors remain a trusted source of information, with most adults saying they have a lot (45%) or some (43%) confidence in their physician or other health care provider to give accurate information about measles, mumps and rubella vaccines.
Concerns about potential dangers are more pronounced for mothers than fathers, with about half of mothers with a child under age 18 rating the risk of side effects from MMR vaccines as medium or high, a full 15 percentage points higher than the share of fathers with those views.
While Americans make distinctions between vaccines, study authors still found a strong link between COVID-19 vaccination status and MMR vaccine views. For example, 68% of adults who didn't get a COVID-19 vaccine say the statement "I worry that not all of the childhood vaccines are necessary" describes their own views very or somewhat well.
The report is based on a survey of 10,701 U.S. adults conducted March 13-19.
Go deeper