Pro-democracy parties win historic victory in Thailand's election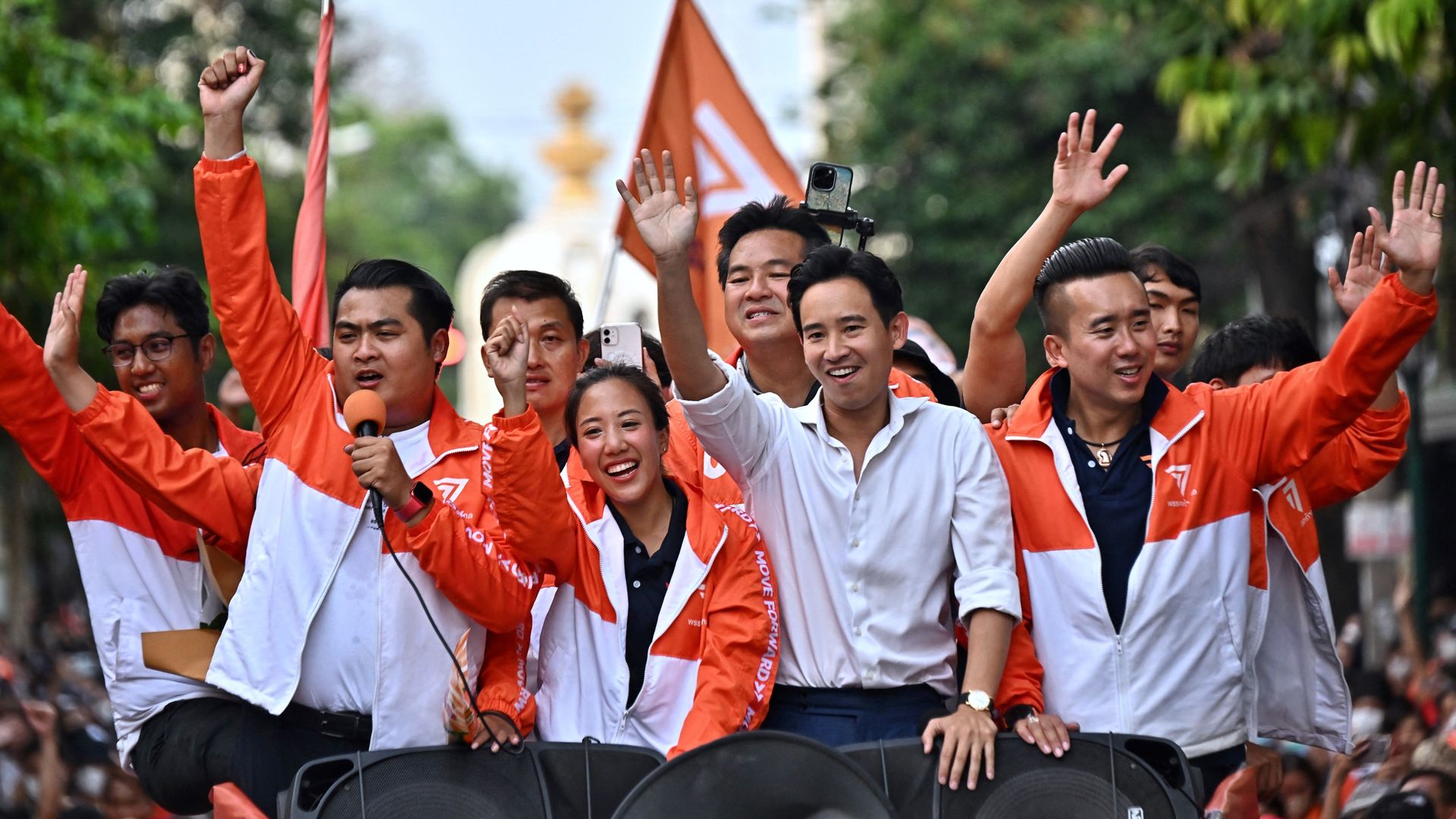 Thai voters made clear in Sunday's election that they want change. The question is now whether the military-aligned establishment will let them have it.
Why it matters: Sunday's result was a political earthquake, not just because pro-democracy parties trounced pro-military ones, but also because the progressive party that finished first, Move Forward, campaigned on the once-taboo topic of reforming the monarchy.
Move Forward leader Pita Limjaroenrat, a former business executive and relative newcomer to politics who studied at Harvard and MIT, introduced himself on Monday as "the next prime minister of Thailand."
The twin pillars of Thailand's establishment, the military and the monarchy, have the power to block him. Thailand has seen 12 successful coups since 1932, and parties or candidates have frequently been disqualified from holding office even after elections were held.
But such an intervention would risk "major street violence" and create "an incredibly unstable situation," says Joshua Kurlantzick, senior fellow for Southeast Asia at the Council on Foreign Relations.
"Thailand is the only upper-middle income country that regularly has coups," Kurlantzick tells Axios. "Young Thais are tired of the economy and politics being stuck in this archaic past, run by generals and kings."
The big picture: Before Sunday's shock result, the election had been billed as a showdown between the military and the Shinawatra political dynasty, represented by the Pheu Thai party.
Parties associated with former Prime Minister Thaksin Shinawatra had won the most seats in every election since 2001, but were repeatedly elbowed out of power by the coup-prone military.
This time, Thaksin's daughter Paethongtarn Shinawatra was on the ballot, facing off against Prime Minister Prayuth Chan-ocha, who led a 2014 coup and retained power after the 2019 election. His popularity has since collapsed.
Meanwhile, massive pro-democracy protests broke out in 2020, with student leaders demanding reform not just of the military, but also of the monarchy.
That was unprecedented in a country where lèse-majesté laws mean criticizing Thailand's king can result in jail time. Dozens of protesters remain in prison.
In this election, Pheu Thai stuck to its pitch of lifting up lower-income voters but avoided the reform proposals that had energized the youthful protesters.
"Pheu Thai fought the wrong war, the populism war that it already won. Move Forward takes the game to the next level with institutional reform. That's the new battleground in Thai politics," Thitinan Pongsudhirak, a political scientist at Chulalongkorn University in Bangkok, told Reuters.
By the numbers: Move Forward won an estimated 151 of the 500 lower house seats, nearly sweeping the capital, Bangkok. Pheu Thai won 141. Pita announced on Monday that they'll try to form a government with four smaller parties, bringing the bloc's total to 309 seats.
That clear majority could nonetheless be insufficient because a new constitution brought in under Prayuth's junta gave 250 military-appointed senators a vote on prospective prime ministers. If the Senate votes against Pita's coalition, it would be rejected.
But Prayuth's party and another military-backed party only won a combined 76 seats.
Even if the pro-military bloc gets other nonaligned parties onside, it could only cobble together a very weak minority government. That is, unless it enticed Pheu Thai to join forces, though that currently looks unlikely.
What they're saying: Paethongtarn Shinawatra congratulated Pita and said she expects their parties to be able to work "smoothly together."
Prayuth said he respects "the democratic process and the election results," a message that's undercut somewhat by his recent history as a coup leader.
For his part, Pita said there would be "a hefty price to pay for someone who's thinking of abolishing the election results or forming a minority government," adding: "I don't think the people of Thailand would allow that to happen."
What's next: Thailand's Election Commission has 60 days to confirm the results, during which time Pita will likely work to solidify his coalition, while the other major players will plan their next moves.
Go deeper