"Osprey get out:" Okinawa protesters call for closure of U.S. military bases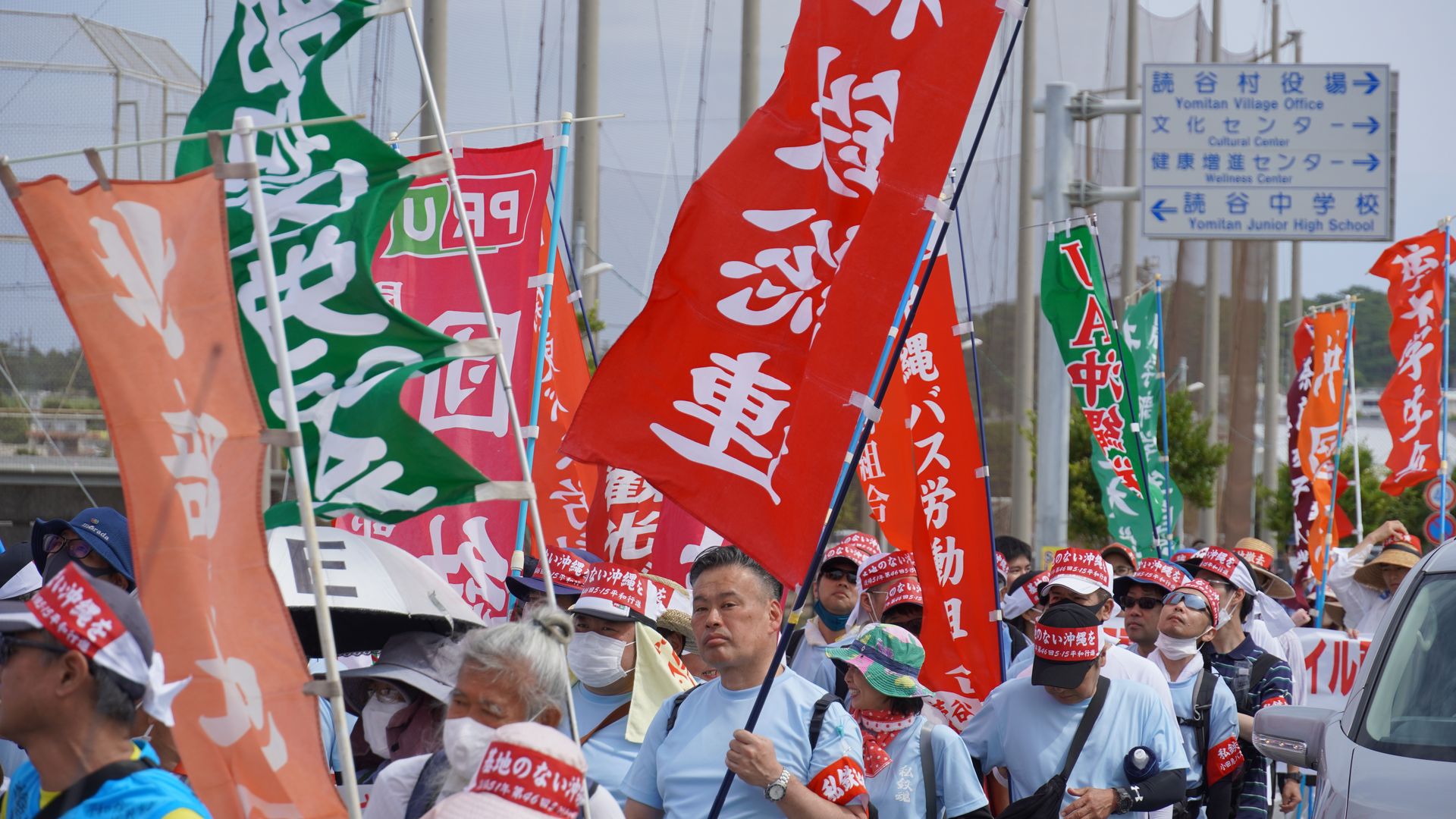 OKINAWA — Thousands of protesters gathered near Kadena Air Base in Okinawa on Saturday to call for the closure of U.S. military bases on the Japanese island.
Why it matters: The annual protests come as Okinawa is increasingly at the center of a possible superpower showdown in the Pacific.
The island's location — just a one-hour flight east of Taiwan — makes it key to any U.S. military response if China were to attack Taiwan.
What they're saying: Protesters chanted "Give us back our peaceful life!" and "Osprey get out!" — a reference to the military helicopters often seen in the skies over the island.
A U.S. Marines spokesperson on the island did not respond to a request for comment.
Background: The U.S. military has had an extensive presence on the island since 1945, and occupied it until 1972, when it was returned to Japanese sovereignty.
Chemical contamination in areas close to the bases, noise pollution, and crimes committed by U.S. servicemen, including rape, have in the past enraged the population and sparked massive protests.
Protesters told Axios that they feel they have long been forced to bear a disproportionate burden of the U.S.-Japan military alliance. Okinawa makes up less than 1% of Japan's total land area but hosts more than 70% of all U.S. military facilities in Japan.
Okinawa Gov. Denny Tamaki has lobbied the Japanese and U.S. governments to reduce the military presence on the island.
President Biden said last year that he was "profoundly grateful for Japan's resolute support for democracy, freedom, and the rule of law and for Okinawa's contribution to advancing these ideals."
This story is part of a series supported by the Pulitzer Center for Crisis Reporting.
Go deeper