EPA issues plan to clamp down on power plant carbon emissions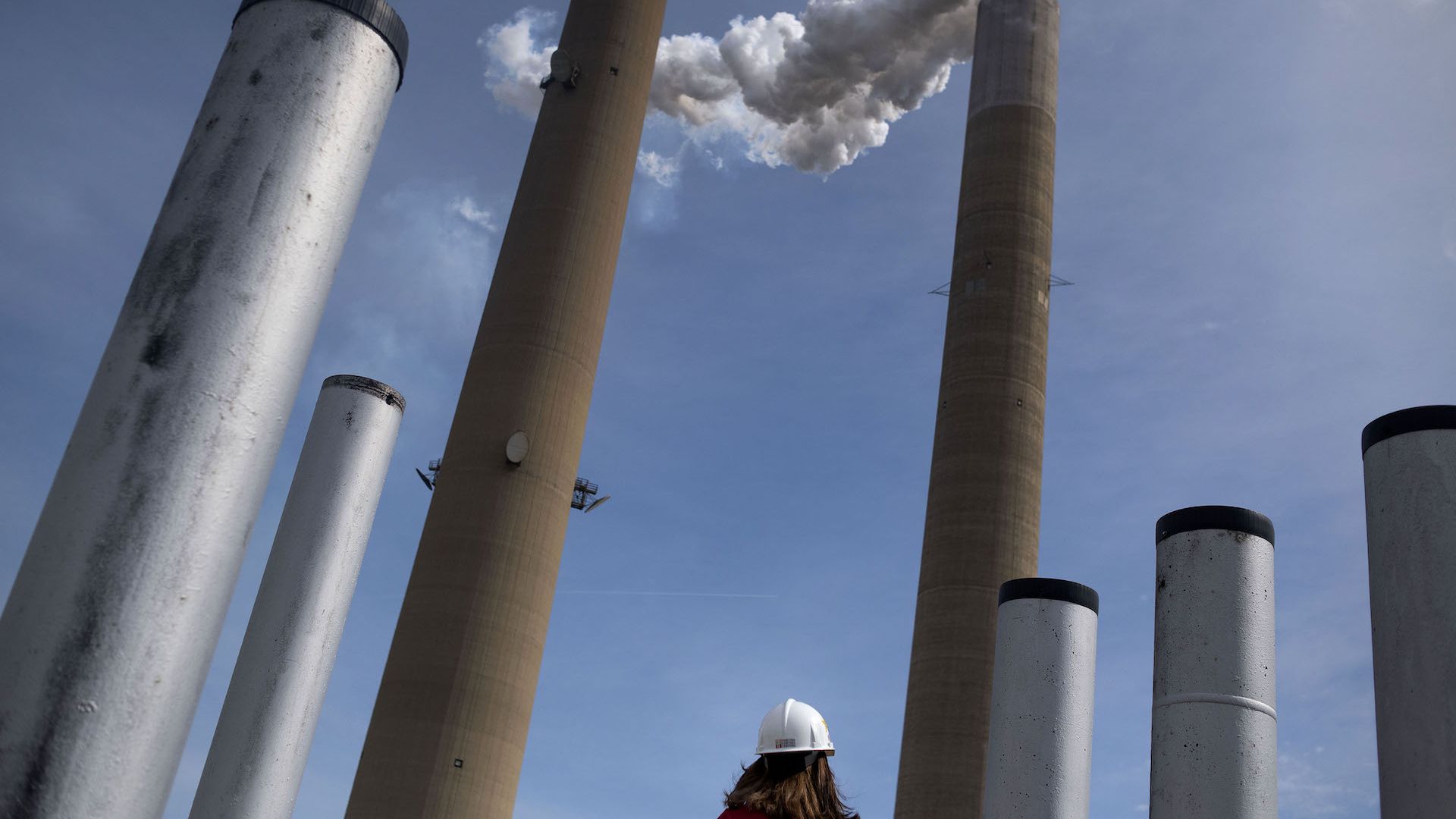 EPA unveiled draft regulations Thursday to slash carbon emissions from the nation's huge fleet of coal- and gas-fired power plants.
Why it matters: Power production is the country's second-largest source of heat-trapping gases after transportation.
The proposal comes after the Supreme Court last year ruled in West Virginia v. EPA that defunct Obama-era power plant regulations ran afoul of what Congress had authorized.
The big picture: Regulators estimate the standards for existing coal and new gas plants would avoid carbon emissions through 2042 that are equivalent to the annual CO2 from roughly half the passenger vehicles on U.S. roads today.
Rules for current gas-fired plants will avoid additional CO2 as well, EPA said.
Officials say the rules would bring big benefits by cutting not only CO2, but also fine particulates and other pollution that takes a heavy toll on public health.
EPA projects that in 2030 alone, the rules will prevent roughly 1,300 premature deaths and over 300,000 asthma attacks.
Overall, the agency estimates net health and climate benefits of up to $85 billion through 2042 from requirements for current coal and future gas plants.
The other side: Sen. Shelley Moore Capito of West Virginia, top Republican on the Senate Environment and Public Works Committee, called it "the Biden administration's most blatant attempt yet to close down power plants and kill American energy jobs."
She vowed to lead efforts on Capitol Hill to scuttle the regulation.
How it works: EPA wants to impose a matrix of standards for the coal fleet, and existing and future gas plants, depending on their usage levels and operating lifetimes.
Zoom in: For instance, for coal plants slated to keep running past 2039, it would effectively require 90% CO2 capture by 2035.
Coal plants shutting down sooner would have separate standards, such as co-firing with natural gas or simply not increasing emissions, depending on when they're retiring and how heavily they're used.
For large and frequently running gas plants in the current fleet, the plan requires CO2 capture by 2035, or co-firing with 30% low-emissions hydrogen in 2032 and almost 100% by 2038.
New, heavily used gas plants also have carbon capture or hydrogen requirements.
Of note: The plan has much less stringent standards for gas "peaker" plants used only at times of high demand.
The intrigue: Carbon capture and "clean" hydrogen are not in widespread power sector use.
But Biden officials point to big climate law incentives in claiming those technologies are commercially viable in the rule's timeframe.
"EPA's proposal relies on proven, readily available technologies to limit carbon pollution and seizes the momentum already underway in the power sector to move toward a cleaner future," EPA Administrator Michael Regan said in a statement.
However Regan, on a call with reporters, said power companies will elect to shutter some coal plants — something that's already been happening as the power sector has moved toward gas and renewables.
What we're watching: When the rule is finalized — a long process — litigation is inevitable.
Older plans sought a more sweeping, system-wide move toward renewables.
The Supreme Court recently agreed to hear a case that could further limit regulators' leeway to interpret statutes that are not crystal clear on a topic.
Nonetheless, the draft rule repeatedly describes how EPA views new plan, which sets limits for specific categories of plants, as consistent with the 2022 high court ruling.
And with respect to the upcoming Supreme Court case, the agency signaled it does not see the rule as a novel interpretation of the Clean Air Act.
👀We'll have further analysis and graphics in this morning's Axios Generate newsletter. It's free! Subscribe.
Go deeper