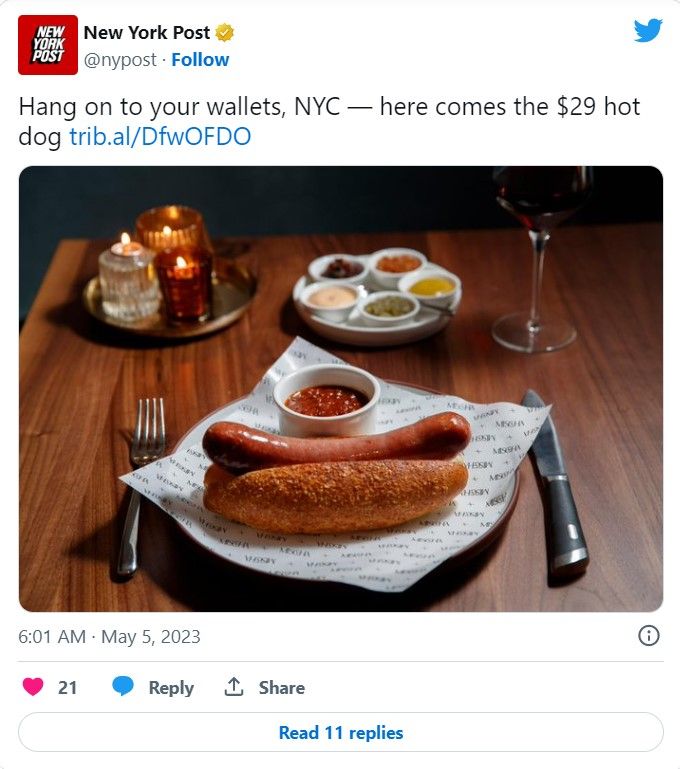 A new restaurant called Mischa in midtown Manhattan is serving a $29 hot dog that's being skewered as a symbol of krazy food inflation.
The restaurant's dinner menu describes the $29 dog as coming on a potato bun with chili and condiments.
But columnist Steve Cuozzo of the New York Post — described it as a "bit of inflationary-era excess" that nonetheless "tastes great."
What they're saying: "Big eaters in the Big Apple have become accustomed to paying more for almost everything, but the wildly priced wiener at Alex Stupak's lively new Mischa at the Citicorp Center is on another level," Cuozzo wrote.
Between the lines: The New York Post has also taken aim at a $29 ham-and-cheese takeout sandwich at Eli Zabar's E.A.T.  on the Upper East Side and a burger at Minetta Tavern that'll "cost you $50, after tax and 20% tip."
Jennifer's thought bubble: Grocery and restaurant prices in New York City have gotten so insane that it's almost unfair to single out any one dish.
The Post story made me want to try the pricey hot dog — as well as the $27 mushroom patty melt, $15 "long tots" and $21 onion dip with crisp veggies at Mischa.
Go deeper: Listen to the Axios Today podcast, where host Niala Boodhoo and Jennifer Kingson talk about menu-flation happening all over the country, but especially in New York City.
Go deeper