We tried the video call of the future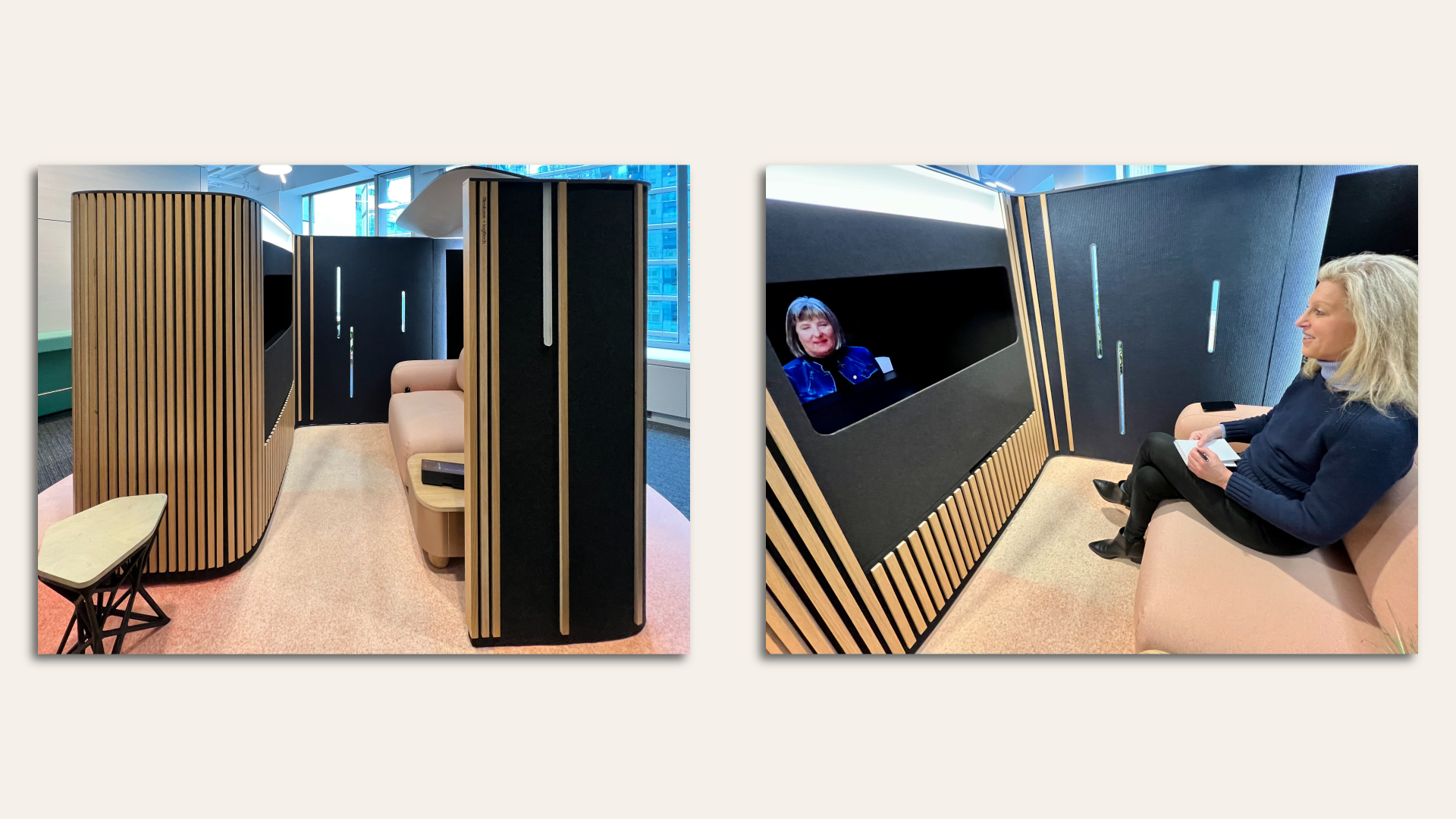 Logitech has debuted a lounge-like videoconferencing alcove that it says may be the answer to our collective frustrations with awkward video calls.
Why it matters: In our "mixed reality" future, where we're as likely to meet in person as we are on a screen, we'll all crave more verisimilitude and human connection in our video meetings — and comfy new physical spaces could help.
Driving the news: Logitech's "Project Ghost," a telepresence booth that lets you chat virtually with a colleague — or boss, shrink, mentor or frenemy — is a prototype that's meant to invite discussion of how we'll work and interact in the future.
Inside the booth is a 5'-by-8' piece of furniture with a loveseat that faces a large screen.
What you see of your conversational partner is a life-size head and shoulders image against a black background. (See a video demo here.)
It's meant to eliminate the weird camera angles, lack of eye contact, hinky bits of glare, and cringey backgrounds that so many of us grapple with during typical video calls.
How it works: Touch a button to start a Project Ghost meeting, and step into the booth to converse in a semi-private way.
Project Ghost is compatible with Zoom, Microsoft Teams and Google Meet.
It's named for a parlor trick called Pepper's Ghost, in which angled glass or a mirror creates a hologram-style illusion.
Logitech's partner is Steelcase, an office furniture company that aimed for homey touches — like a houseplant in the booth and a sofa that might work in your living room.
Zoom out: The product — which isn't shipping yet and doesn't have a price — is an alternative to Google's Project Starline, a competing system that's also meant to make video calls more intimate (and that isn't on the market either).
A real-world competitor might be Cisco TelePresence, an immersive videoconferencing system that's less portable and intimate — and more corporate-looking — than the Google and Logitech projects.
What they're saying: "Unlike Project Starline, which relies on an elaborate array of sensors and cameras to create a hologram-like projection, Project Ghost uses videoconferencing technology Logitech already sells," per The Verge.
The system "pulls a trick like what you might know from a teleprompter to create the projection, and packs that all into a booth designed by office furniture maker Steelcase to create a potentially more comfortable experience for conversations."
Where it stands: Logitech took the wraps off Project Ghost in January and is soliciting feedback on the prototype, with hopes of starting to ship this fall.
"This is extremely un-tech," Alex Mooney, manager of partnerships at Logitech, tells Axios. "We want to solve for the human connection."
Inside, the Project Ghost experience "suspends your depth perception," he said. "What you're trying to do is eliminate as many distractions as possible."
It's envisioned not only as a workplace tool, but also for telehealth and education.
Yes, but: It's a big contraption that would take up a lot of real estate in an office, let alone someone's home.
Some of the magic is lost if one of the parties is dialing in from a boring old laptop. "You probably get the best experience Ghost-to-Ghost," Mooney acknowledged.
Plus, the openness of the alcove means you might not want to spill your guts during a Project Ghost chitchat — which, TBH, looks kind of like the place you're summoned when you're about to get a pink slip.
The bottom line: In the hybrid work era, employers need to design office spaces that lure workers in — to "earn the commute," as Ron Martere, a vice president of Steelcase, put it.
"What we're talking about more lately is design for well-being," Martere tells Axios.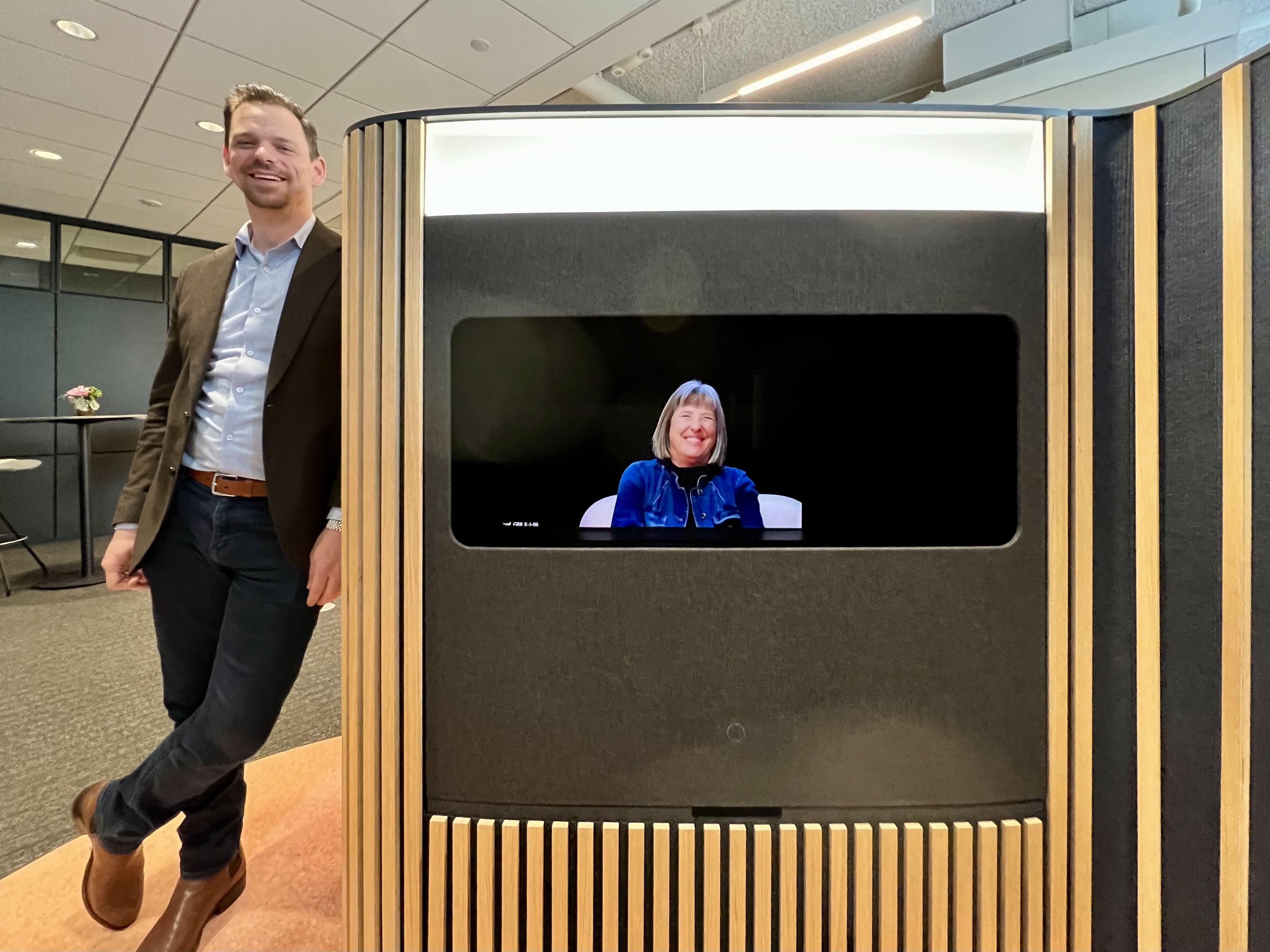 Go deeper