Survey: Banks continued to tighten loan standards as banking turmoil got underway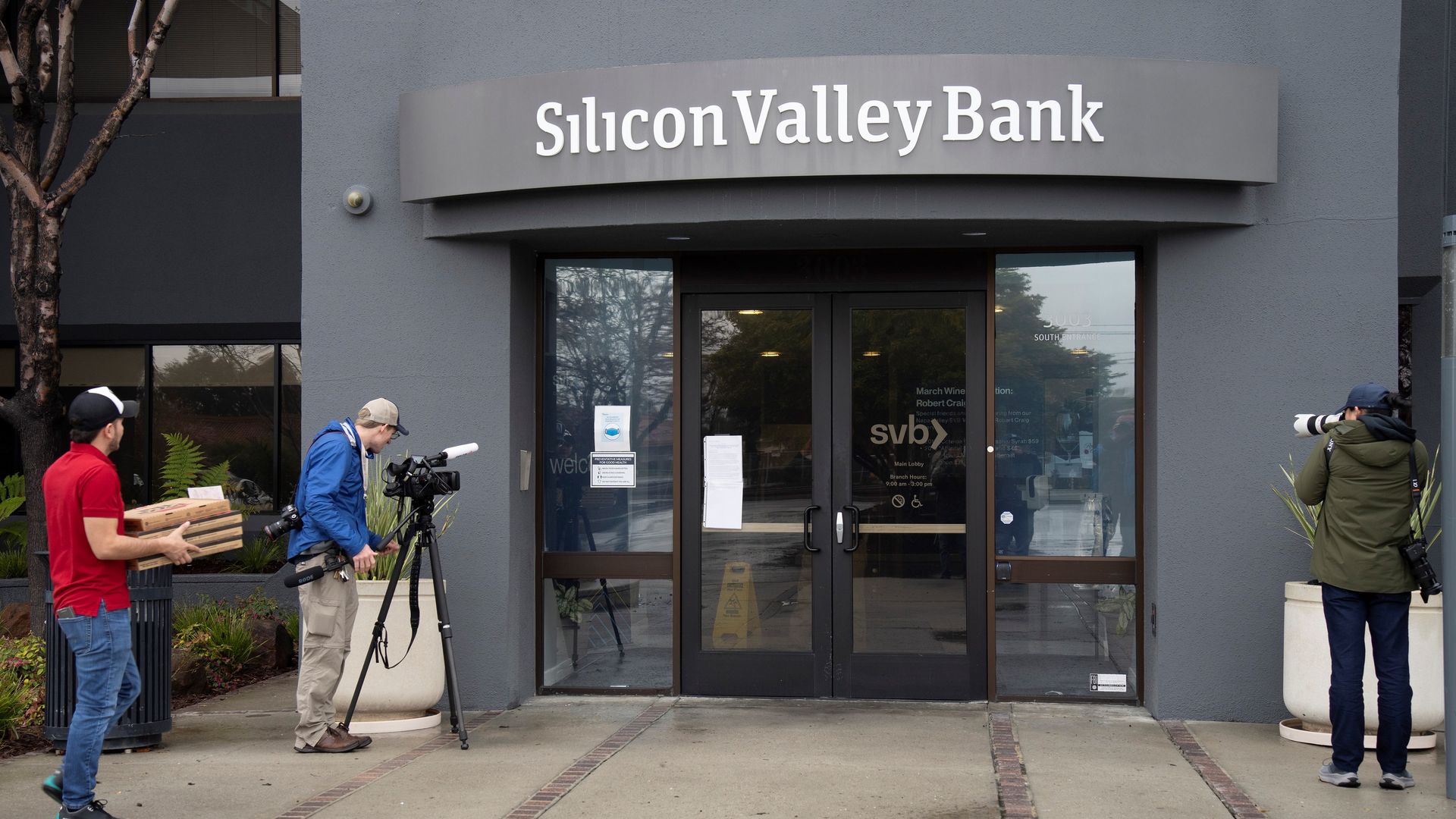 An increasing share of banks around the country are reporting stricter loan standards for consumers and businesses, according to the Federal Reserve — the latest indicator being watched for signs of a credit crunch in the wake of banking turmoil.
Why it matters: Lenders were already making it more difficult to get a loan, though there are signs the collapses of Silicon Valley Bank and Signature Bank have made other banks more cautious about extending credit. Policymakers say that will put a brake on economic activity.
The big picture: In practice, the results of the survey could mean businesses will have a higher bar to clear to get a loan to buy equipment or hire more workers. For consumers, too, it could be more onerous to get a credit card or auto loan. That could translate into slower job gains and dampened consumer spending.
Cooler demand could help slow inflation — which would be a welcome development for Fed officials, who had the survey results in hand as they decided to raise interest rates last week for what could be the final time.
By the numbers: Roughly 46% of banks said they had tightened lending standards for large and medium-sized businesses in the first quarter, according to Senior Loan Officer Opinion Survey, a quarterly questionnaire conducted by the Fed. A similar share of banks said the same about loans to smaller firms.
In comparison, roughly 44% in the survey conducted in the final quarter of last year said they were tightening standards.
There was also an uptick in the share of banks citing tighter credit standards for credit cars, auto loans and other consumer loans.
Meanwhile, demand from businesses and households for loans continued to slide, the survey found.
What they're saying: Among the reasons why surveyed banks said they changed loan standards: fears about a weakening economy, a reduced willingness to take risks, falling values of collateral, and concerns over higher funding costs (in the form of having to pay higher interest rates on deposits in order to retain customers).
Banks also said they expect to continue tightening lending standards over the rest of the year, citing deposit outflows as one major reason why.
The intrigue: The survey was conducted after banking sector turmoil had begun to unfold — from March 27 to April 7, the weeks after the seizure of Silicon Valley Bank and Signature Bank.
The findings usually fly under the radar. But in recent weeks, economists and market-watchers have been bracing for the results because of what they might indicate about how the recent bank turmoil is rippling through the economy.
Americans have been yanking deposits out of the banking system — cutting off banks' access to cheap funding. That, in turn, can make them less willing to extend loans.
What we're watching: The extent to which tighter credit will translate into a cooler economy remains unclear, as Fed chair Jerome Powell said at a news conference last week.
Still, Powell said that the central bank likely won't have to raise interest rates "quite as high as we would have had [the banking crisis] not happened."
Go deeper