A GOP plan for 2024: Cast Jeffries as far left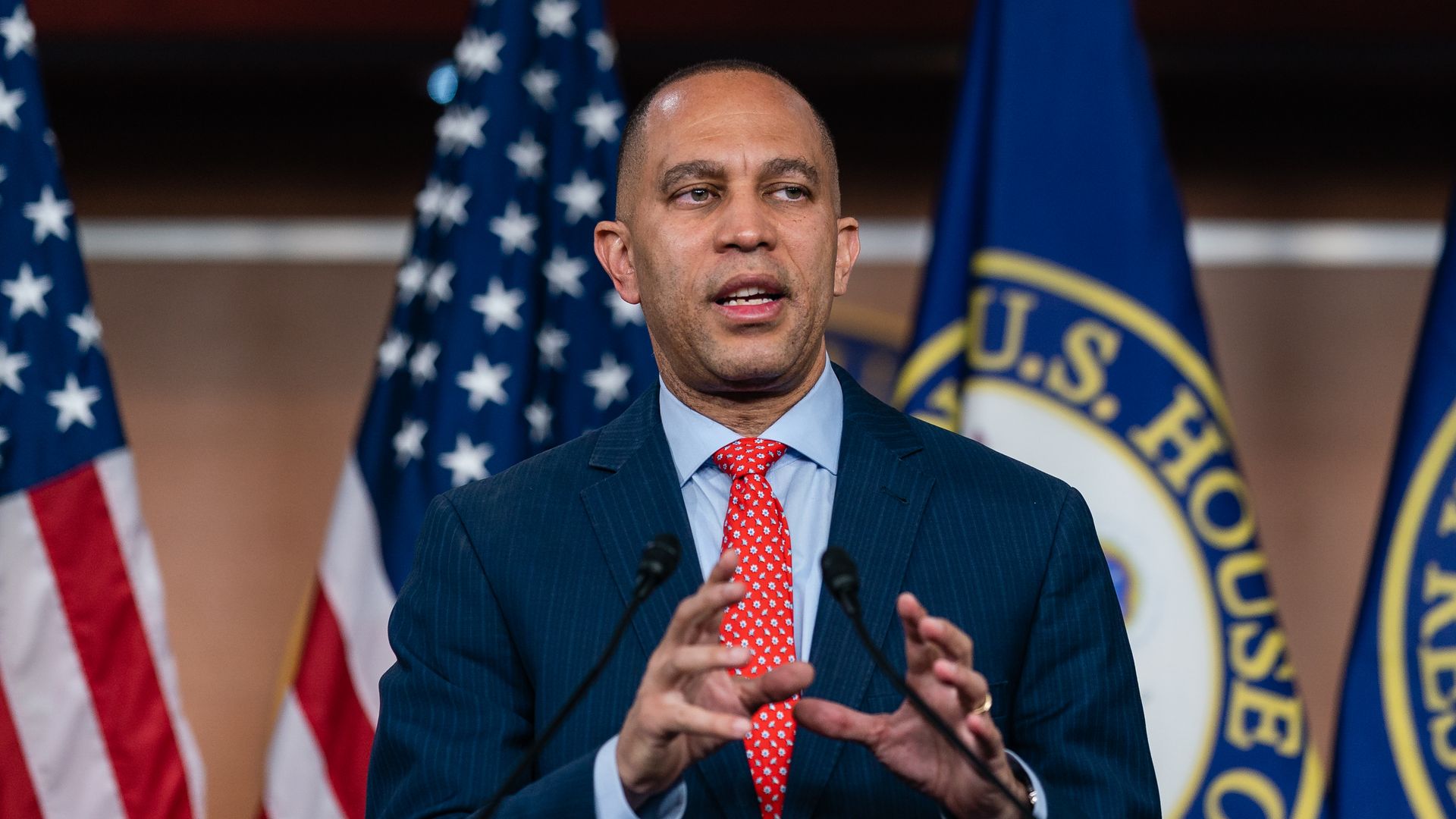 Republicans focused on the 2024 elections are trying to cast House Minority Leader Hakeem Jeffries as a far-left liberal — much as they did with Nancy Pelosi and Barack Obama — but they're struggling to make the label stick.
Why it matters: Portraying Jeffries as a leftist bogeyman is a stretch, given his 10-year record in the House as a moderate. But with Pelosi no longer the House's most powerful Democrat, Republicans are zeroing in on the Brooklyn Democrat.
In essence, the GOP effort — led by the National Republican Congressional Committee — seeks to paint Jeffries as the second coming of Obama, once a popular target in Republican ads.
The NRCC swung into action last month, after CNN reported that Jeffries, as a college student at Binghamton University, wrote an op-ed piece defending his uncle, a Black studies professor who had made antisemitic remarks.
The NRCC quickly posted a video that said: "There is a bigot leading House Democrats in Congress, and his name is Hakeem Jeffries."
Zoom in: It was the first shot in what GOP strategists say will be an ongoing campaign to define Jeffries as out of the political mainstream. It will be part of the GOP's argument why it should keep control of the House in 2024 — and stop Jeffries from becoming speaker.
One strategist told Axios that creating animus toward Jeffries, as the party did toward the polarizing Pelosi, is difficult because many people don't know much about him.
GOP efforts to link Jeffries to antisemitism don't appear to have affected his political standing: Jeffries often has been praised by Jewish groups for his pro-Israel politics and recently led a congressional delegation on a visit there.
"I've made clear consistently that I do not share any of the controversial views that were expressed by my uncle more than three decades ago. Not now. Not ever," Jeffries said last month.
Zoom out: Pelosi, 83, who backed Jeffries' quest for leadership, has significantly decreased her visibility since stepping down from leadership, allowing Jeffries, 52, to take center stage.
Jeffries colleagues say he remains a rather mysterious figure to many Republicans because he isn't a self-promoter and prefers to do most of his work — and handle intra-party conflicts — behind the scenes.
He's criticized "hard-left democratic socialism," which has made some progressives wary. But most liberal lawmakers are reluctant to jab Jeffries publicly as Democrats head toward an election with a chance to retake the House — and make him the first Black speaker in U.S. history.
Multiple Democratic lawmakers who have known Jeffries for years praise him for not showing preferential treatment to certain wings of his party as well as his ability to engage some Republicans.
"He's always been helpful navigating what it means to be in leadership, and very encouraging," said Hispanic Caucus chair Nanette Barragan (D-Calif.), who credits Jeffries with strengthening relationships between the Black and Hispanic caucuses.
Go deeper