Tech industry keeps outracing the government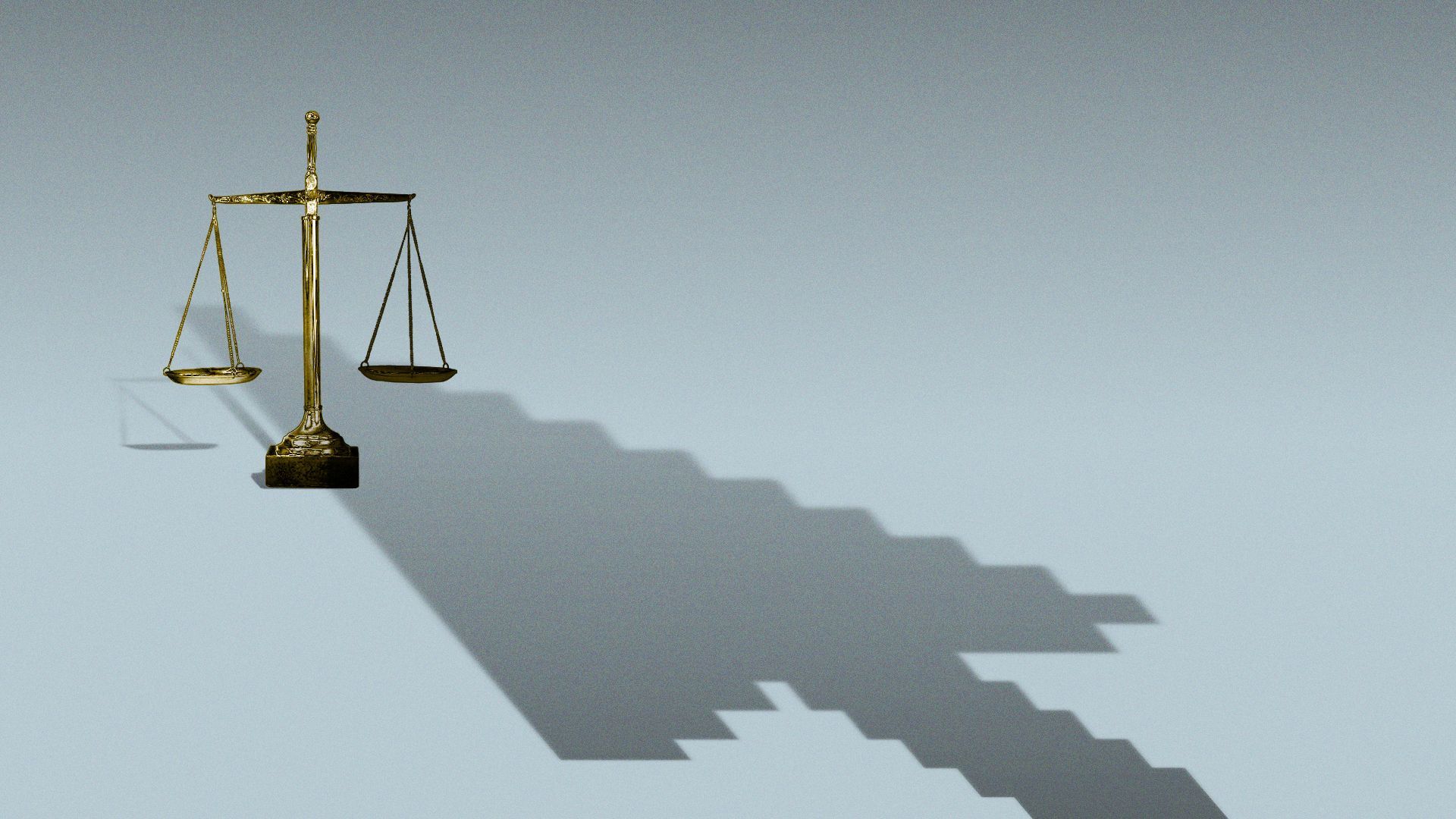 While CEOs of the companies leading today's AI wave met at the White House Thursday, the leaders of the Biden administration's antitrust campaign against tech giants were also gathering for a stock-taking a few blocks away.
Why it matters: In each arena, the industry has so far lapped its would-be regulators — but at least with AI, the race is still young.
Driving the news: On Thursday's D.C. split-screen, the White House AI event marked the administration's strongest effort yet to keep up with a massive wave of technological change that's just getting started.
At the antitrust event — an "Anti-Monopoly Summit" organized by the American Economic Liberties Project — activist groups mingled with top officials from the Justice Department, the Federal Trade Commission and other agencies for a rally-the-troops moment in a long-running conflict.
Yes, but: The campaign to rein in Big Tech's power has little to show so far, after five years of hearings and lawsuits. Meanwhile, rising calls to regulate AI are prompting cautionary discussions earlier in the cycle of tech adoption than happened with social media — but the industry is moving a lot faster, too.
On the AI front, the Biden Administration is moving slowly on AI guardrails: urging CEOs to do better but avoiding the rules-based approach of Brussels and Beijing — where officials are finishing a second round of generative AI regulation.
Of note: President Joe Biden dropped in to Vice President Harris' AI summit, telling CEOs they have a "fundamental responsibility to make sure their products are safe and secure before they are deployed."
Reality check: The companies are already deploying products that aren't fully ready — like ChatGPT, which OpenAI CEO Sam Altman, who was at the White House meeting, has said we should not rely on "for anything important right now."
The White House, meanwhile, announced it was drafting some actual AI rules — but they won't even roll out for public comment till summer, and they only cover use of AI within the federal government.
What they're saying: The White House described the discussions as "frank and constructive" and said they focused on transparency, verifiability and and security of AI systems.
The intrigue: Meta pointedly wasn't invited. "Thursday's meeting was focused on companies currently leading in the space," a White House official told CNN.
Meta has done plenty of AI research but hasn't yet jumped on the generative-AI bandwagon with a consumer product.
At the "anti-monopoly" talkfest, the mood was buoyant even as the landscape remained unfriendly.
While antitrust enforcers are gaining new staff firepower, they face skeptical courts, and they have little new legislation to work with — despite markets radically altered by digital business models.
Sen. Amy Klobuchar (D-Minn.) told the crowd it's time to "unleash capitalism" on Big Tech, and warned the companies would allocate "unlimited" ad spending in 2024 against their critics.
"We've got Google with 90% market share [in search], Apple 100% of app distribution for their iPhones, Amazon accounting for 40% of the entire U.S. e-commerce retail market," Klobuchar said.
"This is now getting into people's psyches in a different way. I knew we had broken through when we had Taylor Swift fans with protest signs outside the Capitol."
New player to watch: Jennifer Abruzzo, general counsel at the National Labor Relations Board, put AI providers on notice at the event.
Calling AI a "black box," she said she would "broadly construe" and "fully enforce" labor laws protecting the rights of workers to organize in the face of increasing surveillance.
Accusing companies of "abusive algorithmic management," she said the burden was on employers to prove AI is being used for legitimate business interests: "Workers need to be told what is being used and what data is collected," Abruzzo said.
Go deeper