Mix of politics and COVID crush students' history scores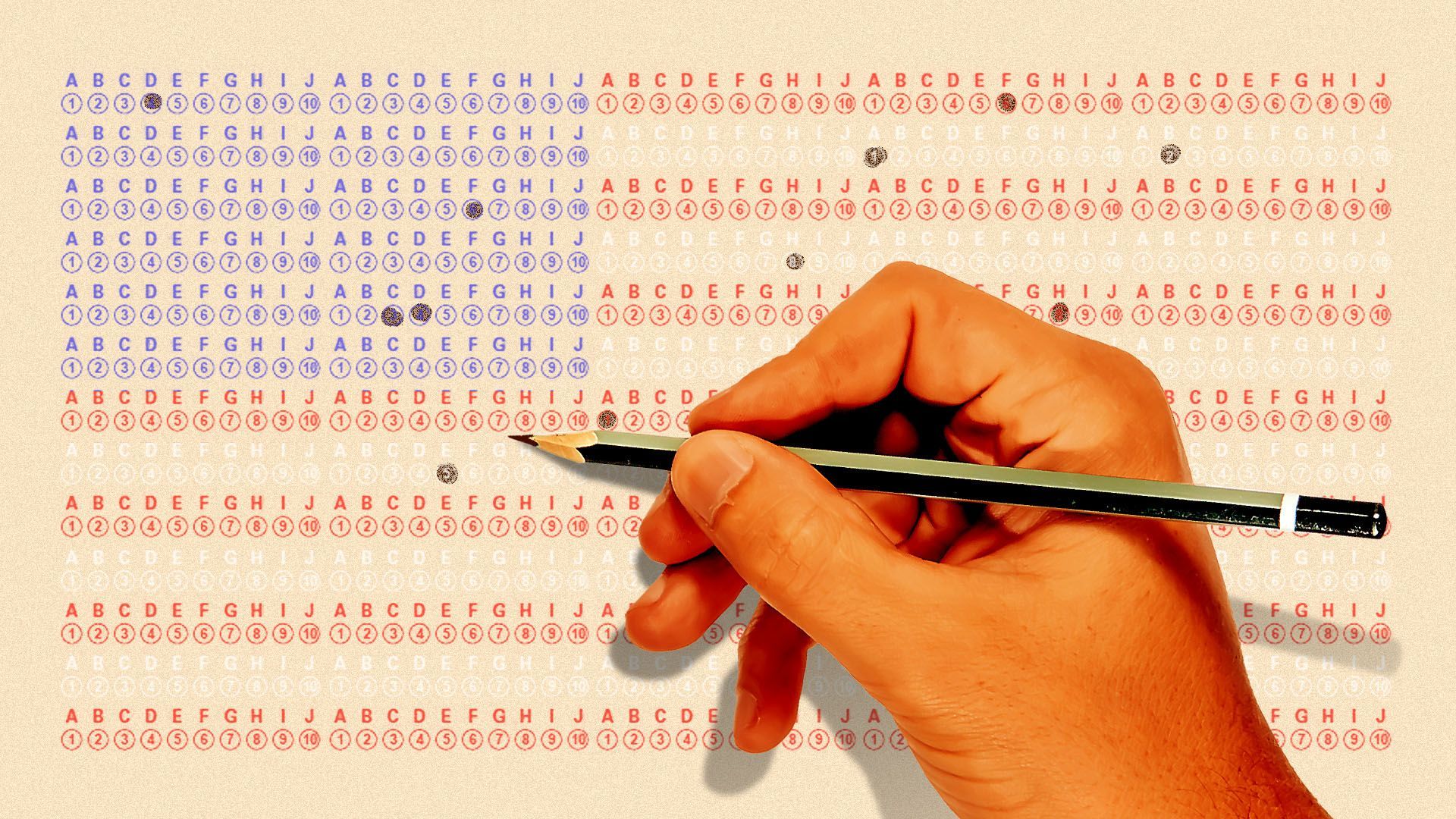 New data out this week revealed dismal scores by eighth graders on a national U.S. history test. Experts are pointing to a devastating combination of polarization over school curriculums and pandemic disruptions.
Why it matters: The test results — showing an all-time low score in history and a first-ever decline in civics — paint a troubling picture of how much America's youth know about their own country.
"How can we really engage in these conversations, when the tension is there before you even pick up the book and open the topic?" Kerry Sautner, the chief learning officer at the National Constitution Center in Pennsylvania told Axios.
What's happening: U.S. history scores among the nation's eighth graders fell last year to the lowest levels recorded since 1994, when the National Assessment of Educational Progress (NAEP) first conducted a history assessment.
Just 13% of students performed at or above the "proficient" level in U.S. history.
Civics scores among eighth graders fell for the first time since 1998, the first assessment year for civics under the current framework. The average score decreased by 2 points compared to 2018.
Zoom in: The declines were largely expected as the COVID-19 pandemic continues to hurt students' performance. But Sautner said the drops may also be tied to backlash and tension over certain topics.
"We have to really think about how our nation is talking about and battling over what should be taught in history and civics, and how is that affecting our kids in learning these topics and learning it in a healthy way," she said.
State of play: Experts say that social studies classes broadly have been "crowded out of the curriculum" over the last couple of decades, which likely contributed to the drops.
"It's not uncommon ... [for classes to] take breaks on social studies," said Shawn Healy, the senior director of policy and advocacy at iCivics, a civic education nonprofit founded by retired Supreme Court Justice Sandra Day O'Connor.
Zoom out: Reading test scores released last fall fell to 1992 levels, and math scores dropped by the largest amount ever recorded.
"The one thing that you could do immediately is to embed civic and history within English Language Arts classes, STEM classes, math classes," Louise Dubé, the executive director of iCivics, said.
The bottom line: Experts say schools need stronger investments in these areas — and an emphasis on healthy discourse to cut through.
"It's getting harder and harder to have high-quality teaching materials in the classroom and to give our teachers ... the appropriate amount of time, resources and support, as well as topics that they can dive into," Sautner said.
Go deeper... A supper club with democracy on the menu
Go deeper