Mexico, where many work 6 days a week, considers the 40-hour workweek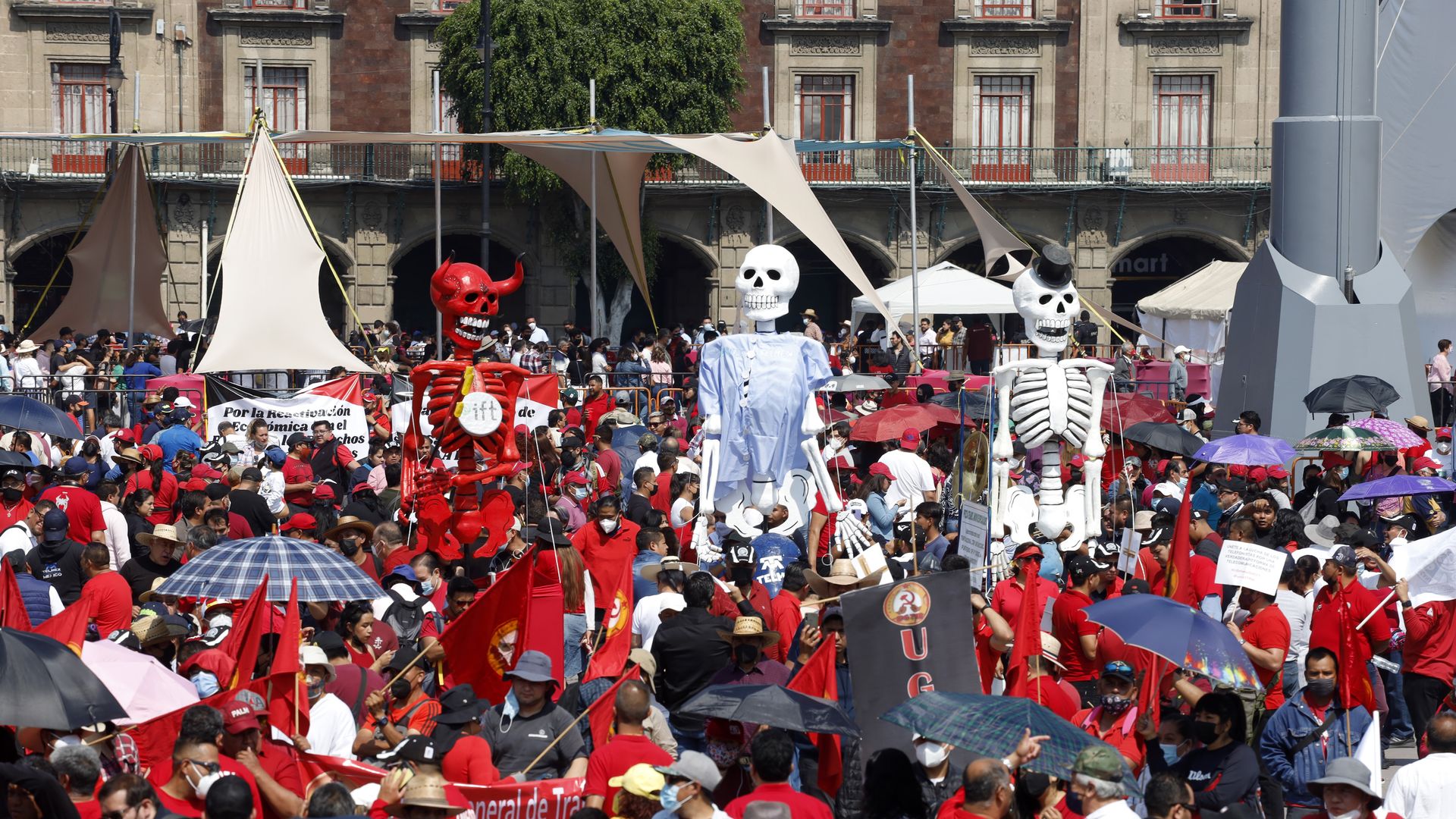 Mexico is debating shortening its workweek from 48 hours to 40, but not everyone is on board.
Driving the news: The Mexican bill made it out of committee last week, and it likely has the votes to pass when the legislative session restarts in September.
Chile's Congress in mid-April approved a law to gradually shorten its workweek from 45 hours to 40. President Gabriel Boric said the reduction would improve overall well-being.
In Mexico, cutting the workweek from the current 48 hours would give workers an extra day off per week. More than 40% of Mexicans work six days a week, according to the national statistics institute.
The big picture: Mexico's measure comes as other countries have gone even further, with a majority of U.K. companies adopting a four-day workweek. The average workweek for many European companies and the U.S. consists of 36 to 40 hours.
Several Latin American nations rank in the top five for most hours spent "actually working" by the average worker, according to the Organization for Economic Cooperation and Development data.
The averages in 2021 (the last available data) were 2,128 hours in Mexico; 2,073 in Costa Rica; 1,916 in Chile. The U.S. average was 1,791.
Business groups in Mexico oppose the proposal to cut the workweek, arguing it would hurt small and medium-size businesses because they'd need to hire more people without necessarily having the money to do so.
They also say the rule would give little leeway because it would be implemented immediately.
By comparison, Chilean companies have until 2028 to implement the change.
What they're saying: "We want workers here to work to live, not live to work," Mexican Congress Member Susana Prieto Terrazas, who introduced the proposal, told Noticias Telemundo this week.
"A lot of people work 10 or 12 hours daily and on top of that they take up to four hours going to work and back home… That's not life," she added.
Prieto Terrazas dismissed concerns about the law's possible immediate application, saying companies have months to become familiar with the draft and make preparations before the congressional vote.
Subscribe to Axios Latino to get vital news about Latinos and Latin America, delivered to your inbox on Tuesdays and Thursdays.
Go deeper