Hebrew school enrollment in U.S. drops sharply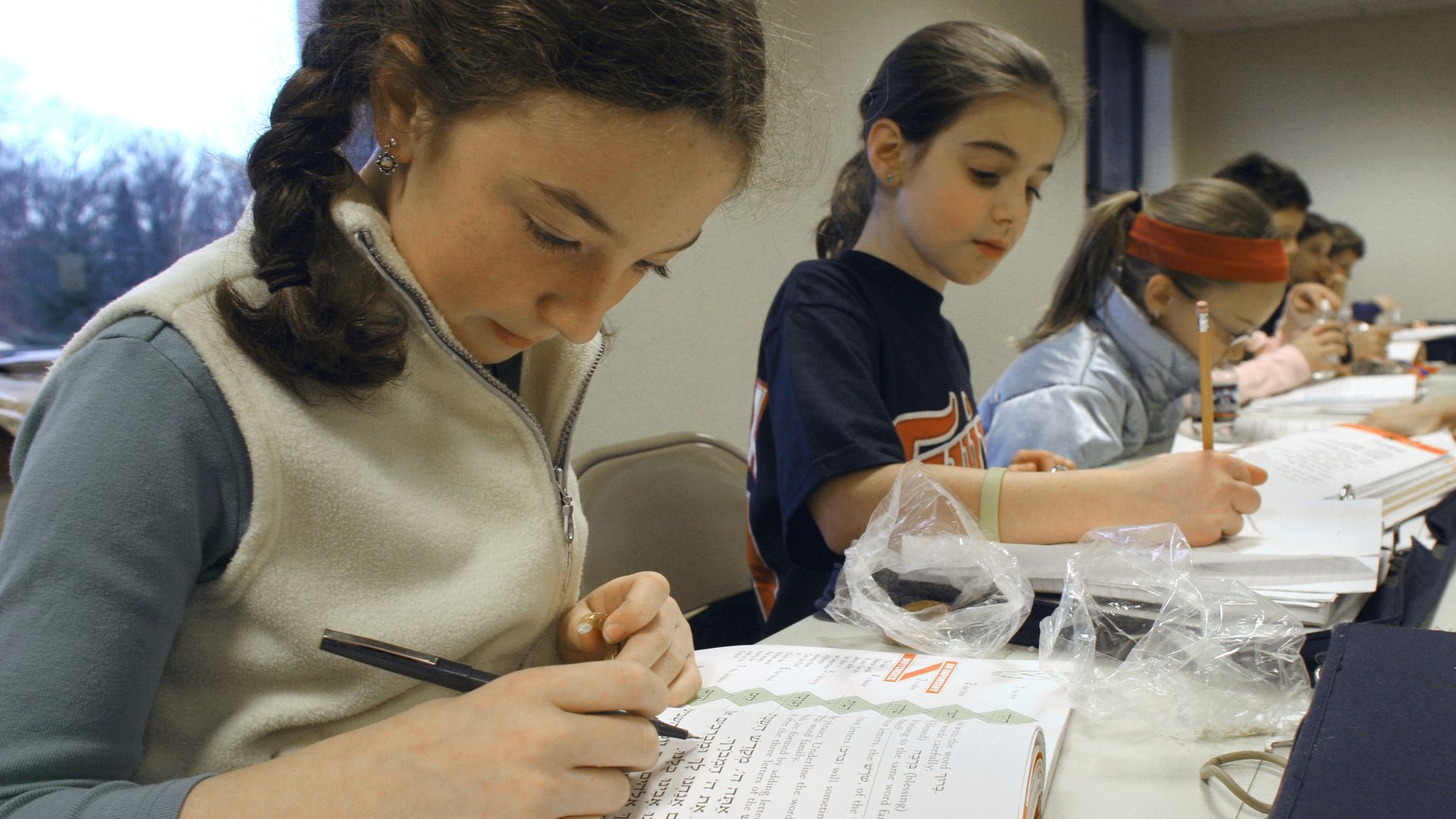 Student enrollment in "supplementary" Hebrew schools across the U.S. fell by almost half during the 14 years that ended in 2020, as about 27% of those schools closed, a new report has found.
Why it matters: The enrollment drop in supplementary Jewish schools — which students attend in addition to public or secular private schools to learn Hebrew and Jewish rituals and history — came amid falling membership at some synagogues.
During Jewish American Heritage Month in May, Axios will examine the state of Jewish Americans — from accomplishments to obstacles amid rising antisemitism — and how Jewish American history is being preserved.
Details: Total enrollment in Jewish supplementary schools dropped by 45% from 2006 to 2020, according to a study recently released by The Jewish Education Project, a nonprofit that supports Jewish educators.
The number of schools also dropped: Of the 761 supplementary schools that closed, 556 closed entirely. For the remaining 205, the schools closed but institutions stayed open thanks to factors like mergers.
The big picture: Synagogue membership has declined in recent years, according to various studies and reports.
That likely has contributed to declining enrollment at Jewish supplementary schools near synagogues, Rabbi Dena Klein, The Jewish Education Project's senior managing director of new models, tells Axios.
"There are a number of changes in the way that Jewish Americans are living their lives today that may cause them to be less likely to seek out Jewish education in religious school settings," Klein said.
Yes, but: The number of Jewish Americans increased during the 14-year period the study examined — and kept pace with the growth of the U.S. population.
Zoom in: For years, Jewish supplementary schools have been crucial places where children learned Hebrew and rituals of the Jewish experience.
Each school is different, but "they all said that one of their priorities was creating a sense of belonging," Klein said.
What they're saying: "There are a lot of choices of how people can get their Jewish education, or they may be opting out," Miriam Heller Stern, a professor at Hebrew Union College-Jewish Institute of Religion, tells Axios.
Independent Jewish religious programs, online communities and new Jewish centers are challenging the synagogue as the sole center of engagement, Stern said.
"People who want to really explore their Judaism more culturally or ethnically, socially ... they can do that without all of the religious obligations."
Despite efforts by many congregations to embrace the diversity of families in intermarriages, Jewish education has been slow to make this shift, sometimes because of insensitivity, the report warned.
The Jewish education field is also not particularly diverse, which doesn't mesh with the desires of some young people and their families to seek diverse experiences.
Of note: The Jewish Education Project recommended that schools center on families, embrace diversity and redefine the role of teachers.
Go deeper