How the U.S. eroded the dollar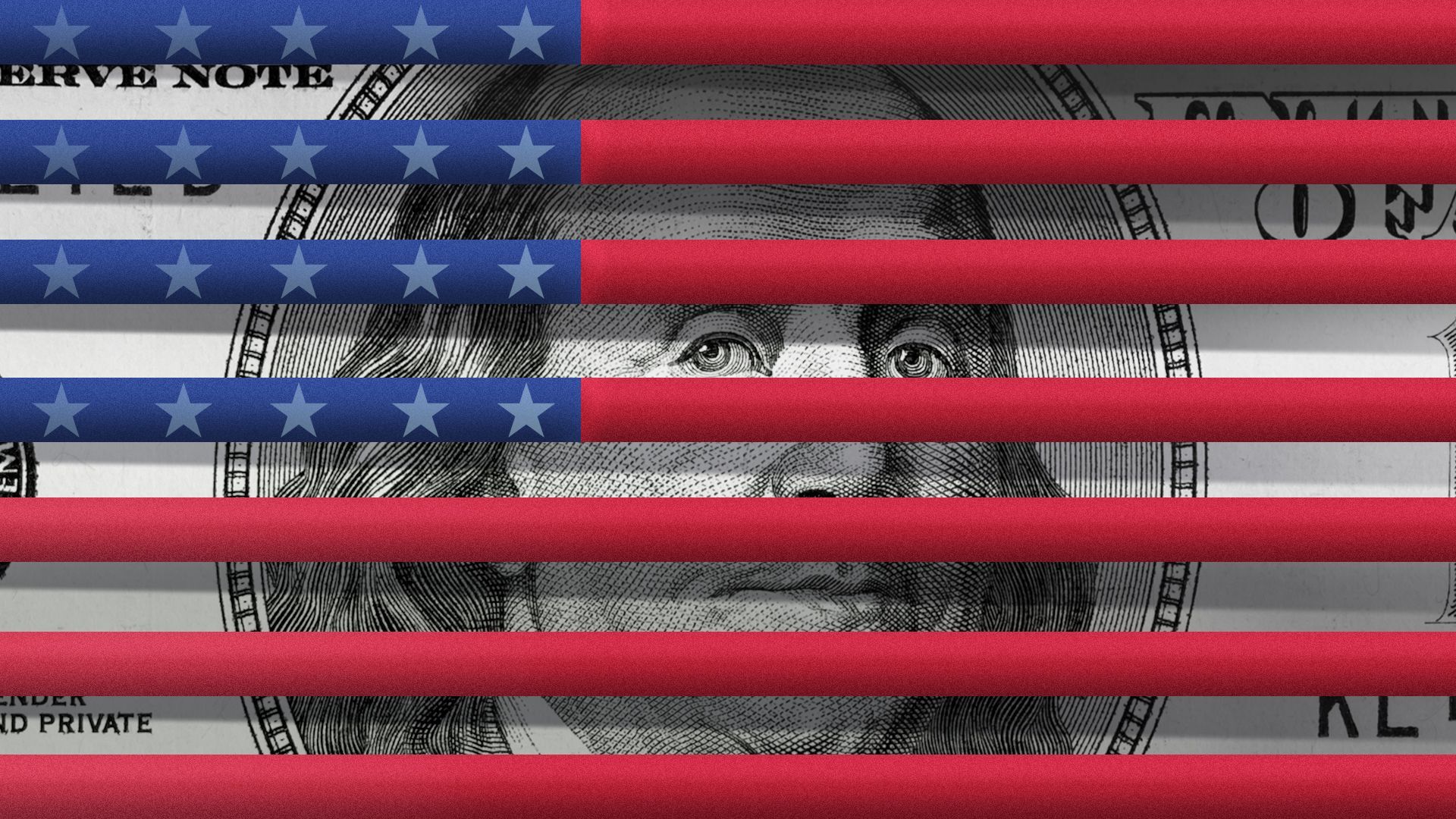 Americans hate inflation, in large part because it erodes the bedrock of capitalism — money. Concentrating on inflation, however, risks missing the profound other ways in which money has lost its power over the past three years.
Why it matters: U.S. government actions over the course of the pandemic have radically reshaped the dollar, which is now much more politicized and mutable than it was before 2020.
The big picture: Felix Salmon's new book, "The Phoenix Economy," out on Tuesday, covers the ways in which the world has changed since early 2020. Among them: a quiet revolution in how people think about what money even is.
Flashback: In mid-April 2020, millions of Americans woke up to find out that $1,400 had magically appeared in their bank accounts, placed there by the Trump administration as part of the first COVID stimulus plan.
The U.S. dollar was effectively obeying orders being handed down by the government, the only entity capable of pulling such a move.
Where it stands: The Biden administration has been unusually aggressive in using the dollar as an instrument of foreign policy.
It effectively confiscated $7 billion belonging to the central bank of Afghanistan, which it was able to do because those funds were on deposit at the New York Fed.
It then did the same thing with Russia's foreign reserves, and followed that up by cutting Russia off from the dollar-based payments system.
Between the lines: The pandemic changed the world's (or at least America's) conception of money itself. In what Felix calls the New Not Normal, money has become contingent, more of a social construct than objective reality.
In a society that for decades was centered on the almighty dollar, that was disconcerting, to say the least.
"Fiat currency" has become a pejorative term used by crypto advocates to undermine trust in the dollar. The Federal Reserve is constantly attacked by Republicans from former President Donald Trump to Sen. Rand Paul.
Zoom out: The dollar still retains its hegemony as the world's reserve currency, along with its utility as a measure of relative wealth. But trust in the currency is eroding, in a world where the Fed's main policy tool is always its own credibility.
The bottom line: The good news is that we've found an important new tool of foreign policy, and even of domestic fiscal policy.
The bad news is that it makes capitalism that much more difficult.
Go deeper