Moody's: The future of money is digital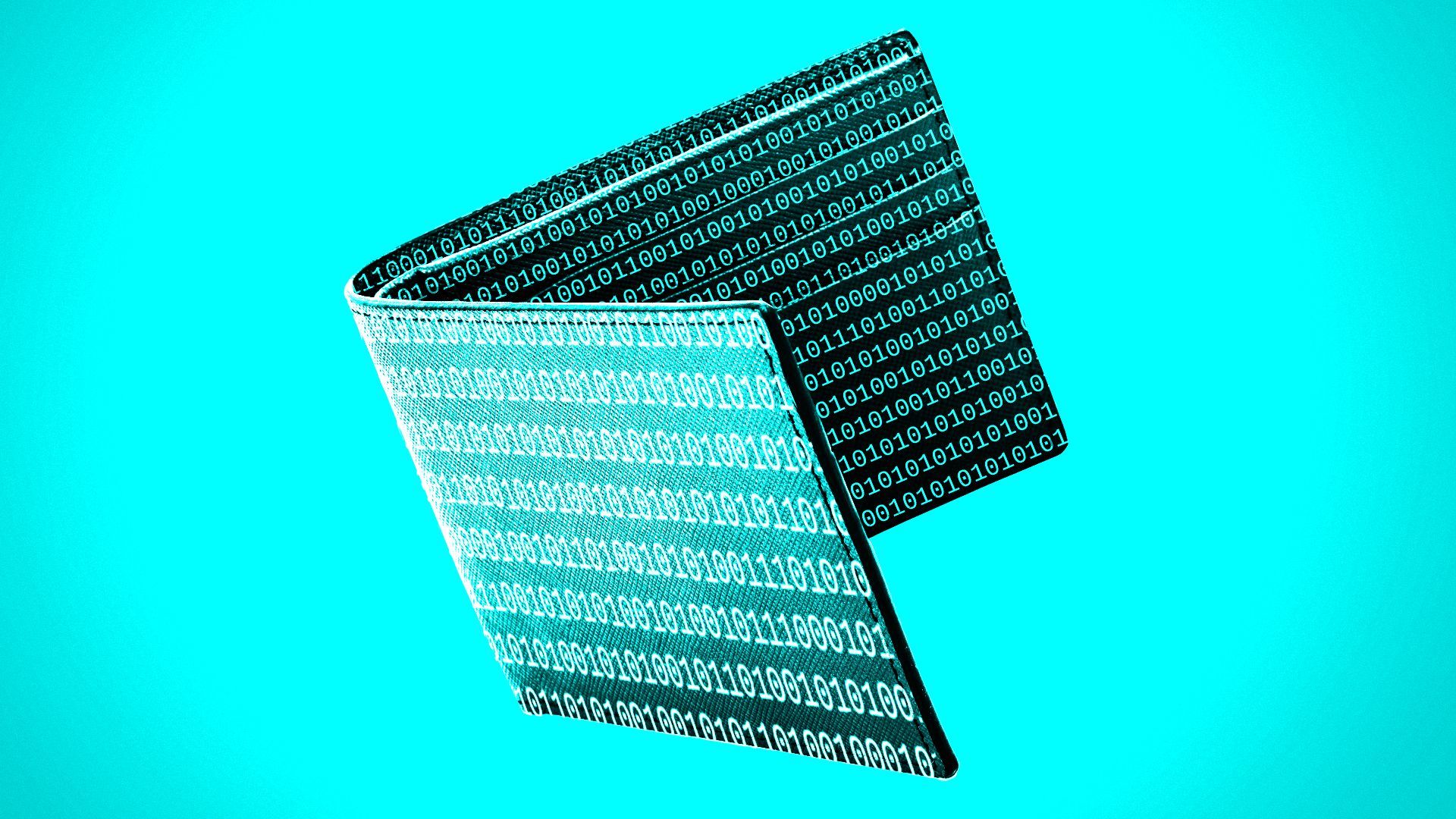 The future of money will be increasingly virtual, though a new research report suggests digital currencies are likely to remain bit players in the journey over the next decade.
Why it matters: A report out today from Moody's Investor Service underscores how the world has clearly embraced digital technologies in money — but money backed by central banks, and the systems in which it is entrenched, will continue to thrive.
State of play: People are increasingly leaning on cashless transactions in their day-to-day lives, a trend exacerbated by the COVID pandemic.
In the U.S., 80% of payments in 2021 were made digitally (without cash), up from 69% in 2016, according to Moody's.
In the European Union, where cash payments are more popular, digital payments grew to 41% of all transactions last year, up from 21% in 2016.
In China, only 1-in-10 in-store payments are currently made with cash, a micro-trend driven by the popularity of mobile payment apps like WeChat and Alipay.
Yes, but: Nearly 15 years since the crypto industry was born, fiat money held in bank accounts is "by far the most prevalent form of digital money today," the analysts note.
Zoom in: Despite the wave of digitization, Moody's does not expect unbacked cryptocurrencies, like bitcoin and ether, to gain traction as a form of payment over the next 10 years, largely due to their volatility.
Among digital assets, they see the use of Central Bank Digital Currencies (CBDCs) steadily increasing, with a smaller pickup for stablecoins.
But both will only moderately chip away at the share of digital payments using money held at banks, they predict.
Between the lines: Access to credit, for everything from homes to cars to supporting businesses, is one main reason why policy makers will likely limit the use of CBDCs, despite their benefits.
Those benefits include connecting underbanked populations to the financial system and enabling faster payments, the researchers wrote.
Banks, which provide the overwhelming majority of credit, rely on deposits to back the business of extending loans.
An unchecked rollout of CBDCs, the analyst note, could have a negative impact on those deposits, or at least to their "stickiness" within specific banks — the impact of which we just witnessed with the failures of Silicon Valley Bank, Signature Bank and First Republic.
Meanwhile, user-friendly technologies like digital wallets — such as Google Wallet, Apple Pay and Alibaba's Alipay — and innovations like tokenized deposits using distributed ledger technology, are likely to support the dominance of commercial bank money into the future, Moody's found.
The other side: Despite the pessimistic outlook they painted for crypto in the medium-term future of money, the analysts did give a nod to crypto's staying power in the final sentence of the report.
"The market capitalization of all crypto assets has increased by more than 60% year-to-date to $1,330 billion as of 20 April 2023," they said.
Despite the recent scandals and setbacks, cryptocurrencies will likely play a role in the future digital money ecosystem."
Go deeper