COP28 negotiating positions emerge during talks in Germany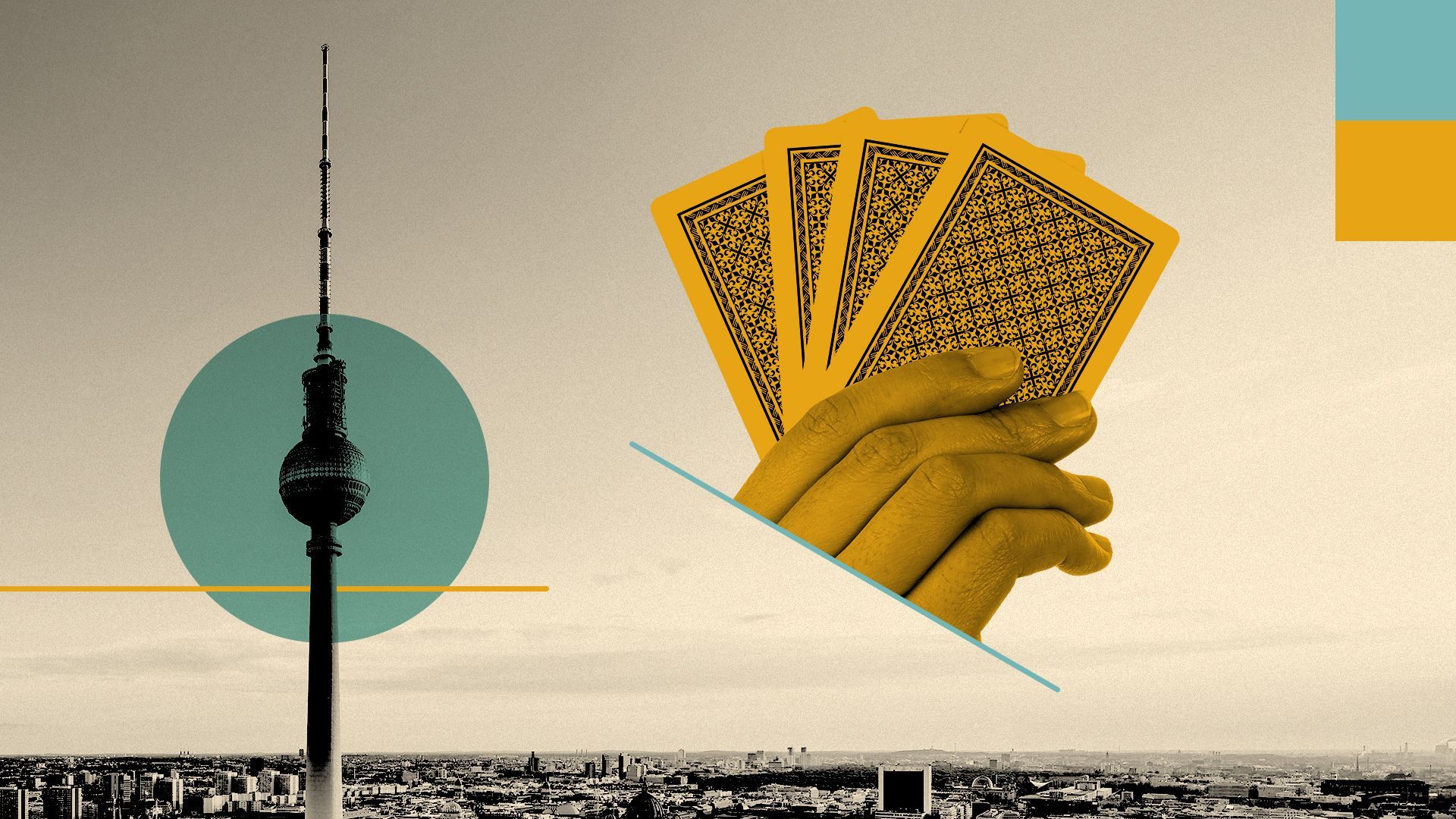 At a gathering of representatives from 40 nations in Berlin, early jockeying for negotiating positions is already proving insightful ahead of the next United Nations climate summit in Dubai later this year.
Why it matters: At the Petersberg Climate Dialogue, a forum held at the German Foreign Ministry, key players in climate talks are laying out their priorities.
The big picture: The Petersberg dialogue kicks off an accelerating pace of meetings to set the agenda for COP28, which begins in Dubai on Nov. 30.
The informal setting is designed to allow for the free exchange of views, with more discussions to come Wednesday.
Zoom in: After facing staunch resistance to calls for a fossil fuel phase-out during the climate talks in Glasgow and Sharm El-Sheikh, Germany and the European Union are aiming to unite the world around goals to triple the use of renewable energy sources.
Our thought bubble: The renewables proposal is essentially the flip side to the EU's past position arguing for a fossil fuel phaseout. The strategy is built around an emphasis on committing to a new goal that could have widespread economic benefits, which is a more positive framing.
Yes, but: Ending fossil fuels usage has not disappeared from Germany's agenda for COP28, but rather been pushed to the side.
In a speech at the dialogue on Tuesday, Foreign Minister Annalena Baerbock stated: "Our objective for COP28 in Dubai has to be to usher in the end of the age of fossil energy."
The way to do that is to massively ramp up renewables like solar and wind power, Baerbock argued.
The intrigue: For his part, Al Jaber — the UAE's longtime climate envoy as well as head of its state-run oil and gas company, ADNOC — signaled his focus is on reducing fossil fuel emissions, rather than production.
"We know that the energies used today will continue to be part of the global energy mix for the foreseeable future," he said.
While his selection as COP president has been a source of some criticism, it could also be an asset, according to Rachel Kyte, a veteran climate diplomat and dean of the Fletcher School at Tufts University, and Laurence Tubiana, CEO of the European Climate Foundation.
What they're saying: "The UAE can pull off a modern-day energy diplomacy "Nixon goes to China" moment" at COP28, they wrote in Foreign Policy.
Unlike past COP presidents, Jaber's credibility with the oil and gas industry provides an opportunity to convince CEOs that a faster transition away from fossil fuels needs to take place, they wrote.
The bottom line: "It's a high risk-high reward COP: At this stage of the climate crisis, the outcome is high ambition or abject failure," Kyte and Tubiana added.
Go deeper