The changing landscape of military space powers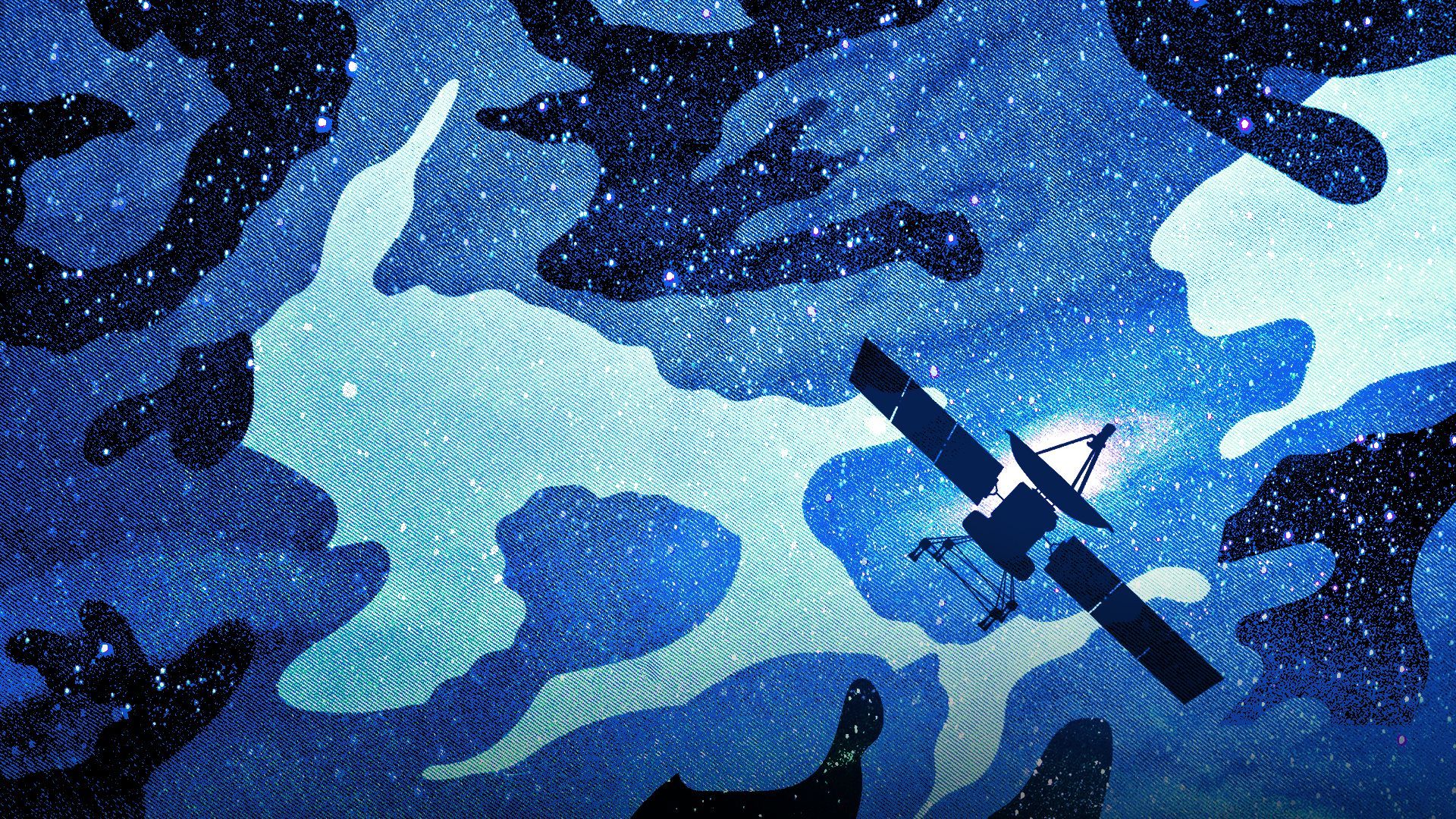 The U.S. military remains arguably the most sophisticated in orbit today, but Russia and China are quickly developing technologies that could interfere with — and even take out — U.S. satellites.
Why it matters: Space is essential to the way the U.S. wages war. Satellites are used for situational awareness on the ground and communication over extreme distances.
Space is "really a great enabler and has ... changed the speed of how we've been able to fight," Makena Young of the Center for Strategic and International Studies (CSIS) tells Axios.
Driving the news: A report from the Financial Times last month revealed that China is developing cyber capabilities that would allow the nation to "seize control" of satellites, making them effectively useless, according to a U.S. intelligence report.
Two recent reports from the Secure World Foundation and CSIS highlight Russia's offensive posture in space and China's quick development of advanced capabilities, including satellite jamming technology and a space plane.
The Space Force also acknowledged the threats posed by China and Russia in a statement detailing a $30 billion budget request for the Space Force that will help fund five more military launches in this budget, upping the number to 15.
The big picture: The U.S. military has historically relied on big, expensive satellites in orbit that are designed to collect exquisite images and other data but make for valuable targets for adversaries.
China has built its military architecture in space differently, making use of a number of less expensive satellites.
The U.S. is also working to move toward a more resilient network of satellites prioritizing speed, efficiency and even leveraging commercial satellites, only building what they need to build and buying services otherwise.
Yes, but: Change in the U.S. has been slow. What Russia and China are doing today "is 20 years in the making," the Secure World Foundation's Brian Weeden tells Axios.
"The problem has not been their speed of development. The problem has been how slow our response has been." That slow pace is largely due to American politics, Weeden added, saying that getting the buy-in and budgets needed to change how parts of the Department of Defense do business can be difficult.
In the past, it may have been fine to take up to a decade to develop space technology needed to outpace adversaries in space.
"[B]ut that's not going to really work now because the pace of evolution is so fast that if you take 10 years, 20 years to build something, it's outdated before you launch it," John Plumb, assistant secretary of defense for space policy, told Axios at the Space Symposium in April.
What to watch: "I think that everyone is learning a lot of lessons from what's been going on with Russia and Ukraine and their successes and failures," Young said.
Russia hacked ViaSat just before invading Ukraine, representing a major loss of communication for Ukraine's military in the early days of the war. Russia has also jammed GPS signals to discourage tracking vehicles near the border.
"I think not only the U.S., but China is also paying attention ... for any future steps they may take possibly in Taiwan," Young added.
Some are concerned that one of China's first salvos in an invasion of Taiwan could involve sidelining U.S. satellites that could aid in a response in the region, deterring the nation from coming to Taiwan's defense.
"The United States would be hard-pressed to defend Taiwan without GPS, without satellite communications, without space missile warning, without space-based intelligence," Weeden said.
Go deeper