Nearly 75% of Chinese Americans report discrimination in past year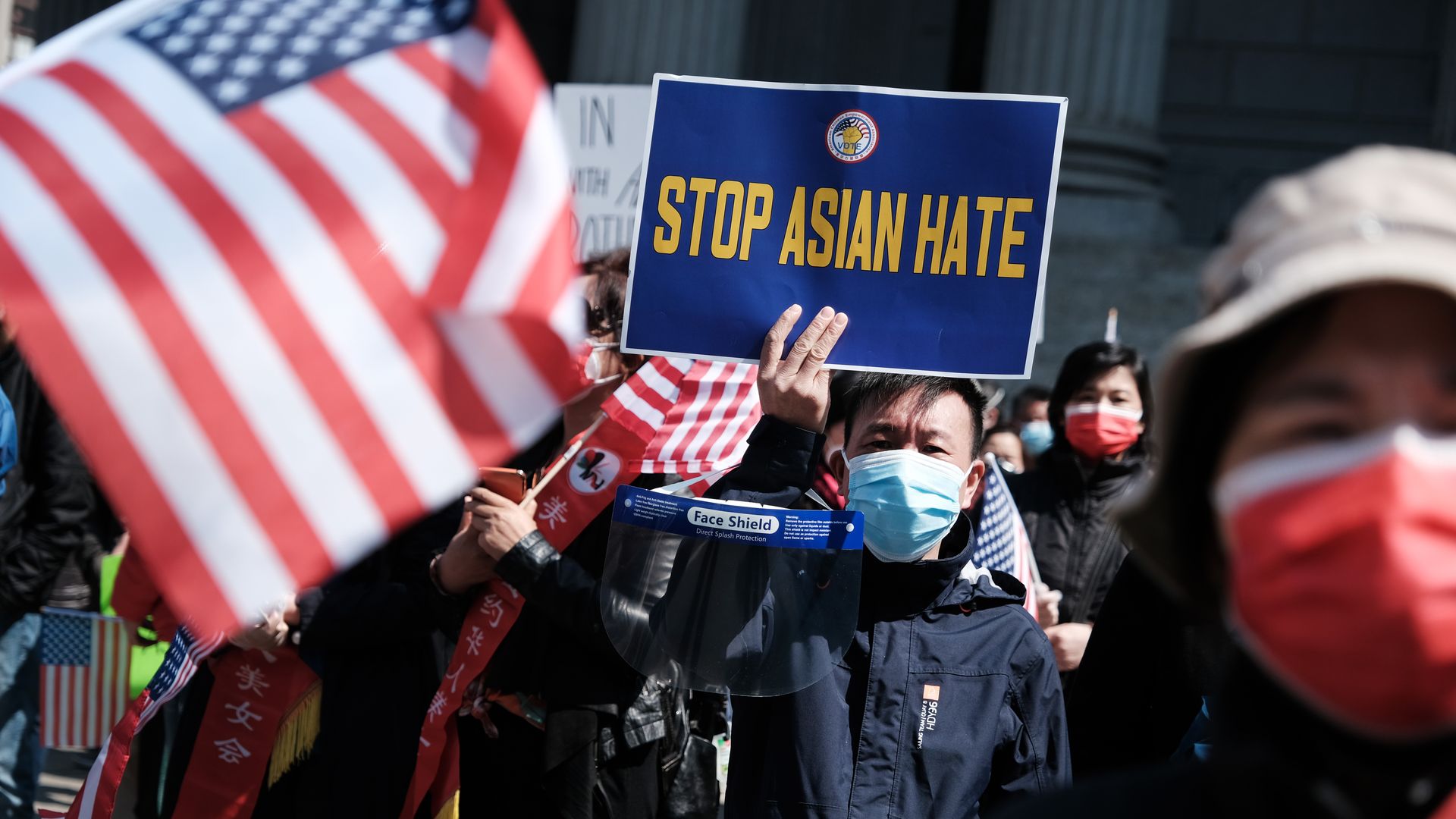 Nearly three out of four Chinese Americans say they have experienced racial discrimination in the past 12 months, and two in three feel a need to stay vigilant about hate crimes or harassment, a new study says.
The big picture: Three years after racial incidents targeting Asian Americans jumped as some people wrongly linked them to COVID-19, Chinese Americans continue to face episodes of discrimination.
During Asian American Pacific Island Month in May, Axios will examine the state of Asian Americans — from accomplishments to obstacles, economic well-being and how Asian American history is being preserved in the U.S.
Details: Nearly half of Chinese Americans report being treated with less respect than other people, according to the study, one of the most extensive surveys of Chinese Americans ever conducted.
More than a quarter say they've experienced bias or hate episodes such as being physically intimidated or assaulted, having their property vandalized or damaged, and being called racial slurs.
The study found that eight in 10 Chinese American citizens were registered voters, and that 91% of those registered voters voted in the 2020 presidential election.
Racism, crime, gun control, and the economy were identified as the top four most important issues facing the U.S. by the survey respondents.
Background: The study was organized by Columbia University and Committee of 100, a nonprofit led by prominent Chinese Americans in business, government, academia, health care and the arts.
The nationwide survey was conducted online in English, simplified Chinese, and traditional Chinese from October 2022 to December 2022.
Participants were chosen based on demographic characteristics, including gender, age, education level, English proficiency, U.S. citizenship, income level, and census data.
State of play: A supplemental report from the FBI indicates that overall hate crimes increased in 2021, rather than declining as the agency initially reported.
But even the FBI's initial report found an uptick in hat crimes against Asian Americans.
Anti-Asian American/Pacific Islander violence has been rising since the beginning of the coronavirus pandemic, according to the FBI and advocacy groups. In 2021, anti-Asian hate crimes in San Francisco increased by 567% from the previous year.
From March 2020 to March 2022, Stop AAPI Hate counted nearly 11,500 hate crimes against Asian Americans nationwide.
Between the lines: Data on Asian Americans — especially Chinese Americans, who represent about 1.7% of the U.S. population — have been hard to come by because of a lack of studies and extensive surveys.
Experts say the lack of data fosters stereotypes and false premises about Asian Americans being a "model minority" and masks disparities and inequalities.
What they're saying: "The Chinese American population is one of the fastest-growing ethnic groups in the United States, but is underrepresented in politics and policy," Gary Locke, Committee of 100 chair, said in a statement.
"This important collaboration between Committee of 100 and Columbia University brings a critical and deeper understanding of the real experiences of Chinese Americans, not the stereotypical assumptions assigned to a  'model minority' group."
What's next: Researchers of the survey recommend incorporating or expanding Asian American history lessons across all levels of education, from K-12 to higher education.
They also recommend increasing funding for language access to provide Chinese Americans with low English proficiency equal access to various services.
Go deeper