The ongoing search for long COVID treatments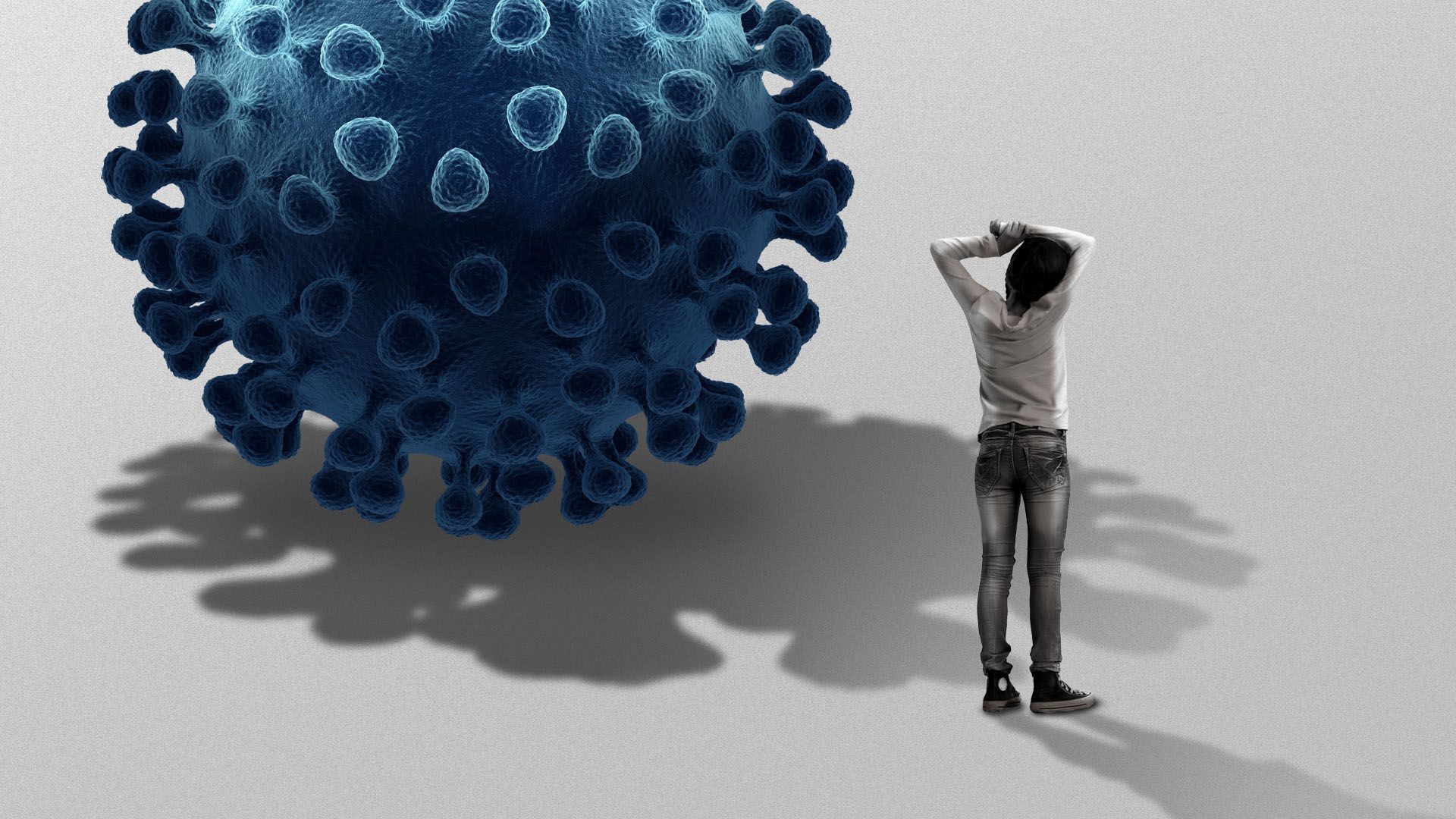 As the federal government continues to wrestle with a response to long COVID, Food and Drug Administration officials are turning to patients who've experimented with unproven treatments for clues about how to manage the condition and design clinical trials.
The big picture: More than three years into the pandemic, there's still no standard protocol for diagnosing or treating the neurological issues, cognitive difficulties, breathing problems and other health problems that plague millions of people after they fell ill with the virus.
The FDA is hoping "patient-focused drug development" can deliver feedback on drug development and evaluation — an approach it also took to chronic fatigue syndrome, which similarly has no cure.
Government efforts have so far yielded little for the more than 20 million Americans experiencing ongoing symptoms, with questions particularly swirling around a $1 billion National Institutes of Health effort called RECOVER, as STAT and Muckrock report.
Zoom in: During a six-hour meeting on Tuesday, patients told FDA officials about months-long waits to get into long COVID clinics and efforts to treat symptoms with old drugs and supplements, most of which aren't covered by insurance because of the off-label use.
The list included antidepressants like Lexapro, antibiotics, beta blockers usually used for heart ailments, melatonin for insomnia and vitamin D.
Other patients reported using Ritalin to help with brain fog, low-dose naltrexone to alleviate inflammation and saline infusions to slow down their heart rates.
More than half of 152 patients polled said the most burdensome aspects are access barriers or the minimal benefits from existing cures.
What they're saying: A patient from Los Angeles, Angela Vázquez said she takes 15 different medications to manage mast cell activation, which triggers allergic reaction symptoms, and autoimmune inflammation after getting sick in March 2020.
Tammy Wilshire, who lives in rural Pennsylvania, said it took her nearly two years to find help and has since tried beta blockers for tachycardia, gabapentin and other medications for tremors and fibromyalgia in addition to pain creams and muscle relaxers.
Daniel, who didn't give his last name, referred to the dozens of medications he's taken as "ridiculous long shots" that haven't significantly improved his condition.
"We do not have three more years. We will not survive three more years."
A growing recognition that COVID's many long-term effects are manifested through the brain and the nervous system is beginning to shape approaches to medical treatment.
Researchers continue to investigate if drugs for other conditions like traumatic brain injury can be repurposed for some long COVID symptoms.
But the broad range of conditions and their severity and duration makes it hard to even come up with a standard definition for the condition, as the New York Times reports.
The way scientists are still struggling to understand long COVID as an illness poses a challenge to developing drugs that manage it, said Hilary Marston, the FDA's chief medical officer.
"But FDA is committed to supporting drug development for long COVID along with our federal partners," Marston said.
What we're watching: For now, efforts to address long COVID remain scattershot. For example, Arizona's state legislature would provide millions toward researching if psilocybin — commonly known as magic mushrooms — is a therapy option.
Clinical trials are underway to determine whether the antiviral Paxlovid could be used as long COVID treatment, but the study's estimated end date isn't until January of next year.
Yes, but: Some long COVID patients like Jillian, who did not give a last name, told federal regulators trials need to be focused on new cures because "the treatments that have been mentioned today are Band-Aids."
Go deeper