Electric "air taxis" are headed to the U.S. Air Force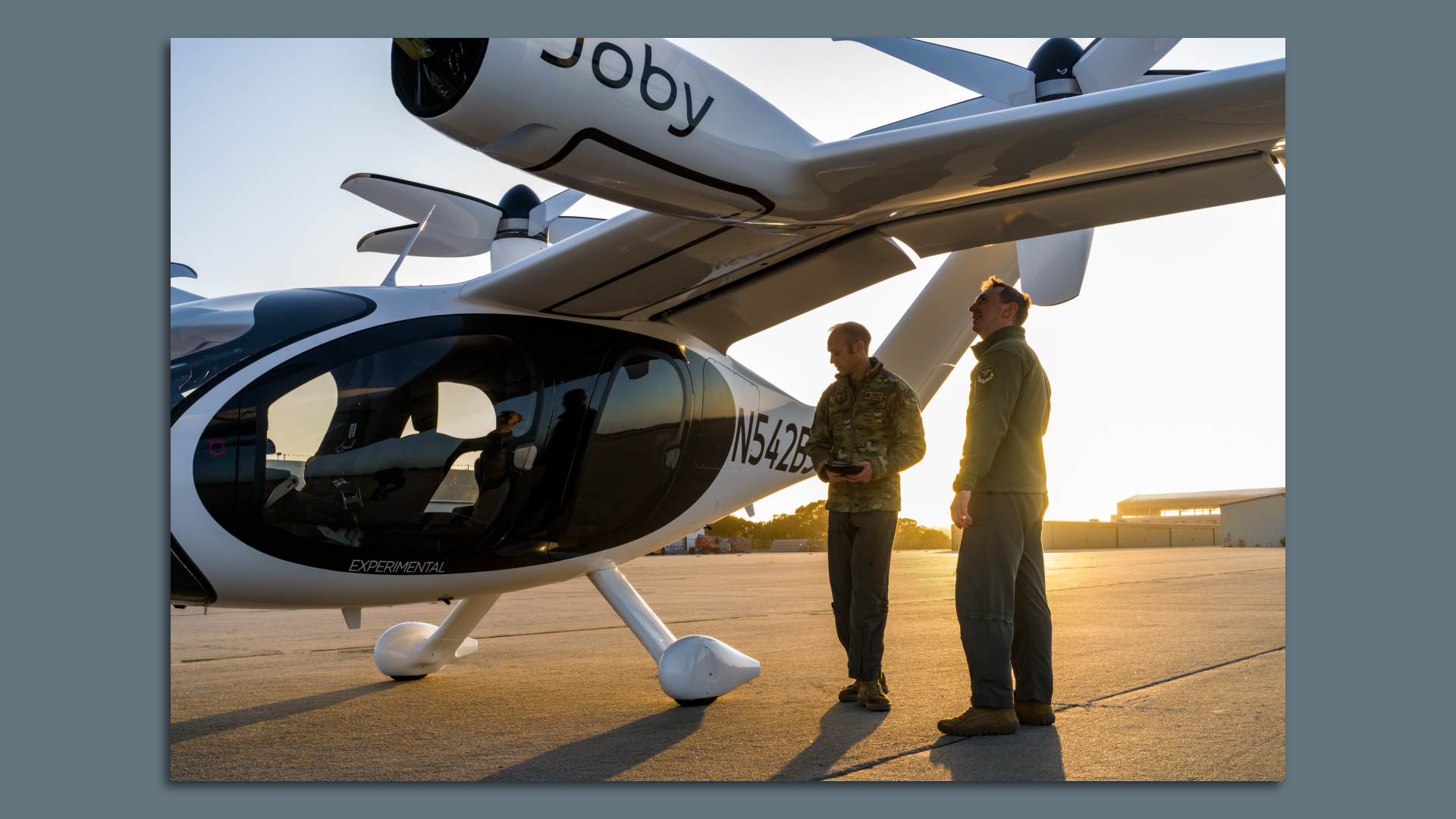 Before anyone zips high above congested cities in a Joby electric air taxi, the U.S. Air Force (USAF) will be putting the revolutionary aircraft to work moving cargo and people at California's Edwards Air Force Base.
The big picture: The U.S. government is often the first customer for new technologies, such as microprocessors and jet turbine engines. Now the Defense Department is helping to usher in a new era of electric aviation.
Driving the news: Joby Aviation announced today a $55 million extension of its USAF contract, bringing its total potential value to $131 million.
As part of the deal, Joby will deliver up to nine of its electric vertical takeoff and landing aircraft (eVTOLs) to the U.S. government, and operate them.
The initial two Joby eVTOLs will go to Edwards by March 2024, making them the first electric air taxis to be stationed at a U.S. military base.
The aircraft will provide the Air Force — as well as federal agencies such as NASA and the Federal Aviation Administration — with vital firsthand eVTOL experience.
Some USAF pilots are getting trained on Joby's aircraft, but the company will be the primary operator of those stationed at Edwards.
What they're saying: "This extension of our contract with the Department of Defense is an important milestone for both Joby and the broader eVTOL industry," Paul Sciarra, Joby's executive chairman, tells Axios.
"It'll mark the first delivery of an eVTOL aircraft to a customer, the first training of non-company pilots on an eVTOL and, likely, the first revenue-generating operations of eVTOL in the U.S. and potentially the world."
"These are real aircraft deployed in real situations against real use-cases, so we'll get invaluable feedback and operational experience far in advance of commercial operations."
The big picture: The Air Force is working with a number of eVTOL makers to accelerate advanced air mobility through its Agility Prime program.
What's next: Joby is undergoing an FAA process to certify its aircraft for commercial civilian flights.
Go deeper