Dems fight Inflation Reduction Act ignorance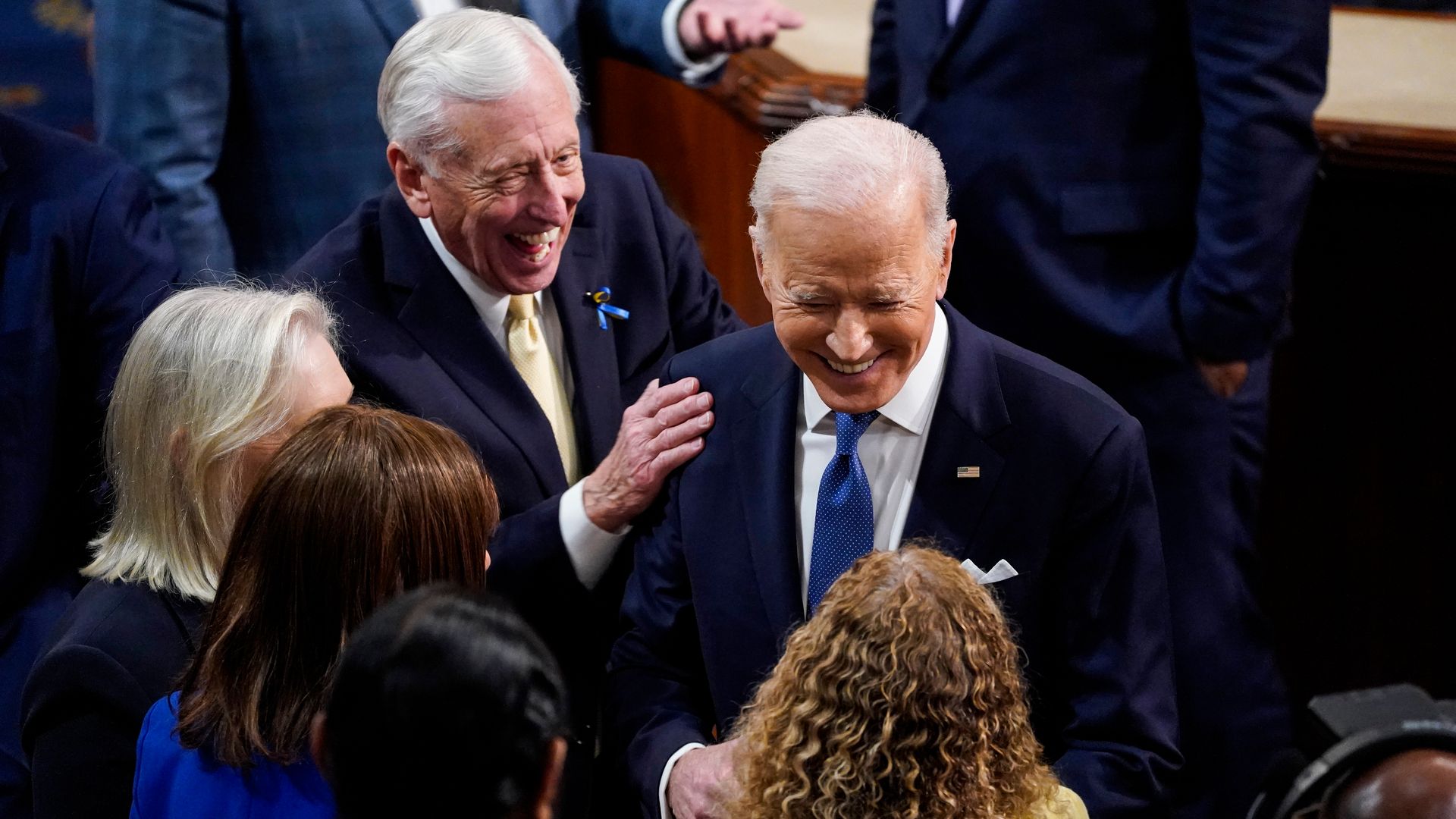 As President Biden preps his re-election bid, here's what key House Democrats said at an Axios Pro event Friday about their plans to sell voters on their party's climate agenda.
Why it matters: It's not just a political pitch. The Inflation Reduction Act contains huge consumer-oriented climate subsidies, but half the country has no clue what the IRA is, according to recent polls.
Democrats are trying to boost awareness of the IRA as Republicans try to publicly tar the law and use debt talks to defund some of its major programs.
Driving the news: At the Axios Pro event, held in connection with Earth Day, former House Majority Leader Steny Hoyer explained how Democrats' Regional Leadership Council is essential to widely marketing the IRA.
The idea of the council — a group of 12 Democrats — is to tell Americans, "This is what we've done. This is what is available. It's going to bring down your costs," Hoyer told Nick.
That means publicizing things like the IRA's 25C tax credit, which offers as much as $2,000 for home heat pumps.
The group has been meeting with Biden administration officials, including John Podesta and Mitch Landrieu — the White House leads for IRA and infrastructure law implementation.
"[Biden] has asked every Cabinet member to have a person directly focused on this issue and for them to work with our regional council," Hoyer said.
What we're watching: At the event, council member Jared Huffman explained how Democrats should push back against anti-IRA publicity.
He wants his colleagues to focus on what the law is doing for GOP districts, a tactic the White House has begun using in negotiations.
"You are already seeing billions and billions of dollars of investment pouring in to communities around this country ... A lot of this is happening in red states and red congressional districts," he said.
Yes, but: Hoyer and Huffman's differences on how to quickly permit the energy transition shows it's not all unity in Democratic IRA messaging world.
Hoyer said he hopes for a bipartisan permitting overhaul: "We need to make sure that our permitting processes are ... not implemented in a way that prohibits getting us quickly forward on progress on energy conservation and cleaning up our air and our water."
Huffman, meanwhile, is overseeing the Congressional Progressive Caucus' ongoing efforts to develop its own proposals.
A progressive fix for permits will need to be "more narrowly targeted" and avoid any greased skids for future fossil fuel permits. If anything, he said permit progress would mean we "stop approving fossil fuel infrastructure altogether."
A final Earth Day nugget: Hoyer said he's planning to reintroduce the AMAZON21 Act, his bill to stop deforestation around the world.
It's an uncommonly bipartisan issue that's crucial to keeping CO2 sinks that can curb global temperature rises.
The legislation would tee up $9 billion through the State Department to boost international forest conservation.
Hoyer said he's talking through it with Natural Resources Chair Bruce Westerman.
Go deeper