"Unprecedented" wave of fake threats at schools causes terror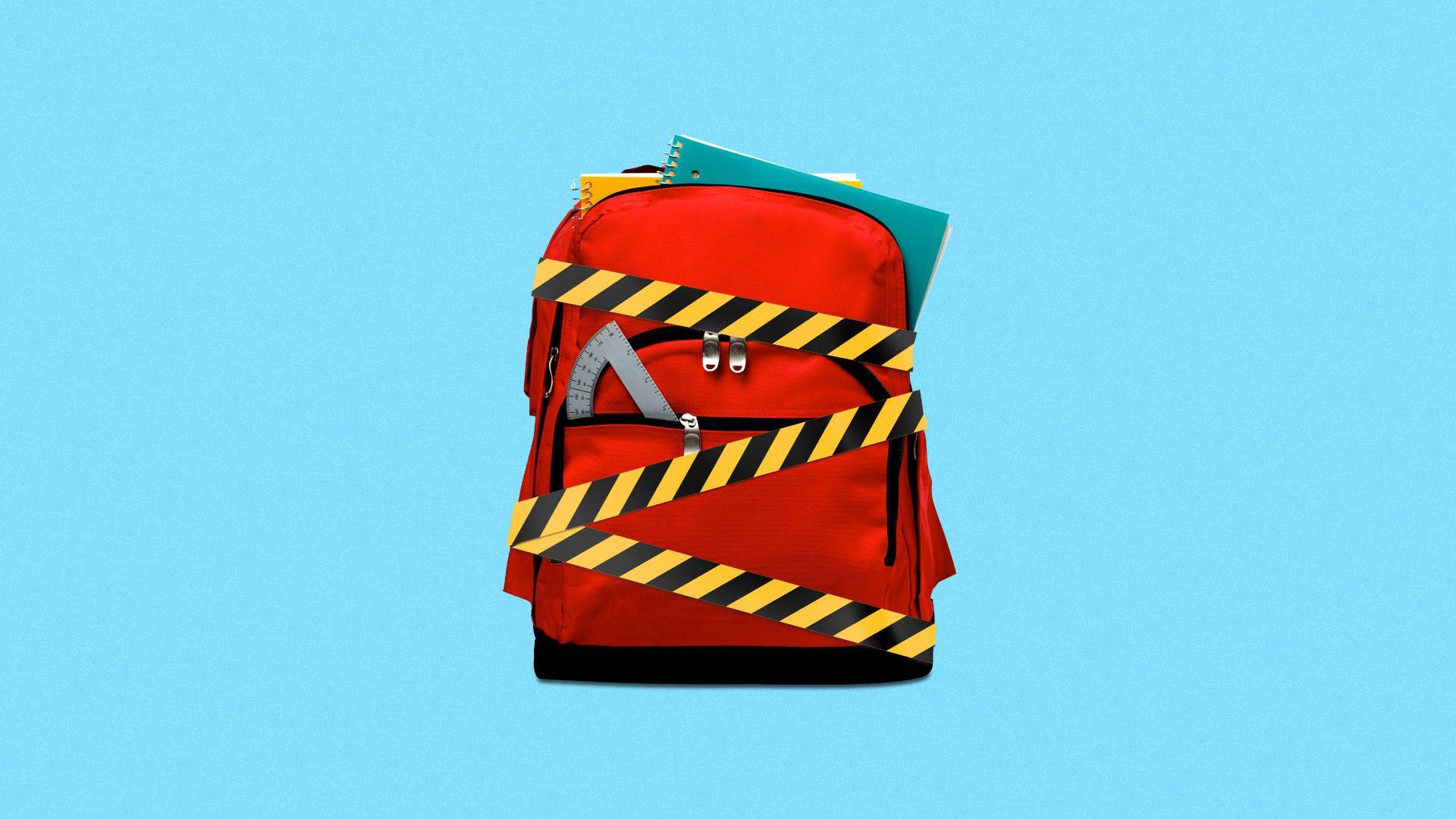 "Swatting" calls — fake reports of shootings or bombs that draw an onslaught of SWAT teams and cause schools to lockdown — are rising nationwide.
The big picture: Although there are no casualties or injuries in such incidents, the psychological impacts on children can be immense.
"Swatting" is the act of placing a fake emergency call to 911, who often dispatch SWAT teams to potentially violent situations.
While the FBI has not shared data about the number of swatting incidents, the agency said in an emailed statement that they're "aware of the continued threats being made."
"The FBI takes swatting very seriously," the agency said. "These threats put innocent people at risk and cause significant fear in the community."
By the numbers: The Educator's School Safety Network, a nonprofit, has recorded 401 false reports so far this school year, according to operations director Amanda Klinger.
Practically no state has been spared: The National Association of School Resource Officers, which tracks news reports of swatting incidents, has documented such reports across 42 states, plus Washington, D.C. since September.
Many of the calls are computer generated, making it easy for bad actors to call-in dozens of fake threats in a short period of time.
"Very often, and probably in this case, they are foreign actors," New York Gov. Kathy Hochul (D) said after 36 New York schools were targeted in March. "These are computer-generated calls originating in foreign lands that are trying to cause disruption."
"This incredible uptick in intentional false reports ... is something that educators have really struggled to contend with this year," Klinger said.
The Educator's School Safety Network provides professional development training to educators, she explained, and getting people to prepare "is really the biggest first step."
That includes beefing up communication capabilities, going through evacuation procedures and having discussions with faculty and staff. "It doesn't have to be very scary," Klinger added.
Between the lines: The psychological impacts of hoax shooting calls can be daunting.
"I think whether there's a real shooting or pretend shooting, it's terrifying and people don't feel safe," said Dr. Adelaide Robb, chief of psychiatry and behavioral sciences at Children's National Hospital in D.C.
The mental health impacts on students can go either of two ways, she explained.
"The kids who aren't that scared and who stopped paying attention to any threats may start to ignore things from their own peer group on the Internet," Robb said. Then if there's a real threat, they may discount it because there have been so many false alarms, she added.
"There's another group of kids who may be more anxious to begin with, who become more and more fearful," Robb said. "And for some of those children then, it doesn't feel safe to go to school anymore."
The bottom line: School is supposed to be a place where students can feel safe.
"To not feel safe in school makes one of the most important parts of a child's life very difficult," Robb said.
"You can't learn when you're in terror," she continued. "If you can't go into school and sit down in the classroom, and listen and learn because you're too scared somebody's going to come in with a gun, it makes the entire progress of your life difficult."
Research of a recent swatting incident showed serious mental health costs, Klinger said.
"No one was in danger. No one was injured, and that's fantastic," she explained. "But you can't discount that there was a period of time where people thought they might die."
Be smart: Senate Majority Leader Chuck Schumer (D-N.Y.) called on the FBI earlier this month to launch an investigation into the "latest unprecedented wave" of swatting calls.
"It's our job as the adults in their life to help in school, to make people feel safe, to make it a gun free zone," Robb said. "So that going to school is about learning and making friends – not worrying about what's the next bad thing that's going to happen."
Editor's note: This story was originally published on April 21.
Go deeper