Axios Latino: Climate Truths + Solutions Evening Event in Washington, D.C.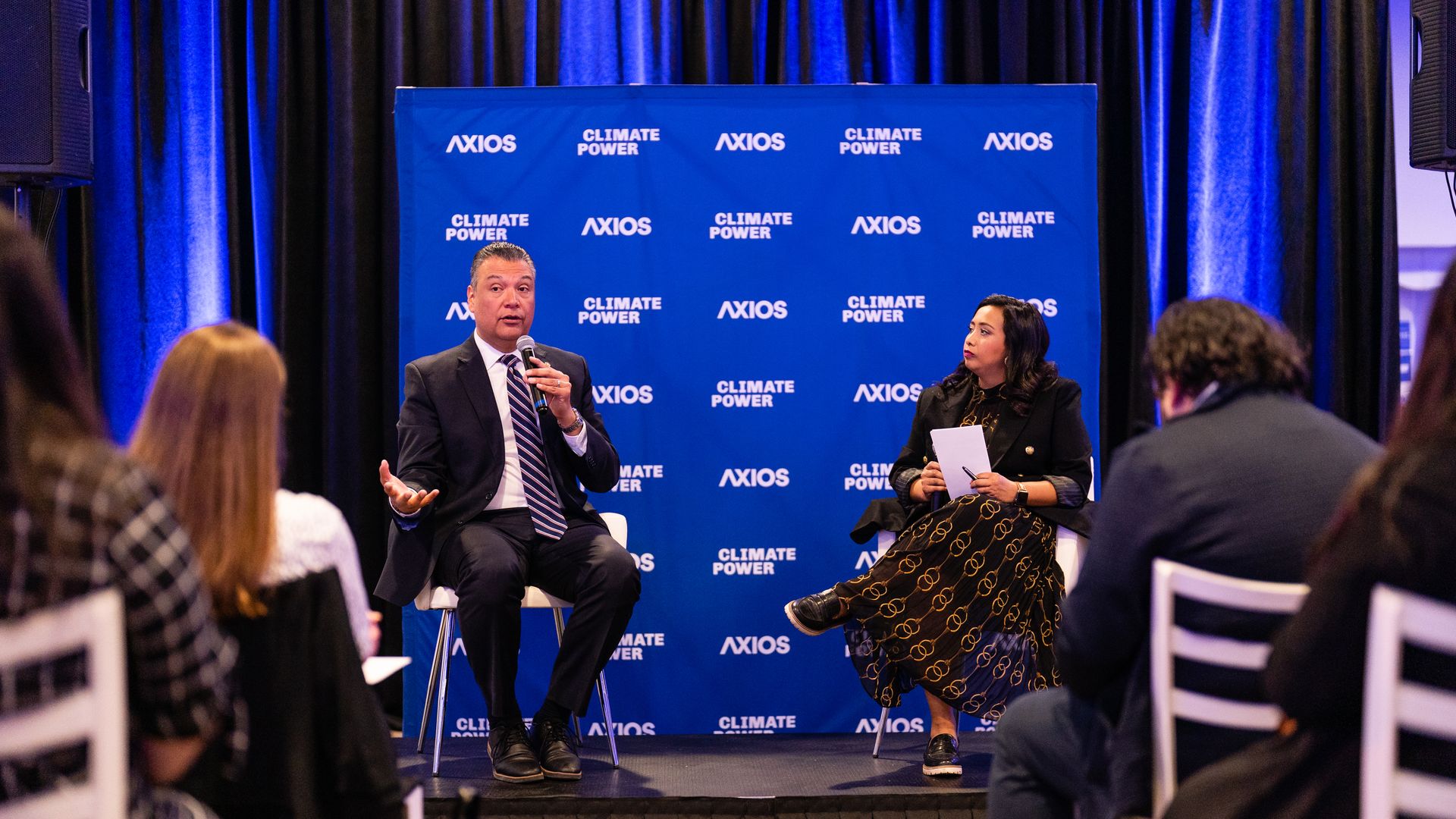 On Wednesday, April 19, Axios Latino editor Astrid Galván and senior race and justice reporter Russell Contreras led conversations at an evening event in Washington, D.C. examining the challenges and solutions of the climate crisis and the impact on Latino communities. Guests included Sen. Alex Padilla (D-Calif.), Rep. Sylvia Garcia (D-Texas), and Rep. Gabe Vasquez (D-N.M.). A View from the Top sponsored segment featured Climate Power En Accion deputy executive director Antonieta Cadiz.
Rep. Gabe Vasquez on the Latino energy production workforce: "We talked about energy production and energy independence and what that means to our national defense and to our national security. That story hasn't changed, it's just evolved, right? Latinos are now risking their lives in different ways than they did before. So when we talk about environmental justice and we talk about oil and gas production, we have to acknowledge that there's people who are sacrificing their bodies and the health of their families and their communities because we haven't enacted enough provisions or legislation to keep those families safe and keep those communities safe."
Rep. Sylvia Garcia on advocacy groups' lack of outreach to her district: "I have been challenging a lot of the advocacy groups, don't just come tell us you have a problem…engage our community. We need to know more about the impacts because mine is a working class district…I think it's important that we realize that we need to do more advocacy, more education, more outreach in our communities of color so that they can fully understand the impact of not only pollution but any of the other issues that are happening right now regarding climate change."
Sen. Alex Padilla on why the Inflation Reduction Act gives him hope amidst the climate crisis: "Not only did we get something done, it was our country's largest investment in climate ever, larger than any investment of any nation in the world. Now we have to implement effectively, implement equitably…we're going to build on that success because it's important for climate, it's important for public health, right? It's our community that's disproportionately impacted by air pollution, water pollution, et cetera, and it just makes business sense."
Antonieta Cadiz on the fossil fuel industry's negative health impacts: "Unfortunately, the fossil fuel industry has managed to build its facilities refineries in the heart of our communities, and that is a real problem for us. Just to put context here, more than 3.3 million Latinos live less than a mile from an active fossil fuel facility. More than this number, this is our lives. This is the air we breathe, the water we drink. It's compromising our health."
Thank you Climate Power for sponsoring this event.
Go deeper