Your wastewater could reveal norovirus outbreaks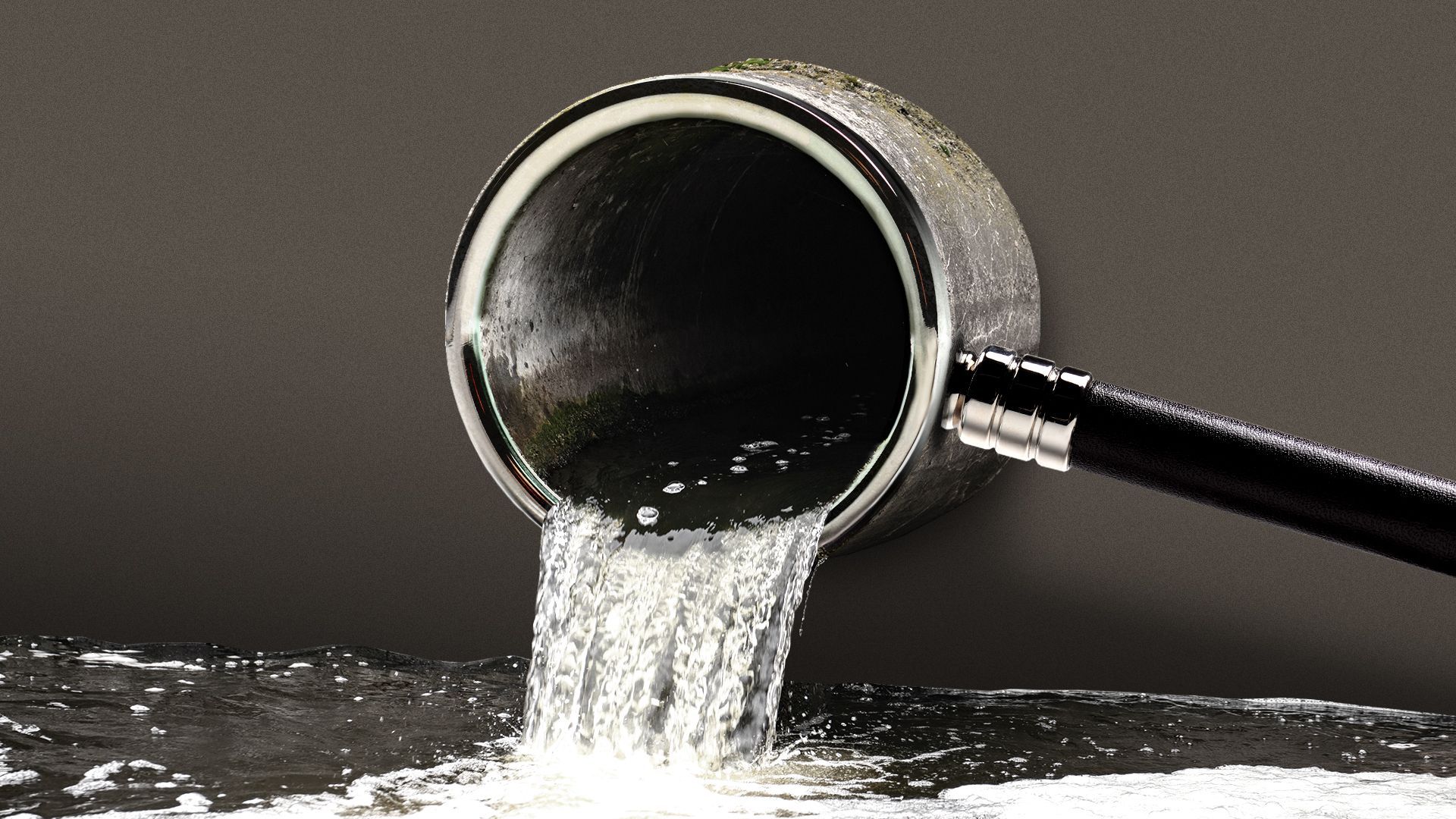 Leading wastewater surveillance firm Biobot Analytics is now able to monitor for norovirus, Axios is first to report.
Why it matters: Norovirus — which typically causes gastrointestinal symptoms such as diarrhea and vomiting — is a little-understood yet highly communicable (and sometimes fatal) disease.
A recent major outbreak seems to have spiked in mid-March, per the latest Centers for Disease Control and Prevention data — but norovirus isn't well-tracked at the local or state level.
The big picture: It's the latest expansion for Biobot and wastewater surveillance technology more broadly, which rose to prominence during the height of the COVID-19 pandemic as a key public health tool.
After making a name for itself in tracking SARS-CoV-2 (the virus that causes COVID-19), Biobot expanded into monitoring for mpox (commonly known as monkeypox) as well as substances such as fentanyl and methamphetamines.
Wastewater analysis has also been used to track poliovirus.
How it works: Biobot works with cities, states and so on to monitor wastewater for signs of a particular pathogen or substance.
In the case of COVID-19, wastewater data often predicted spikes in positive tests, as those infected can shed the virus in their feces and urine before developing symptoms and getting tested.
Where it stands: Biobot has yet to announce any particular communities that have signed up for norovirus monitoring.
What they're saying: Biobot CEO and co-founder Mariana Matus says her company's data could help researchers learn more about norovirus while offering a kind of early warning system for public health officials as the pathogen ebbs and flows.
"It's very important to keep an eye on how those trends are changing season to season, year to year," Matus tells Axios.
"And wastewater can allow you to do that in a way that is not biased," she adds — meaning data is collected from entire communities, rather than only from those who can access testing.
Yes, but: Wastewater monitoring provides a big-picture look at viral spread, rather than specific case counts or hyper-focused geographic data.
Some epidemiologists, meanwhile, have been slow to embrace new tools such as wastewater monitoring.
Reality check: Wastewater analysis is best used for pathogens that are primarily shed in stool or urine, says Colleen Naughton, an assistant professor at the University of California, Merced.
But other conditions, including those that cause respiratory secretions, sores or lesions, can show up after infected people shower or bathe.
Naughton also cautioned that wastewater analysis risks becoming more commonplace in wealthier areas absent efforts to ensure equitable deployment.
What's next: Matus named several other diseases or conditions that could one day be picked up in wastewater, including RSV, e. coli, salmonella and sexually transmitted infections.
But the big dream: Scanning "agnostically" for anything alarming, rather than setting out to identify something specific — including "new outbreaks that nobody expected," she says.
"That's how the field is moving, and really fast."
Go deeper