Biden slams Republican economic vision in speech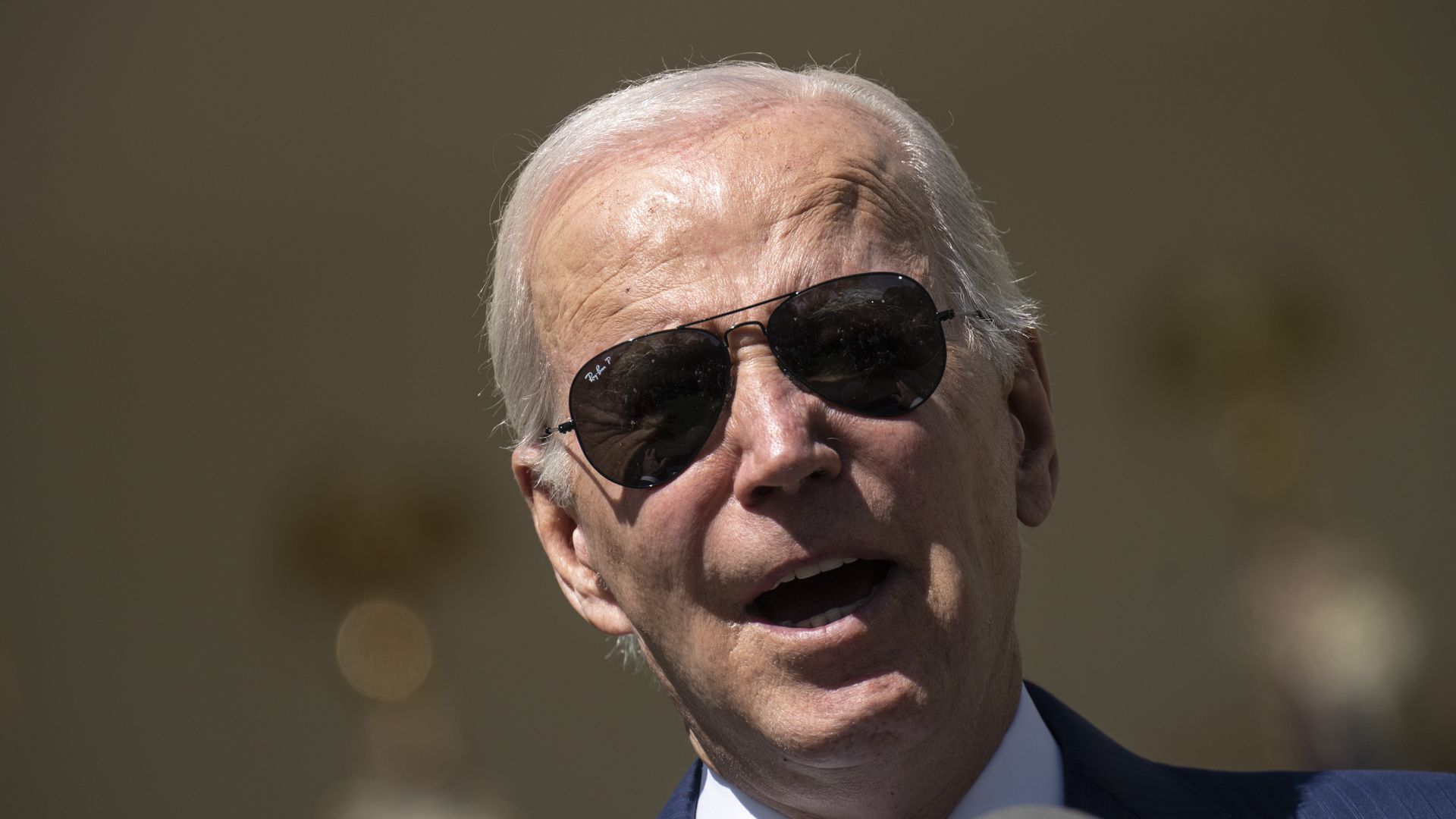 President Biden is set to deliver remarks Wednesday slamming House Republicans' economic vision as the "same old trickle-down dressed up in MAGA clothing."
Why it matters: The U.S. government could reach its fiscal cliff this summer, but the Biden administration has refused to negotiate with House Republicans as long as they tie the debt ceiling to their budget demands.
McCarthy will attempt to pass his debt-ceiling bill through the House in the coming weeks to force Biden to negotiate, but divisions within the GOP conference are threatening to derail those plans.
The live updates for this story have ended.
Biden, in his closing remarks, said: "My economic plan for the middle class is transforming our economy to be stronger, fairer, more innovative, more competitive."
"That's where all of you come in, without you we can't rebuild America," he said.
"You build the roads, the bridges, you're going to take all those lead pipes out of our system, make it safer to generate economic growth for the country."
Biden criticized "MAGA Republicans in Congress" for supporting cuts to food assistance programs, Medicaid, the IRS and the FBI.
"And here's the thing, do these painful cuts actually help the deficit, do they actually reduce costs? Well, the honest answer is no," he said.
Biden said House Republicans are threatening to default on the national debt "unless I agree to all these wacko notions they have."
A default "would be worse than totally irresponsible," he said and slammed McCarthy's speech on Monday. "In a speech to Wall Street, the speaker failed to guarantee he would be the first speaker not to default on our debt."
"Let's be clear. If he fails, the American people will be devastated."
Minutes before Biden's speech began, House Speaker Kevin McCarthy proposed a debt ceiling increase of $1.5 trillion — paired with a package of spending cuts, Axios' Juliegrace Brufke and Justin Green report.
McCarthy said the plan includes the following: Setting discretionary spending at Fiscal Year 2022 levels, capping spending growth at 1% a year and pulling back unspent COVID funds, among other cuts.
Biden, after touting his own accomplishments, turned to McCarthy's economic vision and said that his proposed budget cuts affect programs "that millions of hardworking and middle-class Americans count on."
The proposal is "the same-old trickle-down [economy] dressed up in MAGA clothing," he said.
He said that efforts to boost use of electric vehicles nationwide will generate "incredible economic growth."
"You all are going to build on the roads and highways and bridges to get there," he said to the workers at the union training facility in Accokeek, Maryland where he is speaking.
"Where in the hell was it written that says we can't be the manufacturing capital of the world again .... it's going to be us," he said after touting the manufacturing workers' role in growing the U.S. economy.
The president touted his administration's efforts to lower inflation through the Inflation Reduction Act and he highlighted his efforts to allow Medicare to negotiate the prices of drugs.
"I've been fighting for years as a senator and vice president to allow Medicare to negotiate the price of those drugs and negotiate the price," he said.
Making another pitch to middle-class workers, Biden said: "Folks, my economic plan is a blue-collar blueprint to rebuild America. And that's not all. I get how folks are struggling with inflation," he said citing the war in Ukraine and the pandemic disrupting supply chains as reasons it remains high.
Biden opened Wednesday by making a pitch to union workers and middle-class Americans, saying that they would be most impacted by a debt default, which he said would "destroy this economy."
"We've never ever defaulted on the debt and it will destroy this economy," Biden said.
"And who do you think will hurt the most? You hardworking people, the middle class."
Go deeper