Oklahoma official who discussed killing journalists resigns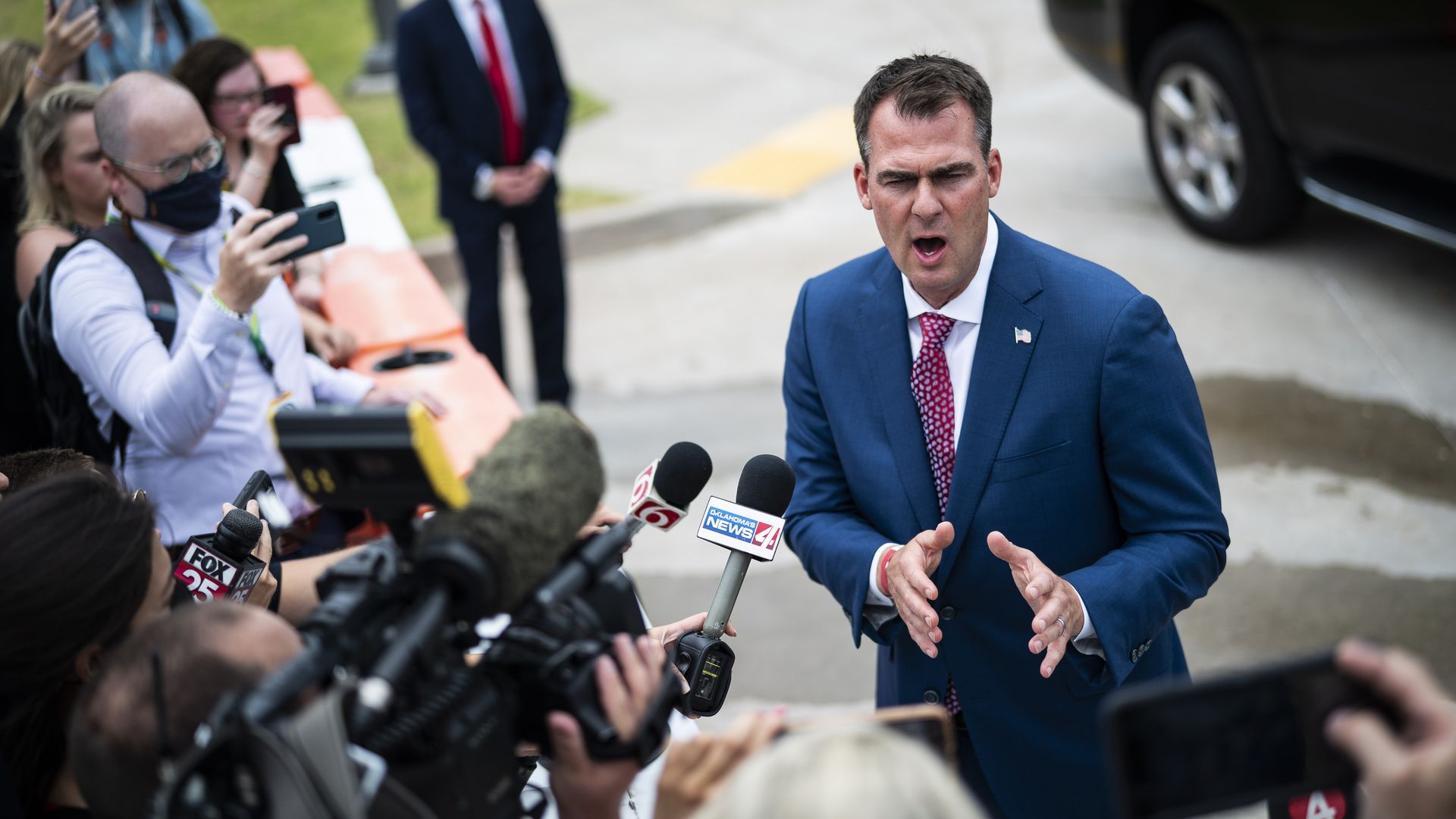 An Oklahoma county commissioner who was allegedly caught on tape making comments about killing Black people and local journalists with three other local officials resigned from office, AP reports.
The latest: Oklahoma Gov. Kevin Stitt's office said on Wednesday it received a resignation letter from McCurtain County Commissioner Mark Jennings, who was allegedly heard on the recordings.
In the letter, Jennings said he was resigning immediately and would later issue a formal statement "in the near future regarding the recent events in our county," according to AP.
Driving the news: Jennings' resignation comes after Stitt called for the resignations of all four officials allegedly heard on the recordings.
Audio from the McCurtain Gazette-News revealed certain McCurtain County officials apparently saying they know "very quiet" hit men while talking about the newspaper's journalists, and complaining that they can't hang Black people.
Bruce Willingham, the newspaper's publisher, said he captured the audio in early March, and has since turned it over to the FBI and Oklahoma Attorney General's Office, AP reported.
The Attorney General's Office confirmed to Axios that it had received the full audio recording.
What they're saying: "I am both appalled and disheartened to hear of the horrid comments made by officials in McCurtain County," Stitt said in a statement Sunday, per AP.
"There is simply no place for such hateful rhetoric in the state of Oklahoma, especially by those that serve to represent the community through their respective office."
Stitt said he was also seeking the resignations of three other people believed to be heard in the recording: McCurtain County Sheriff Kevin Clardy, sheriff's Capt. Alicia Manning, and Jail Administrator Larry Hendrix.
The Oklahoma Sheriffs' Association announced on Facebook Thursday afternoon that Clardy, Manning and Hendrix were suspended from the association — though that doesn't mean they're out of their jobs with the sheriff's department.
Details: The recording, the authenticity of which could not be verified by AP, includes McCurtain County Commissioner Jennings allegedly saying he would run for sheriff if those in the position could "take a damn Black guy and whoop their *** and throw him in [a] cell."
"Well, It's not like that no more [sic]," Clardy replied. "I know," Jennings said. "Take them down to Mud Creek and hang them up with a damn rope. But you can't do that anymore. They got more rights than we got."
Meanwhile, in another portion, Jennings tells Clardy and Manning that he has knowledge of where "two deep holes are dug if you ever need them," to which the sheriff responds, "I've got an excavator."
Jennings also says he knows "two or three hit men" in Louisiana that are "very quiet guys."
Manning then appears to discuss the consequences of harming Chris Willingham — a reporter for McCurtain Gazette-News and the son of Bruce Willingham — or one of his family members.
"If any hair on their head got touched by anybody, who would be the bad guy?" Manning allegedly asks the others.
The big picture: Bruce Willingham told AP he captured the audio by leaving behind a recording device after a March 6 county commission meeting because he suspected officials were continuing to discuss business after the meeting officially ended, which would violate Oklahoma's Open Meeting Act.
Open meeting laws are in place to hold elected officials and civil servants accountable and their power in check.
Bruce Willingham said he believes the officials were reacting to the McCurtain Gazette-News' coverage of the sheriff's office.
The paper previously covered the case of Bobby Barrick, a local man who died last year after McCurtain County deputies shot him with a stun gun, and has filed a lawsuit to force the sheriff's office to turn over information about the case, per AP.
Axios has reached out to the Gazette-News and all four county officials for comment.
The other side: In a statement Monday, the McCurtain County Sheriff's Department did not address the allegations or content of the audio, but instead claimed the recording was illegally obtained since the consent of at least one of the parties wasn't given.
"Our preliminary information indicates that the media released audio recording has, in fact, been altered," the statement also reads.
The audio has been turned over to the FBI and the Oklahoma Attorney General's Office.
The Attorney General's office confirmed receipt of the audio to Axios but declined to comment further on the case.
Of note: The McCurtain Gazette-News has no online presence, but the original story can be read on Facebook.
Editor's note: This story has been updated with details throughout.
Go deeper