4 killed and 28 injured in Alabama birthday party shooting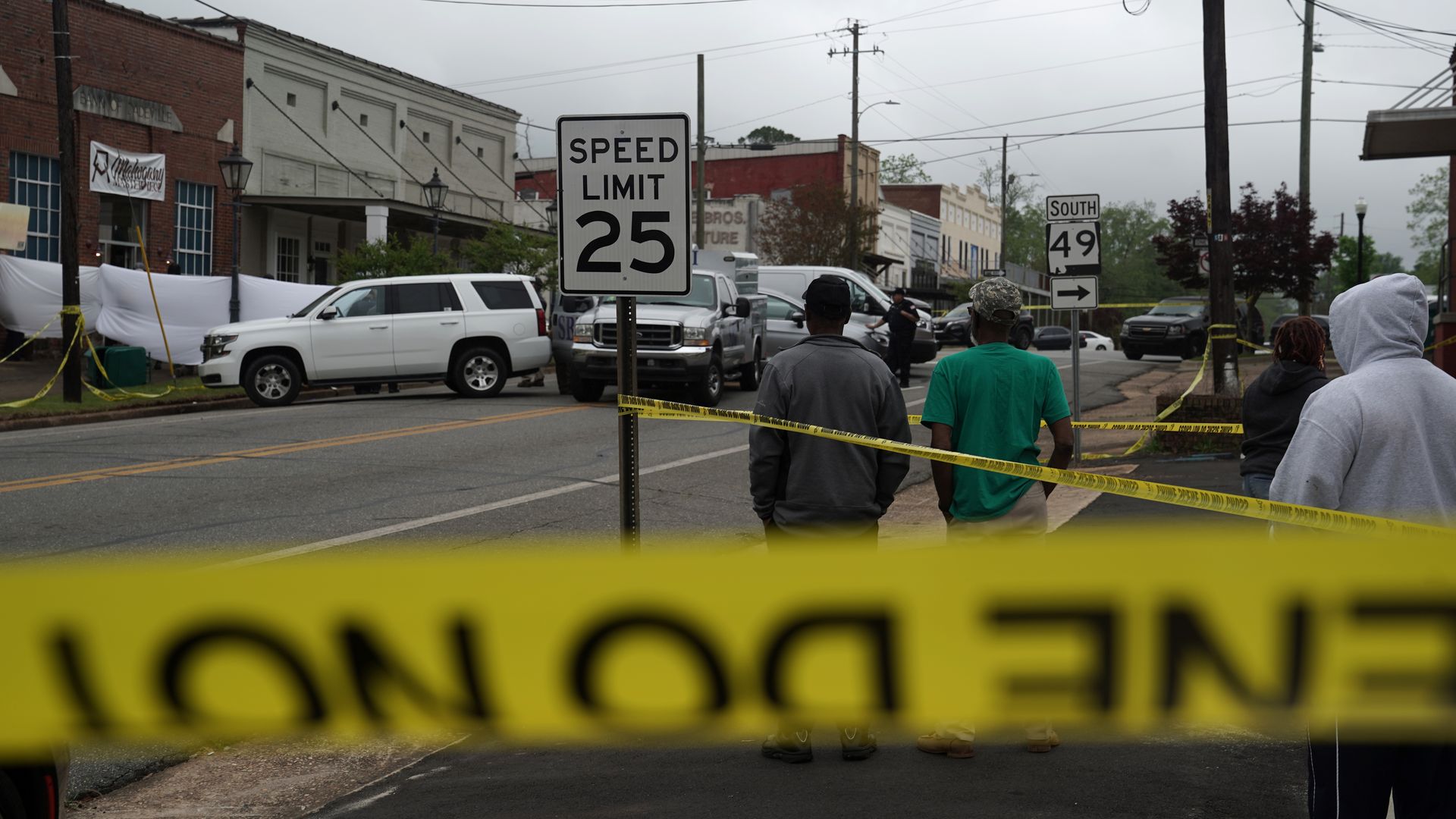 A shooting at a birthday party in an eastern Alabama town on Saturday left at least four people dead and 28 others injured — some critically, police said Sunday evening.
The big picture: The mass shooting in Dadeville, some 57 miles northeast of Montgomery, is the 32nd to occur this month in the U.S., and the seventh of nine of the weekend, according to statistics compiled by the Gun Violence Archive.
Of note: Authorities had yet to publicly identify the victims, but Dadeville High School principal Chris Hand told AL.com he believed students from the school were among those shot. "I am so devastated right now. We have a really good school and these were great students," he said.
A senior at the school who'd committed to Jacksonville State University was identified by his grandmother and the school's football team chaplain as being among those killed at the "Sweet 16" birthday party.
Details: Authorities said the shooting happened around 10:34 pm local time at the Mahogany Masterpiece dance studio in Dadeville, a community of about 3,200 people.
Alabama Law Enforcement Agency (ALEA) Sgt. Jeremy Burkett said in a press conference four people were killed and there were a "multitude" of injuries following the shooting.
He clarified the number wounded in the shooting at a news conference Sunday evening, noting they had a "wide variety of injuries" ranging from minor to critical.
"This is a very fluid situation," said Burkett, who declined to take questions. "We are still trying to confirm everyone who was at the scene."
Heidi Smith, a spokesperson for Lake Martin Community Hospital, told news outlets 15 teenagers were treated at the Dadeville hospital. Some victims had been released and several were transferred to other medical facilities, she said.
What we're watching: Officials did not immediately provide information on a suspect.
What they're saying: President Biden, whom the White House said was briefed on the shooting, said in a statement "our nation is once again grieving" following the shooting. "What has our nation come to when children cannot attend a birthday party without fear?" he said.
Biden urged Congress to pass legislation requiring "safe storage of firearms, require background checks for all gun sales, eliminate gun manufacturers' immunity from liability, and ban assault weapons and high-capacity magazines."
Tallapoosa County School District Superintendent Raymond Porter said counseling would be provided to schools on Monday and called on local clergy to reach out to the families of the victims.
"We will make every effort to comfort those children," Porter said. "Don't lose sight of the fact that those are the ones most impacted by this situation."
Alabama Gov. Kay Ivey said in a statement she grieved with the people of Dadeville and her fellow Alabamians. "Violent crime has NO place in our state, and we are staying closely updated by law enforcement as details emerge," she added.
Editor's note: This article has been updated with additional details throughout.
Go deeper