Arizona GOP-controlled House expels Republican in historic vote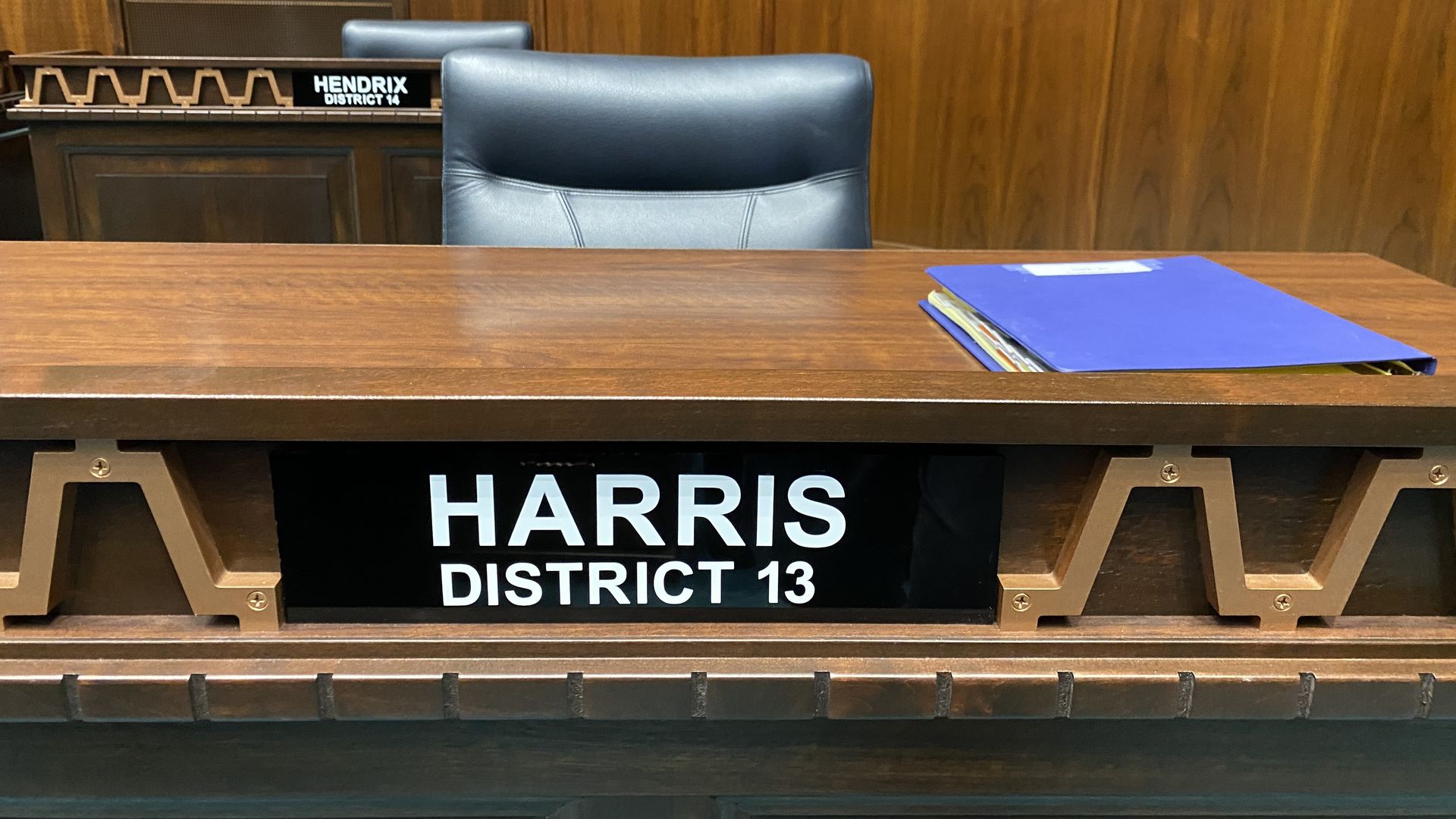 The Arizona House expelled freshman GOP Rep. Liz Harris on Wednesday for inviting a speaker to a joint elections committee hearing who spread baseless accusations of drug cartel bribery and election rigging by elected officials, judges and others.
Driving the news: The House expelled Harris by a 46-13 vote.
It takes a two-thirds vote to remove a member of the Legislature.
The 28 Democrats on the floor voted unanimously for expulsion, as did 18 of 31 Republicans.
Why it matters: Harris is only the fifth member of the Arizona Legislature to be expelled, and a majority of her fellow Republicans voted to remove her from the GOP-controlled chamber.
Catch up quick: Harris was elected last year and had been in office about three months. The House and Senate held a joint elections committee hearing Feb. 23 in which Harris invited Jacqueline Breger, a Scottsdale insurance agent, to give a presentation.
Breger alleged that Gov. Katie Hobbs, Secretary of State Adrian Fontes, members of the Maricopa County Board of Supervisors, legislators, the mayor of Mesa, judges, the Church of Jesus Christ of Latter-day Saints and others of being part of a scheme involving Mexican drug cartels, money laundering, fake housing deeds and election fraud.
Breger presented no evidence to back up her claims, which were widely condemned.
Zoom in: Democratic Rep. Stephanie Stahl Hamilton, of Tucson, filed a complaint March 6 with the House Ethics Committee, which found Harris violated the chamber's rules and left it up to the House to determine disciplinary action.
Harris said she was unaware of Breger's allegations, but the committee's report stated she knew ahead of time.
What happened: House Speaker Ben Toma, R-Peoria, who was also a target of Breger's accusations, introduced the resolution calling for Harris to be expelled for disorderly behavior.
The resolution said Harris was not "surprised or upset" by Breger's accusations, that she violated her obligation to protect the integrity of the House and undermined the public's trust in the institution.
What they said: "This is not personal. This is about standing up for the right, no matter how difficult it is and how much it hurts," Rep. David Livingston, R-Peoria, said before casting his vote for expulsion.
Rep. Alexander Kolodin, a Scottsdale Republican, said Harris made an error in judgment and he was disappointed, saying expelling her sets a bad precedent and makes her a martyr for the "awful allegations" Breger made.
House Democratic leader Andrés Cano, of Tucson, called it a "sad and somber day," criticizing Harris for causing "real and lasting damage to the reputations of people who did not deserve it."
"The only thing we have down here is our word and our integrity," Toma told reporters after the vote. "When you can no longer count on someone's word or integrity, they can no longer be an effective legislator."
The other side: Harris did not speak during the vote and didn't respond to a request for comment from Axios, but she told Arizona's Family the ethics committee's report "is a lie."
"If you don't toe the line, this is what happens," she said as she loaded her belongings into her car in the House parking lot.
Breger could not be reached for comment, either.
What's next: Elected Republican precinct committeemen in Harris' district will have five days to nominate three candidates to fill the vacancy.
The Maricopa County Board of Supervisors will choose which candidate will fill the rest of Harris' two-year term.
The intrigue: Chandler-based District 13 is one of the most competitive in the state, and Harris was likely to be one of Democrats' top targets in next year's election as they seek to take control of the Legislature.
Of note: Because Republicans had only a one-vote majority in the House, they won't have the 31 votes needed to pass legislation on a party-line vote until Harris' replacement is chosen.
Editor's note: This story has been corrected to reflect that Republican precinct committeemen in Harris' district have five days, not 21, to nominate three candidates to fill the vacancy.
Go deeper