Exclusive: New Twitter disinfo campaign targeting 2 Chinese activists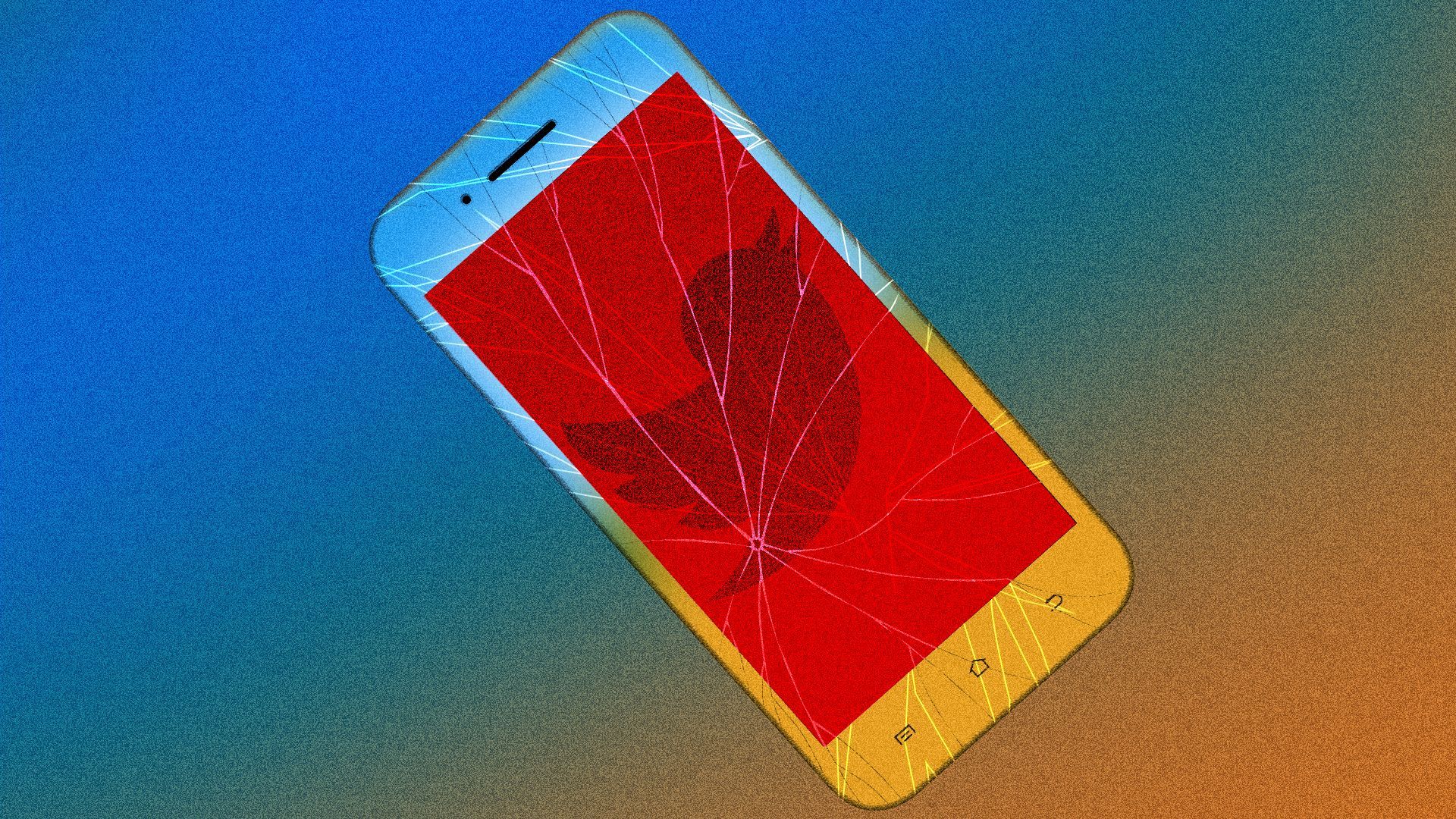 A network of Chinese-language Twitter accounts appears to be spreading disinformation to discredit two well-known Chinese activists and dissidents, including one who was the focus of a recent Axios investigation, researchers at NewsGuard first told Axios.
What's happening: NewsGuard has detected 18 coordinated and "seemingly inauthentic" Chinese-language Twitter accounts that are sharing disparaging messages advocating against the work Chinese human rights activist Wang Qingpeng and political dissident Wang Jingyu have done to hold Beijing accountable, according to a note sent to NewsGuard clients last week.
The anonymous accounts were mostly created around the same time in February, and each one started posted on Feb. 16.
NewsGuard staff analyst Macrina Wang, who uncovered the campaign, determined the accounts were likely inauthentic because all of them have "NFT-esque cartoons or generic stock images" as profile photos and had either an English- or Russian-sounding user name, despite tweeting in Chinese.
"Additionally, the timelines of all 18 accounts exclusively criticized Jingyu and Qingpeng, and the accounts mostly interacted with each other's posts," Macrina Wang wrote.
Why it matters: The new campaign is another example of how Twitter has struggled to moderate disinformation campaigns and detect nation-state activities on the platform following vast staff reductions in recent months.
The big picture: Both Wang Qingpeng and Wang Jingyu have captured the attention of Beijing for the work they do to hold the government accountable.
Wang Qingpeng, a human rights lawyer who used to be based in China and now lives in Seattle, mostly tweets to bring awareness to Chinese political prisoners' cases.
Wang Jingyu, who currently lives in the Netherlands, has been wanted by the Chinese government since 2021 after posting comments critical of China's role in the 2020 China-India border conflict on a Chinese social media site.
Wang Jingyu was also recently the subject of an Axios investigation that found anonymous perpetrators had been booking and paying for dozens of expensive luxury hotel rooms in his and others' names, and then calling in fake bomb threats at those same hotels.
The intrigue: The recent Twitter campaign appears to be limited, according to NewsGuard, with the most-viewed tweet only appearing to generate 491 views.
Sixteen of the accounts had zero followers as of April 5, and nine of the accounts followed the same five people, including Twitter CEO Elon Musk.
Yes, but: NewsGuard could not determine if the campaign is linked to Beijing.
Sign up for Axios' cybersecurity newsletter Codebook here
Go deeper