As space fills with satellites, operators want to create rules of the road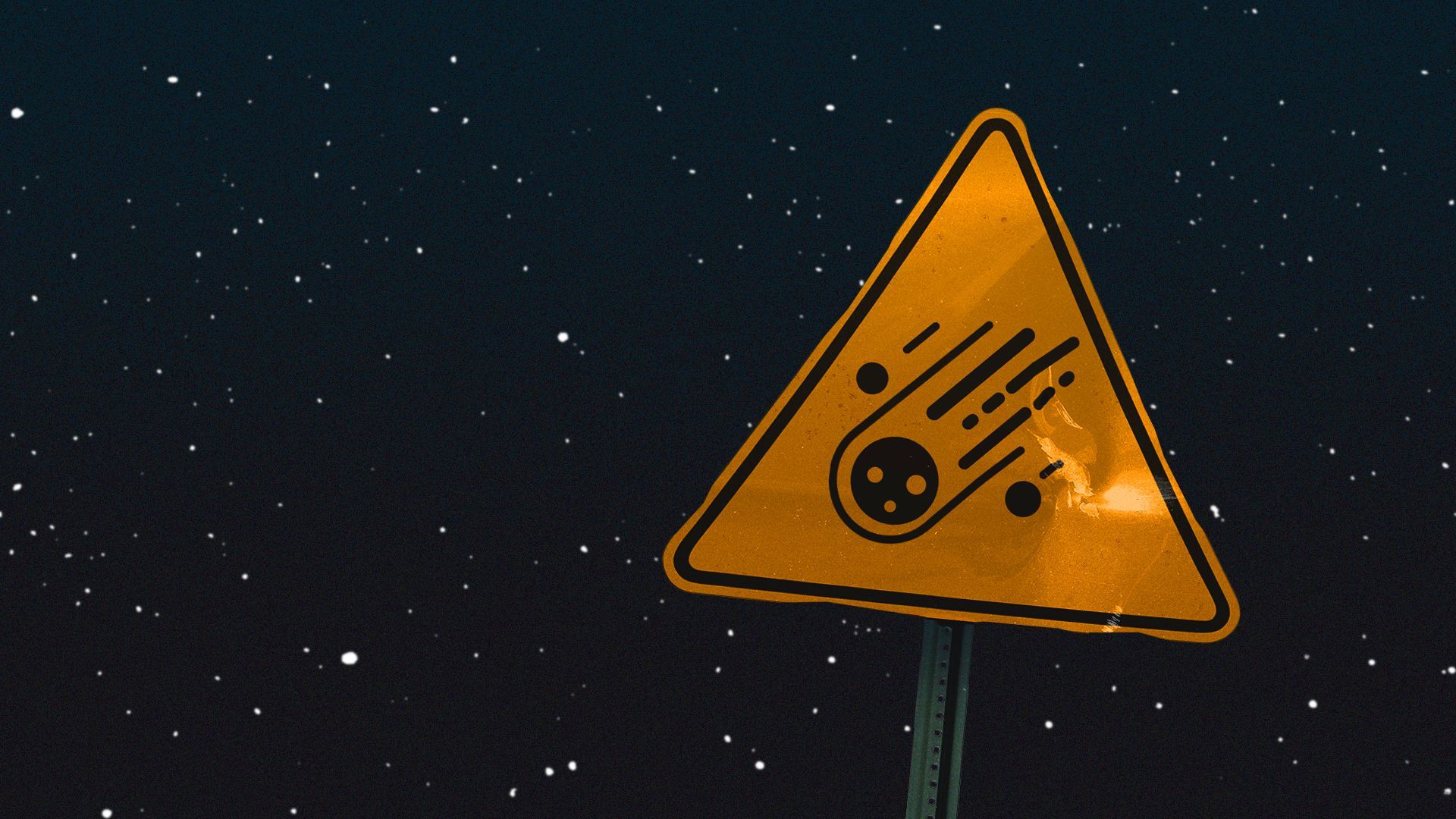 The space above Earth is becoming increasingly crowded with satellites and junk, and space companies are coming together to update and establish new rules of the cosmic road in orbit.
Why it matters: Thousands of satellites are active in orbit today. All that traffic in orbit means that satellites — speeding at more than 17,000 mph — can have close calls with one another, forcing operators to expend precious fuel to maneuver away and keep their expensive spacecraft safe.
Between 2017 and 2021, the number of close passes — defined as spacecraft passing within 1 kilometer of each other — doubled from about 2,000 to 4,000 in low-Earth orbit, according to a 2021 preprint study.
Driving the news: The Space Safety Coalition, an ad hoc group of companies and organizations with a vested interest in space safety, released an updated document last week outlining what it sees as the best practices for operators in orbit.
Those best practices include establishing right-of-way guidance that says spacecraft with greater maneuverability should change course if they are headed for a close encounter with a less-advanced satellite.
The document also suggests that operators work to protect their satellites from potential cyber interference.
As of Tuesday, 31 companies and organizations, including Planet, Intelsat and Iridium, have endorsed the document.
Yes, but: SpaceX, which operates the largest constellation of satellites in orbit, hasn't signed on to the best practices document.
"I do think SpaceX should be part of these conversations, and they should be part of these written documents," Victoria Samson, of the Secure World Foundation, one of the signatories of the rules of the road document, tells Axios.
For its part, SpaceX has previously crafted a document with OneWeb and Iridium outlining best practices that are "complementary" to these rules of the road, Dan Oltrogge, administrator of the Space Safety Coalition, tells Axios.
The big picture: Governments have been considering establishing specific rules of the road for commercial operators in orbit, and documents like these — created with specific input by satellite operators in the trenches — can help create consensus.
"There's been a lot of push for rules of the road, primarily from governments," Oltrogge said.
While governments have a vested interest in keeping Earth orbit clear and safe, commercial companies are largely responsible for the day-to-day operations of most of the functional satellites in space. That's likely pushing operators to be more proactive.
By collaborating on these kinds of documents, companies operating satellites today are, in part, probably "trying to get out ahead of governments making regulations for them," Samson said. "If you think people are gonna make the rules for you, you want to get input in ahead of time."
What to watch: The Space Safety Coalition expects that more operators and organizations will sign on to the document, according to Oltrogge.
But the document itself isn't binding, so it will be interesting to see whether the rules of the road established within it are followed when satellites operated by two of the signatories have a close call with one another, Samson said.
Go deeper