Brazil's Lula heads to China to discuss trade and Ukraine with Xi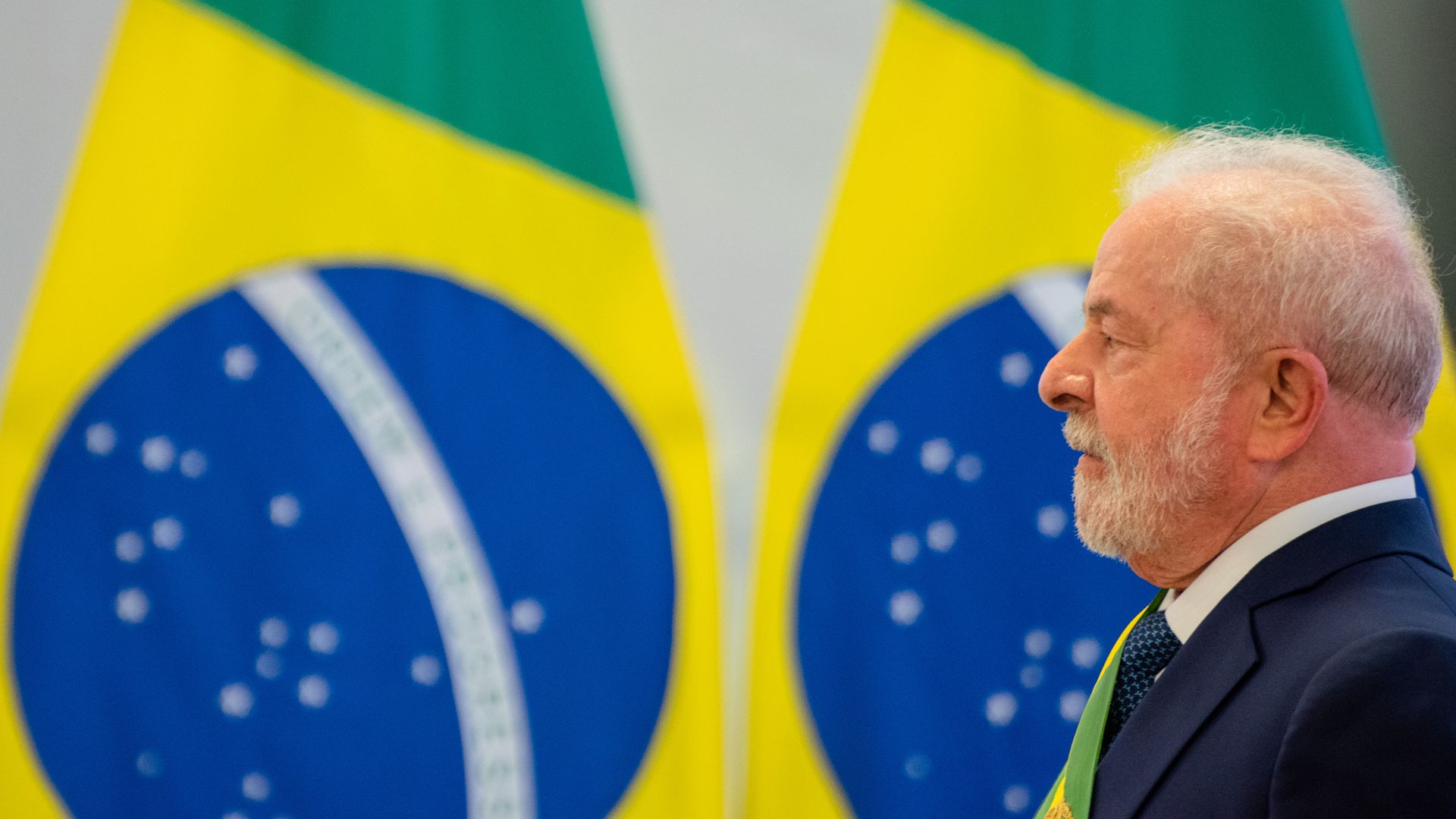 Brazilian President Luiz Inácio Lula da Silva departed Tuesday for a visit to China that will include a meeting with President Xi Jinping on Friday.
Why it matters: Lula is seeking to elevate Brazil's role in international diplomacy after a period of relative isolation under his nationalist predecessor, Jair Bolsonaro. He's expected to raise with Xi his idea for a "peace club" of countries including Brazil and China to help mediate an end to the war in Ukraine.
Last week, Lula dispatched his top foreign policy adviser to Moscow to discuss that proposal. Brazil's role in Ukraine diplomacy up to now has been minimal, and it's unclear whether Lula's proposal will gain traction.
The peace club idea is unlikely to be particularly popular in the Biden administration, which has criticized Xi's own peace plan on the grounds that a ceasefire would only lock in Russia's territorial gains.
Between the lines: Lula, a veteran leftist, has made foreign policy a priority early in his tenure, advocating for regional integration in South America and international cooperation on issues like climate, and re-positioning Brazil as a non-aligned global power. He visited the White House in February, one month after taking office.
Brazilian Foreign Minister Mauro Vieira told America's Quarterly that Lula's Brazil has "excellent relations" with the U.S. and "important relations" with China, but no "automatic alignment" with either power.
Flashback: Lula was an enthusiastic proponent of the BRICS club — Brazil, China, India, Russia and South Africa — during his previous presidential tenure (2003-2010), and clashed with the U.S. at times over regional issues like Venezuela.
State of play: Trade and investment will also be major focuses of Lula's trip, which was delayed from last month after he came down with pneumonia.
His planned pitch for Chinese investment and cooperation on semiconductors this week will also likely raise eyebrows in Washington, given the U.S. efforts to isolate Beijing in that sector.
"We have no preference for a Chinese semiconductor factory. But if they offer good conditions, I don't see why we refuse. We are not afraid of the big bad wolf," one of Lula's advisers told Reuters.
Lula will be accompanied by a large delegation of business leaders on his trip, many of them from the agriculture industry. Brazil's exports of soybeans, beef and other commodities to China are crucial to its economy.
China is already Brazil's largest trading partner, and Lula hopes to diversify and expand those trade flows. Several agreements will be signed this week to that end, Reuters reports.
Ahead of the visit, China's Foreign Ministry said that as leaders of "major developing countries," Xi and Lula would "bring our comprehensive strategic partnership to a new height, and make new contributions to regional and global stability and prosperity."
Go deeper