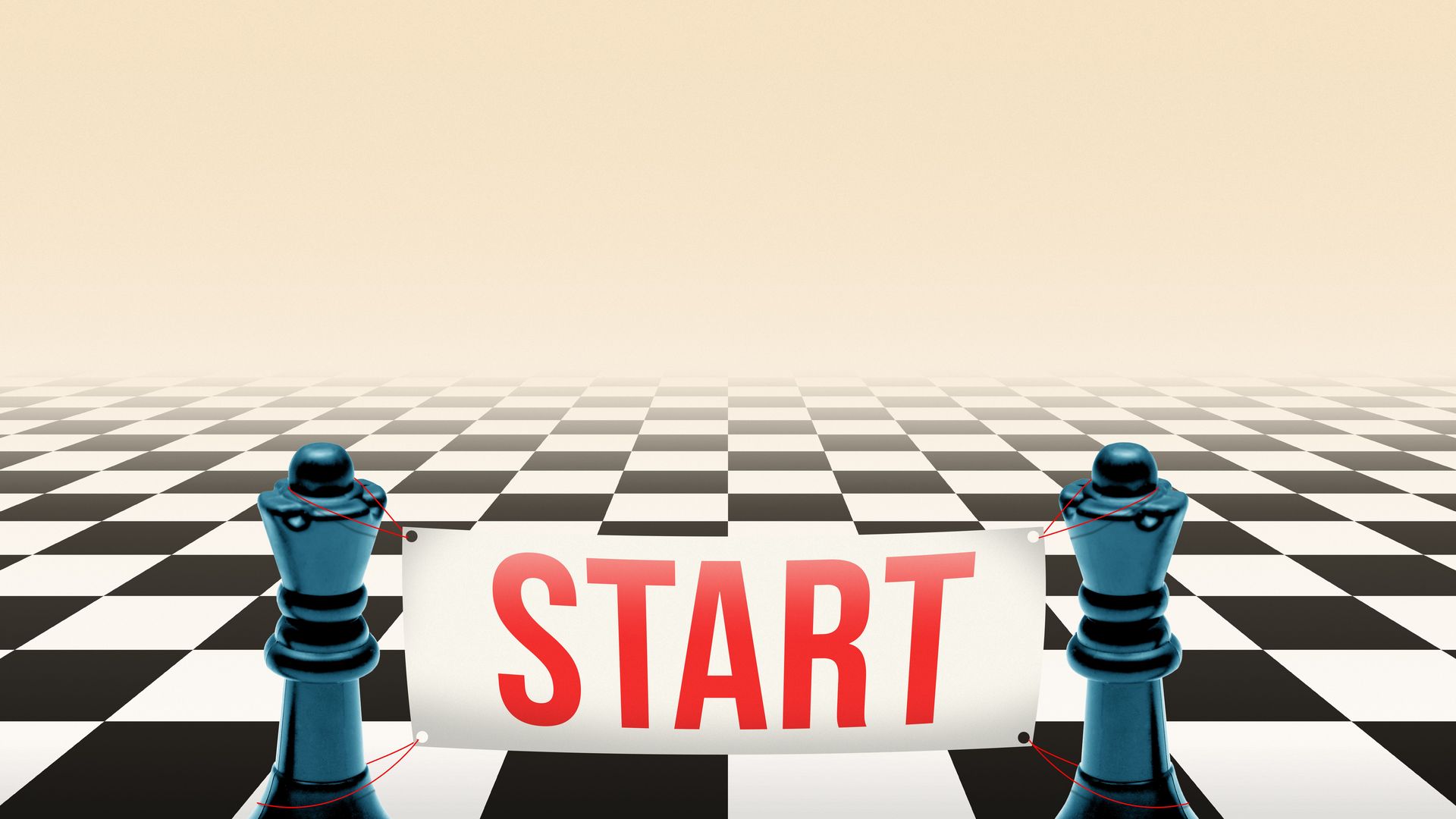 The World Chess Championship is underway in Kazakhstan, but it's missing a key figure: Magnus Carlsen, the No. 1 player and five-time reigning world champion.
State of play: Russia's Ian Nepomniachtchi (World No. 2) — playing in his second straight world championship and competing under a neutral flag — faces Ding Liren (No. 3), the highest-rated Chinese player ever.
A win for Nepo, as he's known, would be the first by a Russian since 2006, while a win for Ding would give China its first men's chess champion.
Either way, the winner will not be the Norwegian Carlsen, giving Russia or China quite the prize amid heightened geopolitical tensions between their countries and the West.
How it works: The match is best-of-14, with daily action aside from an off day every third day. Nepo leads, 1.5-.5, after two games (draws are worth a half-point). First to 7.5 wins.
The backdrop: You'd have to go back to Bobby Fischer's absence in 1975 to find the last time the chess worlds were held without the undisputed champ.
In Fischer's case, he had basically stopped playing chess after his 1972 title. In Carlsen's case, he simply lacks the motivation. "[I] feel that I don't have a lot to gain," he said in July.
"I can hardly call it a world championship match," says former world champ Garry Kasparov. "For me, the world championship should include the strongest player on the planet, and this match doesn't."
The big picture: Carlsen's absence from the game's marquee event isn't the only evidence that chess is at a crossroads. There's also the question of how classical chess — the format played at worlds — fits into the game's future.
Online play boomed during the pandemic, and speed games were a big reason why: They require less time from viewers and less preparation from players, who can now make good money playing from home.
But it's not just online where classical chess is being phased out — some over-the-board (in-person) events have also moved to speed games in recent years.
ICYMI ... Carlsen's final match as world champion last week — an online game — ended with an epic blunder when his mouse slipped and he accidentally dropped his queen on the wrong position. Whoops!
Go deeper