How Walmart could help make EV charging ubiquitous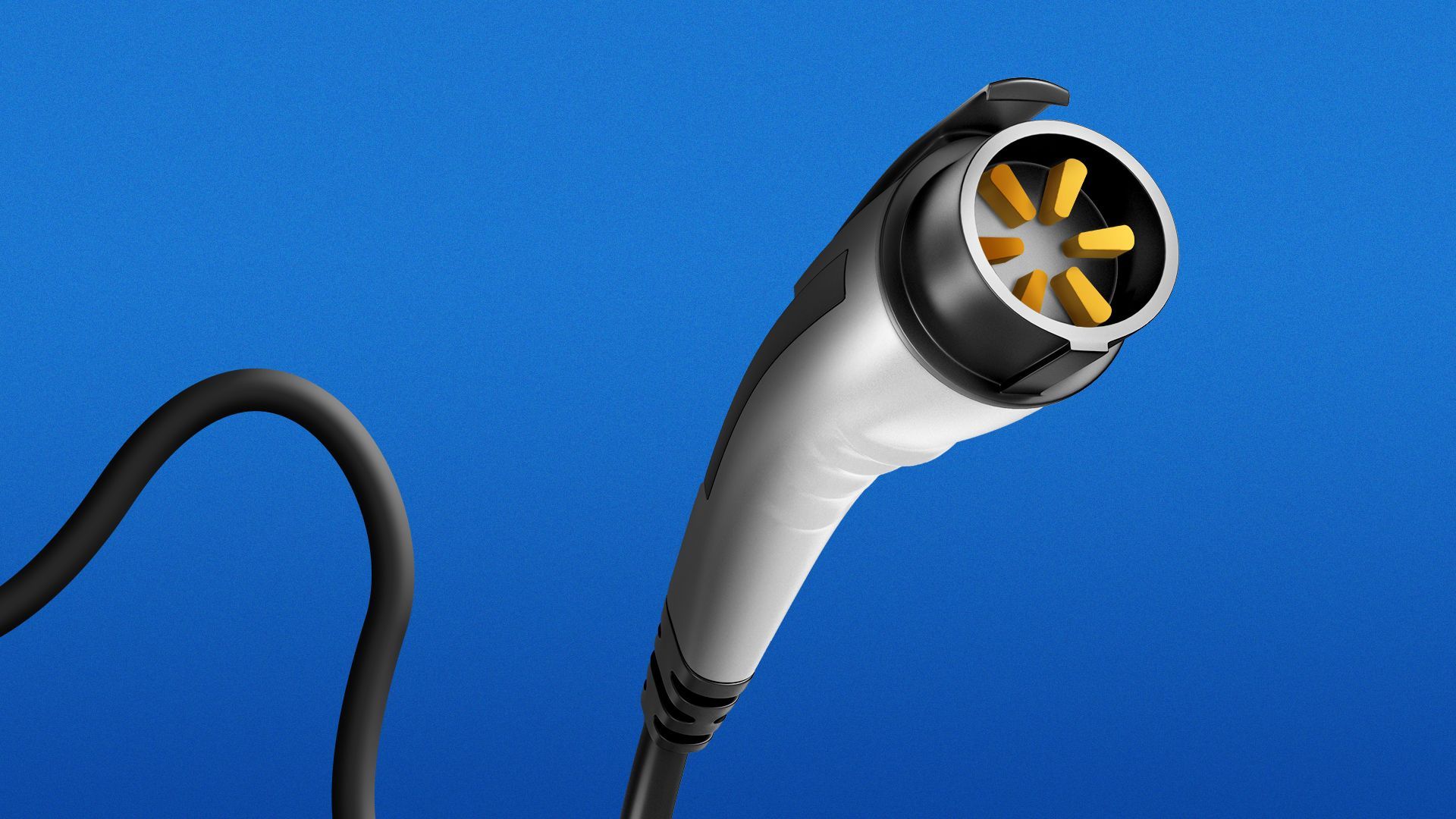 Walmart's plan to dramatically expand its electric vehicle (EV) fast-charger network is a big deal for the country's quickly developing car-charging infrastructure.
Why it matters: 90% of Americans live within 10 miles of a Walmart, the company says — a statistic that underscores Walmart's potential to put fast EV charging within reach of far more drivers, including in underserved areas.
Driving the news: Walmart plans to install EV fast-chargers at "thousands" of Walmart and Sam's Club locations across the U.S. by 2030, the company says.
It already has nearly 1,300 such chargers available at more than 280 locations.
The company is still sorting out the specifics, including how many chargers will be installed at each location, how closely they'll be located to each store's entrance, and how they'll be powered.
What they're saying: "We see our commitment today as a natural extension of our work to help customers and members live better, easier and more sustainable lives," Vishal Kapadia, Walmart senior vice president for energy transformation, wrote in a blog post announcing the news.
He called it "a big win for busy families and drivers everywhere, our country and the planet."
The big picture: Walmart is the latest retail or fast-food chain to announce a major EV charging initiative, following 7-Eleven, Subway and others.
As EV adoption grows, retailers increasingly view charging as both a competitive necessity as well as an extra revenue stream.
They could take a slice of charging fees, for example, or be eligible for government subsidies designed to encourage private companies to install more chargers.
Plus, charging an EV can take anywhere from 20-30 minutes or longer, depending on the car and charging system — creating a pool of potential customers more likely to wander around a store making spur-of-the-moment purchases or grab a bite at the food court.
Yes, but: It's great to have chargers available while you're out and about, but EV ownership is far easier when you've got charging available at home.
And it's cheapest if you've got residential solar power.
The bottom line: The "chicken or the egg" dilemma facing the EV rollout — which comes first, car sales or chargers? — is just about settled.
It's increasingly clear that installing more EV chargers leads to higher adoption.
Go deeper: Listen to the Axios Today podcast, where Margaret Talev and Alex Fitzpatrick explain what Walmart's new game plan means for EV charging access.
Go deeper