What's Next Summit Go Deeper Session: Sustainable Aviation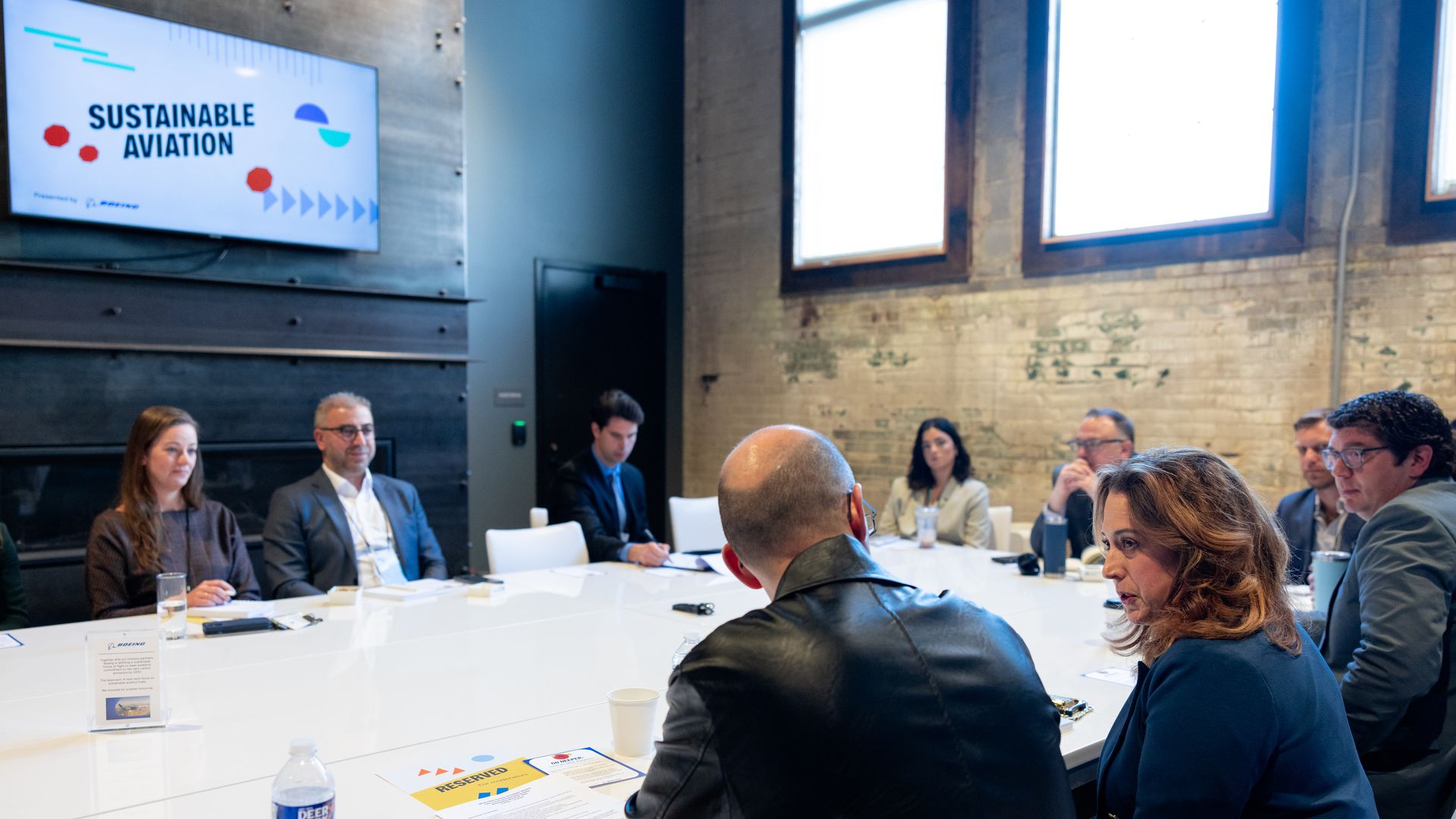 On Wednesday, March 29, Axios hosted its second annual What's Next Summit in Washington, D.C., featuring breakout discussions to "go deeper" on specific topics.
In this session on sustainable aviation, guests shared their perspectives on what the next steps are for electrification in the airline industry and the main challenges to decarbonizing aviation. Axios energy reporter Ben Geman and senior climate reporter Andrew Freedman led the conversation.
1 big thing: Scaling production of sustainable aviation fuel came up consistently as a considerable challenge the airline industry is trying to overcome toward the path to decarbonization.
Ellen Ebner, director, Boeing Research & Technology - Sustainability & Future Mobility: "Sustainable aviation fuels…is the most important thing that we can do to help the aviation industry decarbonize. Sustainable aviation fuels have the potential to reduce the lifecycle emissions of a fuel by up to 80%. Unfortunately today, sustainable aviation fuels are less than 0.1% of total jet fuels and so the challenge on this is to scale."
Lauren Riley, chief sustainability officer, United Airlines: "Sustainable aviation fuel is 2 to 4 times the cost of conventional jet fuel. So when you think about some of the really significant challenges facing sort of this uptake and creating of a marketplace, it's that, and with commercial airlines, we have very razor thin margins, particularly coming out of COVID. So until there's sort of parity in supply and cost to each airline, it's always going to be who's moving, how quickly to take on this cost that really could significantly impact the financial stability of the airline."
Why it matters: Tax incentives passed through the Inflation Reduction Act will help alleviate some of these challenges.
Melissa Sabatine, federal public affairs manager, sustainable aviation, Neste: "The really significant thing in there for SAF is the creation of a new SAF blender's tax credit. And you all know if you've been in Washington, it's very difficult to get the tax code amended to get a new tax incentive. And the reason that was possible was many years of commitment and collaboration through a broad industry coalition. And that really is what it's going to take to move the needle, to get to our decarbonization goals of the industry is to continue to have that commitment and that collaboration as an industry."
Thank you Boeing for sponsoring this event.
Go deeper