Family SUVs are finally going electric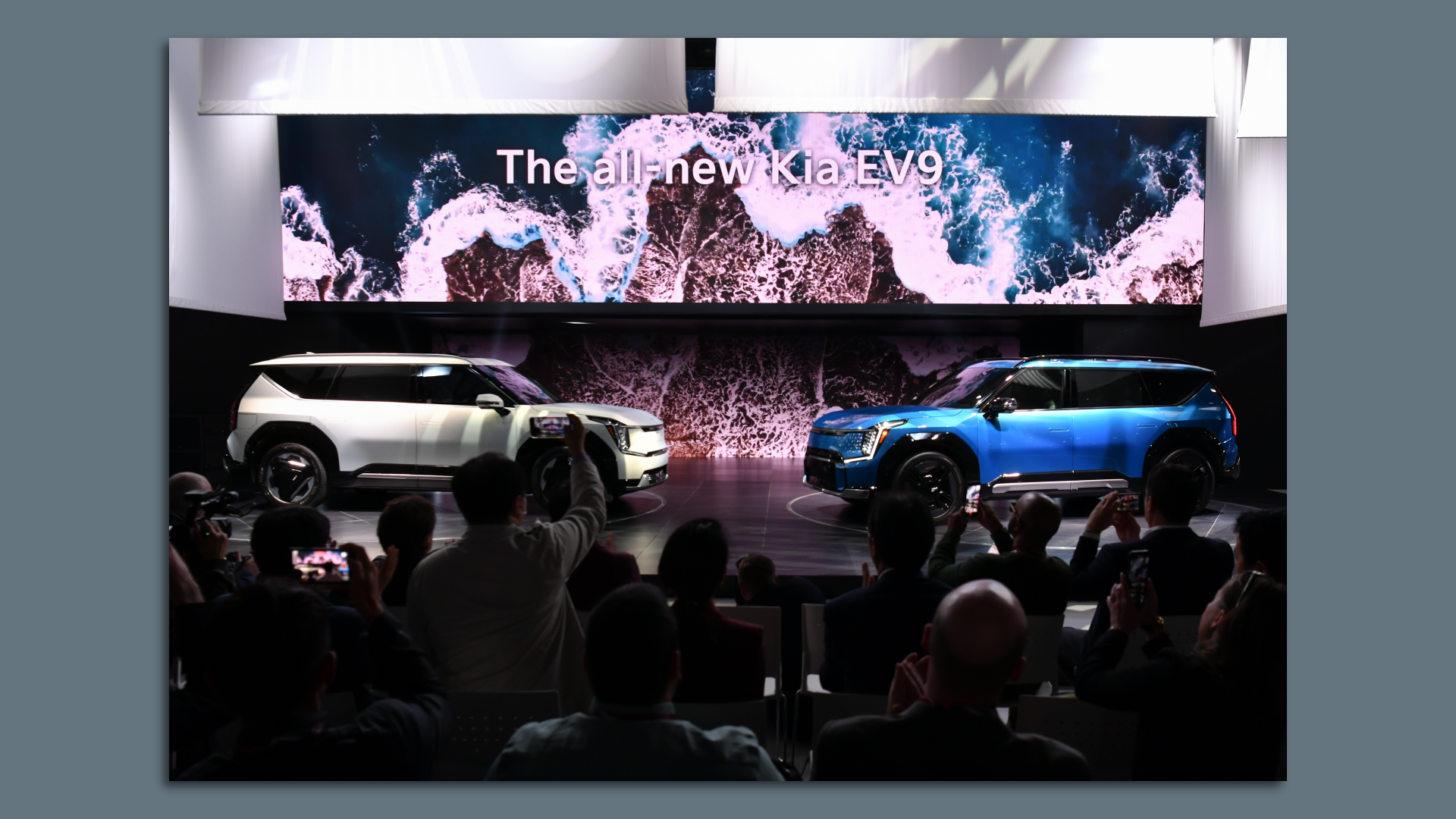 Kia's newest model, making its North American debut at this week's New York International Auto Show, is a spacious and sleek three-row SUV, with an innovative interior and loads of technology to satisfy busy families.
Oh, and by the way — it's electric.
Why it matters: The Kia EV9, set to go on sale by the end of 2023, represents a new phase in the accelerating shift to electric vehicles (EVs).
The newest EVs have more of the features mainstream shoppers want: space for kids and their stuff, a relatively affordable price tag and, importantly, decent range.
As a result, EVs are starting to become a valid substitute for gasoline-powered family haulers — instead of a quirky second car in the garage.
Details: Kia's EV9, about the same size as its popular gasoline-powered Telluride, is an attractive choice for families, with an expected 300-mile driving range and very little competition.
Pricing hasn't been announced, but will likely be around $60,000 — well below the only other large plug-in SUVs on the market, the Rivian R1S and the Mercedes EQS SUV.
Yes, but: We haven't gotten a chance to drive it yet.
Driving the news: Family-friendly electric SUVs such as the Chevrolet Blazer and Equinox, both coming later this year, also exemplify the trend, along with the currently available Hyundai Ioniq 5, Kia EV6 and Volkswagen ID.4.
Even pickup trucks are getting in on the act. The new Ram 1500 REV, also introduced Wednesday, boasts a driving range of up to 500 miles.
What they're saying: Car companies are designing more desirable EVs from the ground up — rather than retrofitting existing models with an electric powertrain — and packing them with the most-sought-after technology and features, notes Karl Brauer, executive analyst at iSeeCars.com.
That means fewer compromises for EV buyers. "We're just seeing better cars," Brauer tells Axios.
Zoom in: It also means better electric sales. General Motors, for instance, sold a record 20,000 EVs in the first quarter of 2023, mostly Chevy Bolt EVs and Bolt EUVs.
The Bolt, with a starting price of $26,500, costs less than $20,000 with a newly expanded federal tax credit applied at the time of purchase.
2023 is going to be "a breakthrough year" for EVs, according to Steve Carlisle, president of GM North America, which has been touting an expanded EV lineup for several years — albeit with little by way of sales.
"There's going to be an unprecedented number of EV launches this year that will bring people into dealerships," said Carlisle at an industry conference Tuesday.
GM is on track to produce 100,000 EVs in North America across all four of its brands (Chevy, Cadillac, GMC and Buick) by the end of 2023. It could produce up to a million by 2025.
"It's the coiled spring that's just being released," said Carlisle.
The bottom line: Instead of asking buyers to compromise, carmakers are finally offering EVs that check all the boxes.
Go deeper