Free speech looms as next key battleground for abortion rights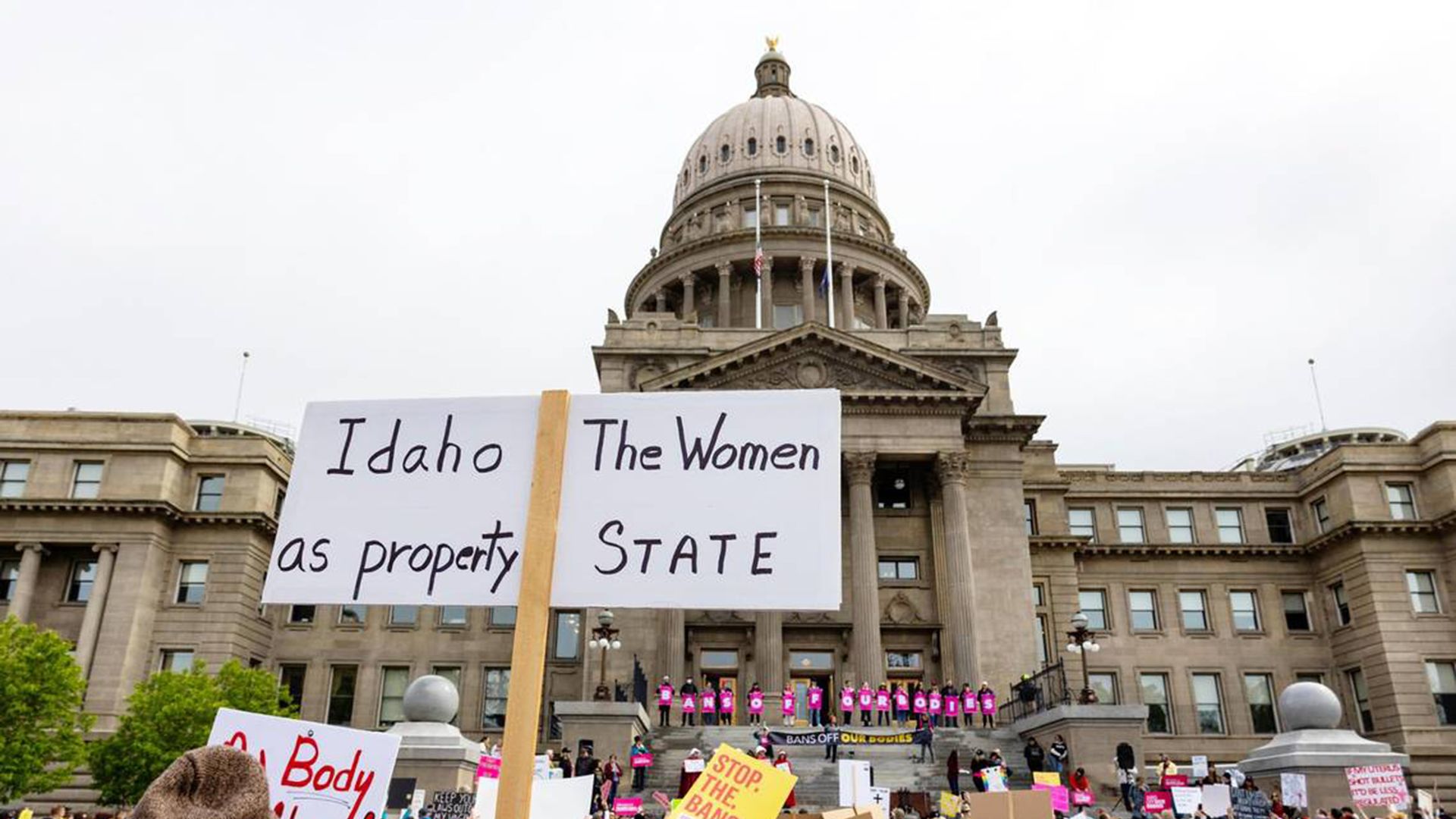 Idaho could be at the center of a free speech battle over abortion care.
Driving the news: The American Civil Liberties Union announced Wednesday that it's suing the Idaho Attorney General for "threatening health care providers who exercise their First Amendment right to give patients information about out-of-state abortion care."
Idaho last week became the first state to pass a bill banning interstate travel for abortion for some of its residents in what it refers to as "abortion trafficking." Gov. Brad Little (R) signed it into law on Wednesday.
The legislation makes it illegal for a minor to travel to a different state for an abortion if they do not have parental consent. Those found guilty of breaking this law could face up to five years in prison, according to the legislation.
Meanwhile, New Mexico Gov. Michelle Lujan Grisham (D) signed into law on Wednesday a bill enshrining in state law protections for health care providers and patients regarding abortion access and gender-affirming health care.
The bill that codifies an executive order that Grisham signed after the U.S. Supreme Court overturned Roe v. Wade last year protects abortion providers against prosecution or disciplinary action for the procedure and also attempts by other states to extradite people involved in abortions.
Maddy Hayden, a spokesperson for Grisham, said in an emailed statement on Wednesday night that the governor signed the order "after it became clear that Texas would encourage residents to take civil action against providers and patients, including those who travel to other states" for services.
"What Texas, Idaho and other states are doing is a clear violation of basic First Amendment rights, and Gov. Lujan Grisham will continue to fight to protect not only New Mexicans, but also individuals forced to travel to our state for health care services," Hayden said.
Between the lines: The ACLU lawsuit is intended to stop Idaho Attorney General Raúl Labrador from applying a legal opinion in which he says that state law does not allow health care providers to refer patients out of state for abortion care.
The opinion also says state law prohibits health care providers from prescribing abortion pills for pick up across state lines.
Health providers who assist in "perfuming or attempting to perform an abortion" may have their licenses suspended as they could be in violation of Idaho's abortion ban, the attorney general wrote.
The state has two abortion bans in place, a near-total trigger ban and a six-week ban, both of which have been allowed by the Idaho Supreme Court to remain in effect.
What they're saying: "This interpretation goes far beyond Idaho's law and is an extreme attempt to prevent health care providers from giving information to patients and to prevent Idahoans from accessing legal health care in another state," the ACLU said in a statement.
Little, who also signed into law Tuesday a measure criminalizing gender-affirming care for minors, said in a letter to lawmakers that the legislation doesn't stop adults from seeking interstate abortions, per the Idaho Statesman.
"Rather, the 'abortion trafficking' provision of the bill seeks only to prevent unemancipated minor girls from being taken across state lines for an abortion without the knowledge and consent of her parent or guardian," Little added.
The ACLU and the offices of the attorneys general of Idaho and Texas did not immediately respond to Axios' request for comment.
Don't forget: When the Supreme Court's ruled to overturn Roe v. Wade, Justice Brett Kavanaugh wrote in his concurring opinion that a state could not prohibit a resident from going to another state to obtain an abortion "based on their constitutional right to interstate travel."
The Supreme Court has previously held that a state does not have the authority to enforce its law beyond its borders, but legal experts say that in the post-Roe landscape, the high court could revisit that issue.
Attorney General Merrick Garland responded to the overturning of Roe v. Wade by noting that "under fundamental First Amendment principles, individuals must remain free to inform and counsel each other about the reproductive care that is available in other states."
Editor's note: This article has been updated with comment from Maddy Hayden, a spokesperson for the New Mexico Governor.
Go deeper