NASA names crew for mission to fly by Moon in 2024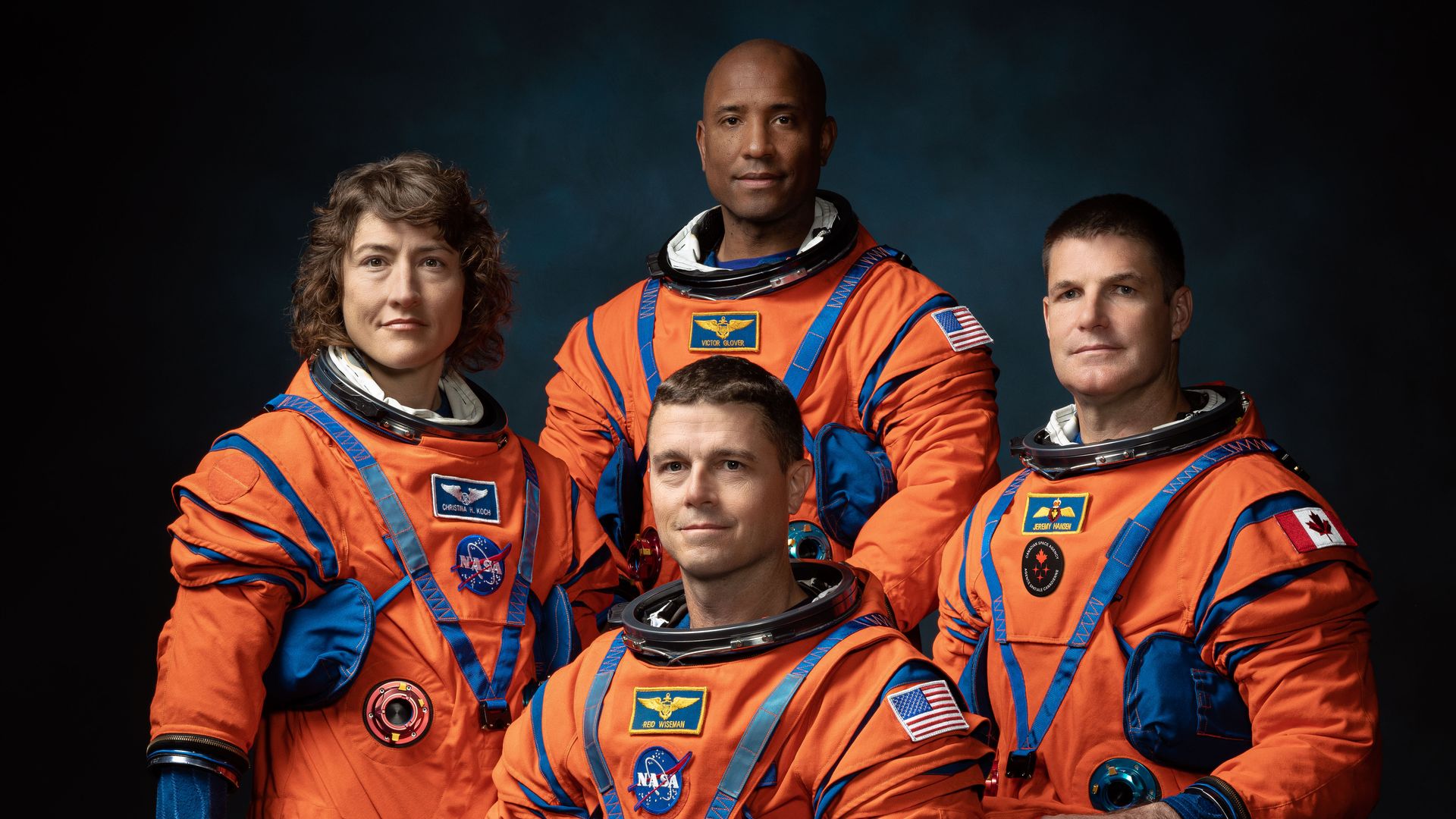 NASA astronauts Christina Hammock Koch, Victor Glover and Reid Wiseman and Canadian astronaut Jeremy Hansen will be the first people to launch on a journey toward the Moon in decades, NASA announced Monday.
Why it matters: The four crewmembers were named as part of the Artemis II mission around the Moon. They are set to launch next year, paving the way for a future mission to land a yet-to-be-announced crew on the Moon in 2025.
Glover is the first person of color to go on a moon mission and Koch is the first woman.
What's happening: Glover, Reid, Koch and Hansen won't land on the Moon for this mission, but they will fly by the natural satellite, testing out many of the systems necessary for future missions before coming back to Earth.
"We need to celebrate this moment in human history because Artemis II is more than a mission to the Moon and back," Glover said during the announcement event.
"It's more than a mission that has to happen before we send people to the surface of the Moon. It is the next step that gets humanity to Mars ... And this crew will never forget that."
Background: NASA's Artemis program is the space agency's bid to get astronauts back to the surface of the Moon since the final Apollo landing in 1972.
The program scored its first huge success last year with the successful first launch of the Space Launch System rocket integrated with an uncrewed Orion spacecraft.
What to watch: NASA still has a long way to go before it's able to land its Artemis III crew on the lunar surface.
The space agency is relying on a lunar lander built by SpaceX to bring its astronauts to the Moon's surface for that mission. That lander makes use of Starship, a vehicle that has yet to fly to orbit but could see its first orbital flight this month.
NASA also needs to be sure to work out all of the technical kinks with its rocket and capsule before launching a crew to land on the Moon again.
"You're living right on the edge every time we launch in a very unforgiving atmosphere into a very hostile environment," NASA administrator Bill Nelson told Axios during the Axios What's Next summit last week. "We're not going to launch until it's right."
Go deeper: Listen to the Axios Today podcast, where host Niala Boodhoo talks about the historic crew of the Artemis II moon mission.
Go deeper