Manhunt for Sikh separatist in India stirs up old fears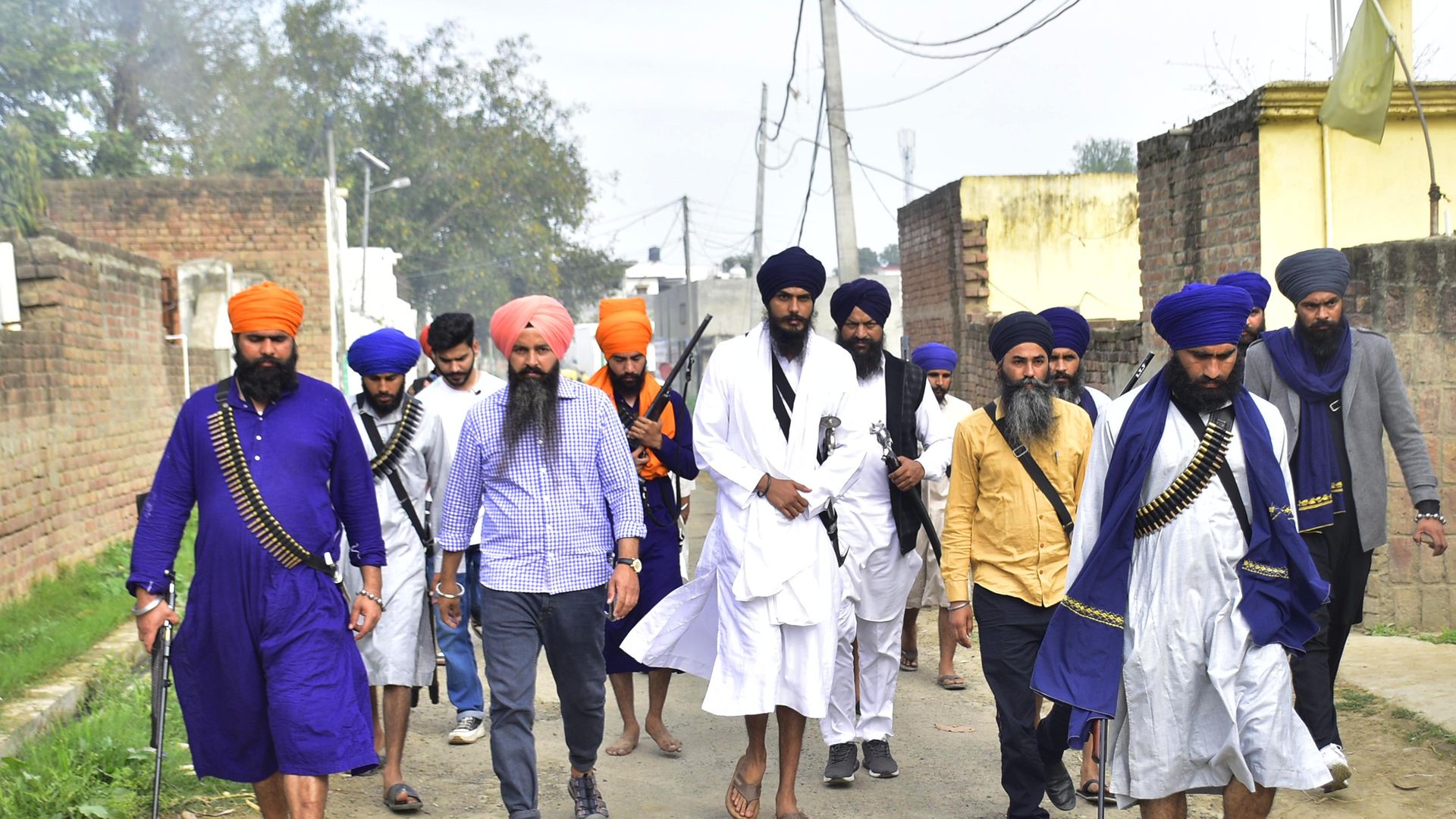 Authorities in the Indian state of Punjab blocked mobile internet for 27 million residents and arrested at least 154 people while conducting a massive manhunt for a Sikh separatist leader who was relatively unknown until recently: Amritpal Singh.
The big picture: The manhunt has gripped the country since Saturday and awakened memories of a decade of bloodshed in the 1980s and 1990s when Sikh separatism, known as the Khalistan movement, was violently suppressed.
Singh, 30, seized national headlines in February when he and dozens of supporters — many wielding swords and some carrying guns — surrounded a police station in Punjab and demanded the release of one of his associates, allegedly injuring several police officers in the process.
Politicians and commentators around the country demanded Singh and his colleagues be arrested, with the local leader of the opposition Congress Party urging the government to "nip the evil in the bud" before another separatist uprising could begin.
Police say when they attempted to arrest Singh on Saturday, he eluded them in a car chase.
The following day the furor went international when protesters at India's High Commission in London pulled down an Indian flag, smashed windows and waved Khalistan banners. A similar incident followed on Monday at the Indian consulate in San Francisco.
Indian politicians and commentators fumed that separatists in the diaspora were being allowed to run riot. New Delhi summoned a senior U.K. diplomat, and U.S. national security adviser Jake Sullivan put out a statement condemning the "acts of violence."
Back in Punjab, the authorities deployed thousands of paramilitary soldiers and blocked roads. Singh apparently remains at large.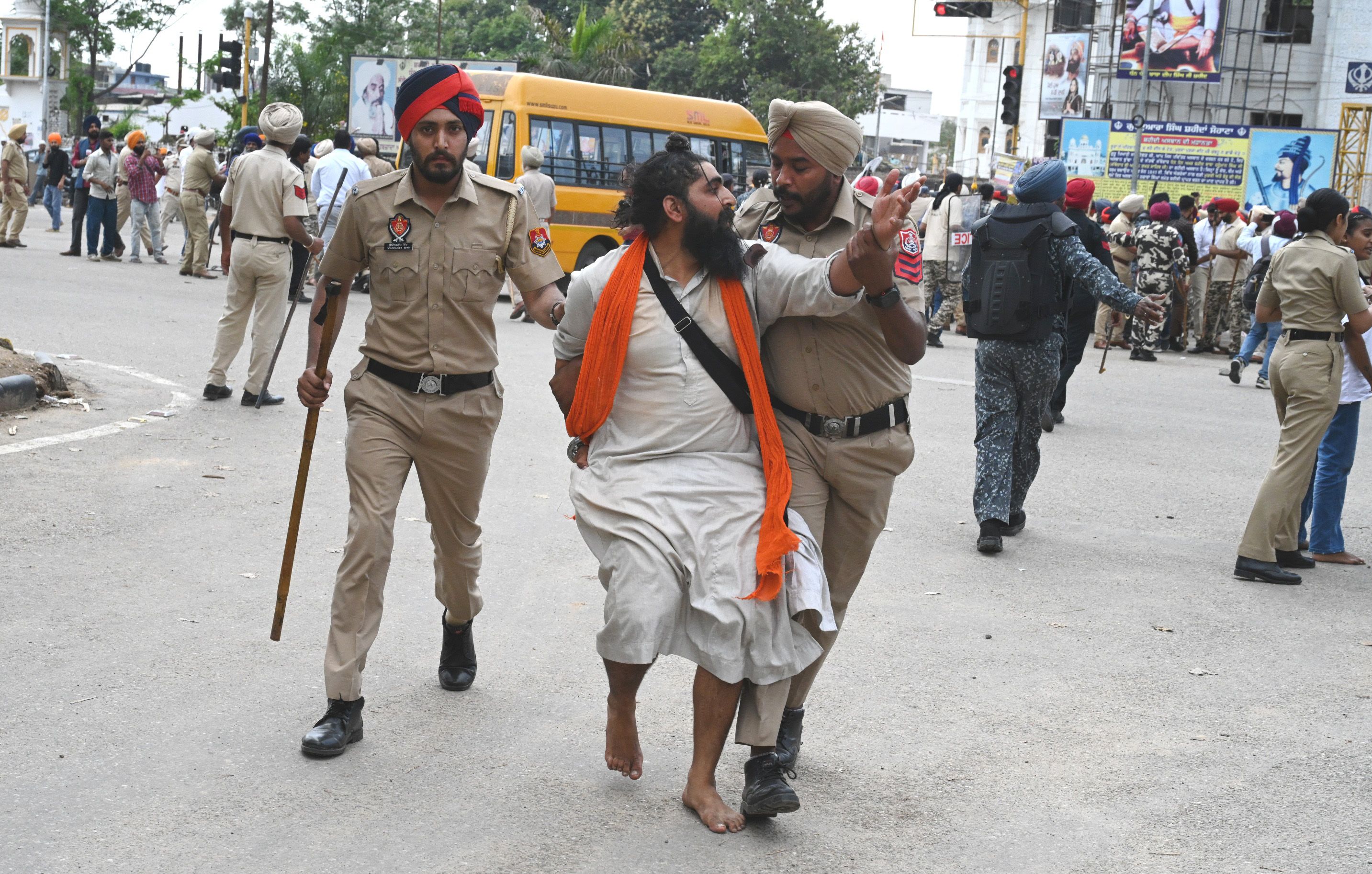 The backstory: Singh has openly advocated for an independent Sikh state since reportedly returning from Dubai last year and taking the helm of an organization called Waris Punjab De (WPD).
WPD was founded by actor-turned-activist Deep Sidhu to advocate for greater autonomy for Punjab — a largely agricultural region on the border with Pakistan, and the Sikh religion's historical homeland — and to support the 2020-2021 farmers protests, in which Sikh farmers played a prominent role.
While the Khalistan movement is outlawed in India on national security grounds, a more radical generation of leaders like Singh has started to push separatism more openly, says Milan Vaishnav, director of the Carnegie Endowment's South Asia program. Some local politicians "have sort of played footsie" with separatist groups to win votes in Punjab, he says.
While the extent of separatist sentiment in Punjab is hard to gauge, there is certainly discontent with the state's economic stagnation and growing drug epidemic. "People feel like okay, India is booming, but Punjab is declining," Vaishnav says. The farmers protests also inflamed tensions with the ruling Hindu nationalist Bharatiya Janata Party.
Sikhs account for less than 2% of India's overall population but are the majority in Punjab. The largest Sikh diaspora populations live in Canada, the U.K. and U.S.
"Talk of Khalistan is much more robust, much more open in the diaspora, the reason being exactly what we're seeing in Punjab. Amirtpal Singh talked about Khalistan and the entire state shut down," says Balpreet Singh, legal counsel and spokesperson for the Ottawa-based World Sikh Organization (WSO).
Singh says WSO's tweets raising the alarm about the crackdown in Punjab were blocked inside India. He warns that the "draconian methods" being used in Punjab are reminiscent of the '80s and '90s, when thousands of Sikhs were killed or disappeared.
Along with tweets denouncing the government's harsh methods, there have been others showing Sikh counterprotesters waving Indian flags. Singh notes that Sikhs aren't monolithic and some do oppose separatism, but says some may feel the need to display their patriotism because they fear the sorts of anti-Sikh reprisals that took place in the 1980s.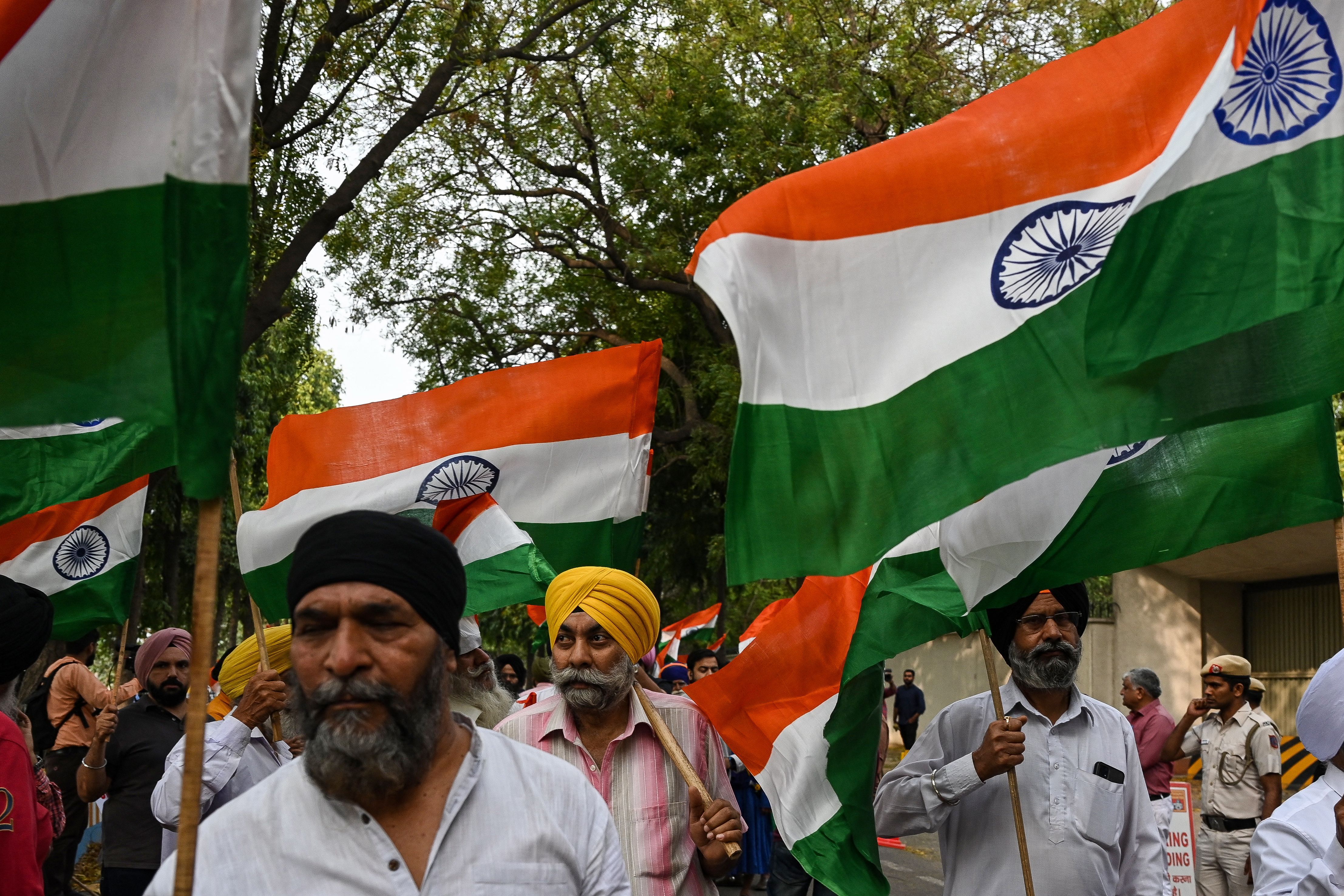 Flashback: Amritpal Singh is a visual reminder of that violent era. He dresses like and idolizes Jarnail Singh Bhindranwale, a Sikh religious leader who was killed in 1984 when the Indian Army stormed the Golden Temple complex — the holiest site for Sikhs — in which he and his supporters had barricaded themselves.
Sikh bodyguards for Prime Minister Indira Gandhi assassinated her after the bloody raid. "That set off a huge chain of events and basically a decade of civil war," says Aidan Milliff, a postdoctoral fellow at Stanford who has researched the Punjab crisis.
More than 3,000 Sikhs were killed in mob violence, mostly in Delhi. "The violence was targeted basically by profiling people who wore turbans, people who had Sikh names," Milliff says.
In Punjab, the government waged a decade-long campaign to put down the separatist insurgency.
The bottom line: "There's this simmering worry that this separatist movement will come up again, and I think that worry is behind a lot of what's happening now," Milliff says of the government response.
Go deeper