Uganda passes anti-gay bill, imposing death penalty for some offenses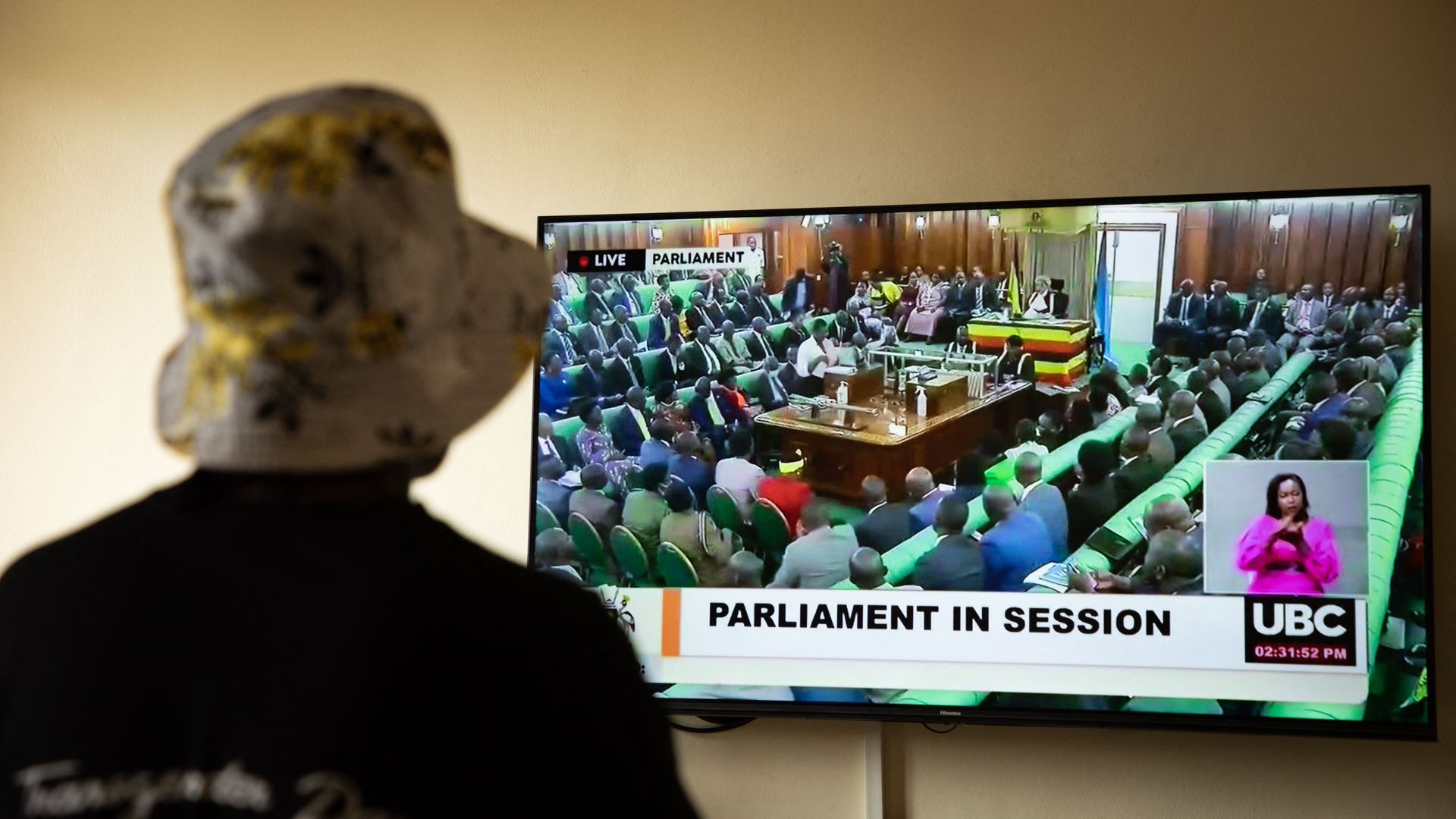 Ugandan lawmakers on Tuesday passed a strict anti-gay bill that criminalizes identifying as LGBTQ and imposes severe punishments for violations related to same-sex relations, including the possibility of the death penalty, Reuters reported.
Why it matters: More than 30 countries in Africa, including Uganda, already ban same-sex relations, but the Anti-Homosexuality Bill goes further by criminalizing merely identifying as LGBTQ, the BBC reported.
While Uganda's penal code already calls for life imprisonment for same-sex relations, the provision was a holdover from the colonial era and was rarely enforced, according to Human Rights Watch.
Details: The Anti-Homosexuality Bill, states that any person that "holds out as a lesbian, gay, transgender, a queer, or any other sexual or gender identity that is contrary to the binary categories of male and female," could face up to 10 years in prison, per Human Rights Watch.
The ban prohibits the "promotion of homosexuality" by individuals or organizations. It also targets persons seen as aiding and abetting homosexuality — a provision which HRW says could affect social support networks, including friends and family.
The law calls for sentences of life in prison for anyone engaging in gay sex and the death penalty would be given to those convicted of "aggravated homosexuality," a broad term that could include gay sex with a minor or with someone who is HIV positive, Reuters reported.
Even "attempted homosexuality" would become punishable with up to 10 years in prison, per AP.
State of play: The bill now heads to the desk of President Yoweri Museveni, who previously expressed support for the legislation, to be either vetoed or signed it into law, AP reported.
UN High Commissioner for Human Rights Volker Türk on Wednesday denounced the law, saying that if signed, it would, "render lesbian, gay and bisexual people in Uganda criminals simply for existing, for being who they are."
"It could provide carte blanche for the systematic violation of nearly all of their human rights and serve to incite people against each other," he added.
Secretary of State Antony Blinken on Wednesday urged Uganda to "reconsider the implementation" of the bill, saying it would "undermine fundamental human rights of all Ugandans and could reverse gains in the fight against HIV/AIDS."
The big picture: Anti-LGBTQ sentiment is widespread in Uganda and public figures often use "disparaging language" with regards to LGBTQ people, per the Washington Post.
Anti-LGBTQ policies have been on the rise in several African nations in recent years, per the New York Times.
Go deeper