How the Fed is forced to "walk and chew gum" at the same time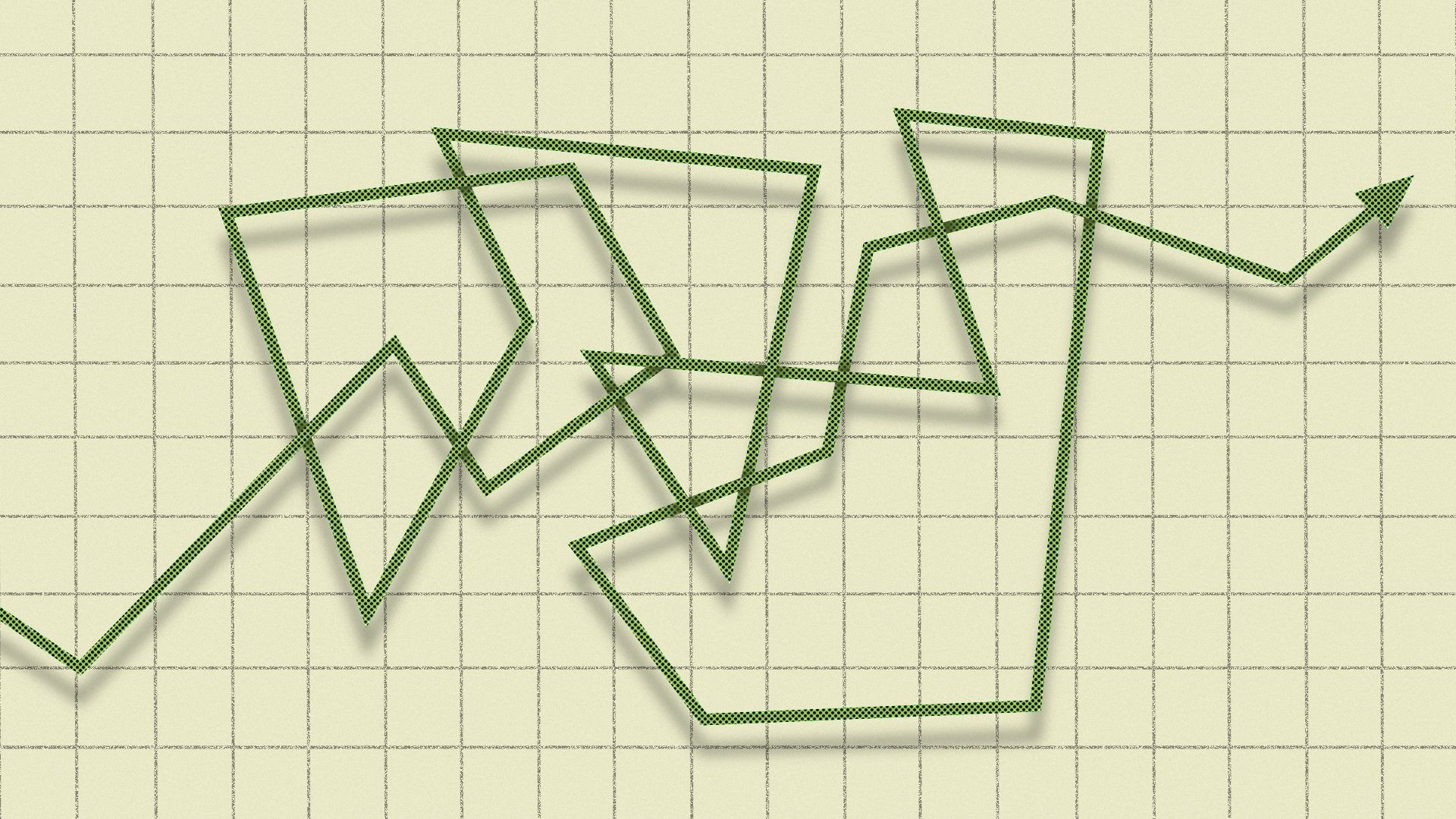 The Fed has three overarching goals: stable prices, maximum employment and financial stability. Right now, it is failing at No. 1 and risks falling short on No. 3.
However, the great dilemma it faces is that its anti-inflation tools work at cross purposes with the ones it uses to prevent a financial crisis. The central bank faces a set of hard choices as it tries to solve both problems at once.
Why it matters: Pushing forward with further interest rate hikes and balance sheet shrinkage might be the right thing for inflation reduction, but it may destabilize the financial system further.
Conversely, more aggressive action to support banks may prove counterproductive in the campaign to bring down inflation.
Fed officials tend to emphasize the use of different tools for different purposes, but in practice, their effects are harder to disentangle. And that creates a communications muddle.
Driving the news: The usually boring weekly release of the Fed's balance sheet was rather different Thursday, as it showed a whopping $153 billion extended to banks through the discount window, a mainstay tool for ensuring banks have access to cash in an emergency.
That's a record, topping the disbursements made during the 2008 financial crisis (peak: $111 billion) or the March 2020 onset of the pandemic ($51 billion).
As of Wednesday, the Fed also had extended $143 billion to support the deposit guarantees at SVB and Signature Bank, plus $12 billion extended in a new bank lending facility announced on Sunday.
Between the lines: After nearly a year of steadily shrinking a balance sheet swollen by the quantitative easing program, the emergency lending caused the Fed balance sheet to expand by nearly $300 billion in a single week.
Fed asset holdings for QE — a form of monetary stimulus — are conceptually different from those held as a result of emergency bank lending, which tends to fall as soon as crisis conditions abate.
At the same time, it's flooding the economy with cash, putting the Fed in a weird position: It is simultaneously withdrawing liquidity from the financial system with one hand while adding it with the other.
What they're saying: "There is some overlap in terms of the economics [of] these two types of tools, just as there is also rarely a perfect separation between financial stability and monetary policy goals," said Krishna Guha and Peter Williams of Evercore ISI in a research note.
"Messy real world policymaking needs to embrace this," they wrote, saying that central bankers are trying to walk and chew gum at the same time with financial stability and monetary policy.
There is nothing new about the tension stated above, which has existed for as long as central banks have been responsible for stabilizing economic conditions and their financial systems.
Past examples show the pitfalls — including one from just last year.
Flashback: In the first eight months of 2008, cracks were rapidly spreading among banks that would eventually turn into the global financial crisis. But inflation was also quite high, in large part due to surging energy prices.
The European Central Bank raised interest rates to tame inflation, which turned out to be the wrong move. It put additional strain on European banks that would unravel that fall.
Last year, the Bank of England intervened in the market for U.K. government bonds to prevent the collapse of some pension funds — while at the same time pledging aggressive tightening to tamp down prices.
That episode has gone better, as the bank has been able to continue monetary tightening with the crisis moment past.
The takeaway: It is more workable to have policies cut in different directions if the financial stability problem really is limited and isolated — not the start of an open-ended crisis.
The bottom line: As they set policy next week, Fed officials have to decide what kind of crisis they think this is — a problem limited to a handful of mid-sized banks that have now been safely contained, or the beginning of something bigger.
Go deeper