UN: Russian forces have committed war crimes in Ukraine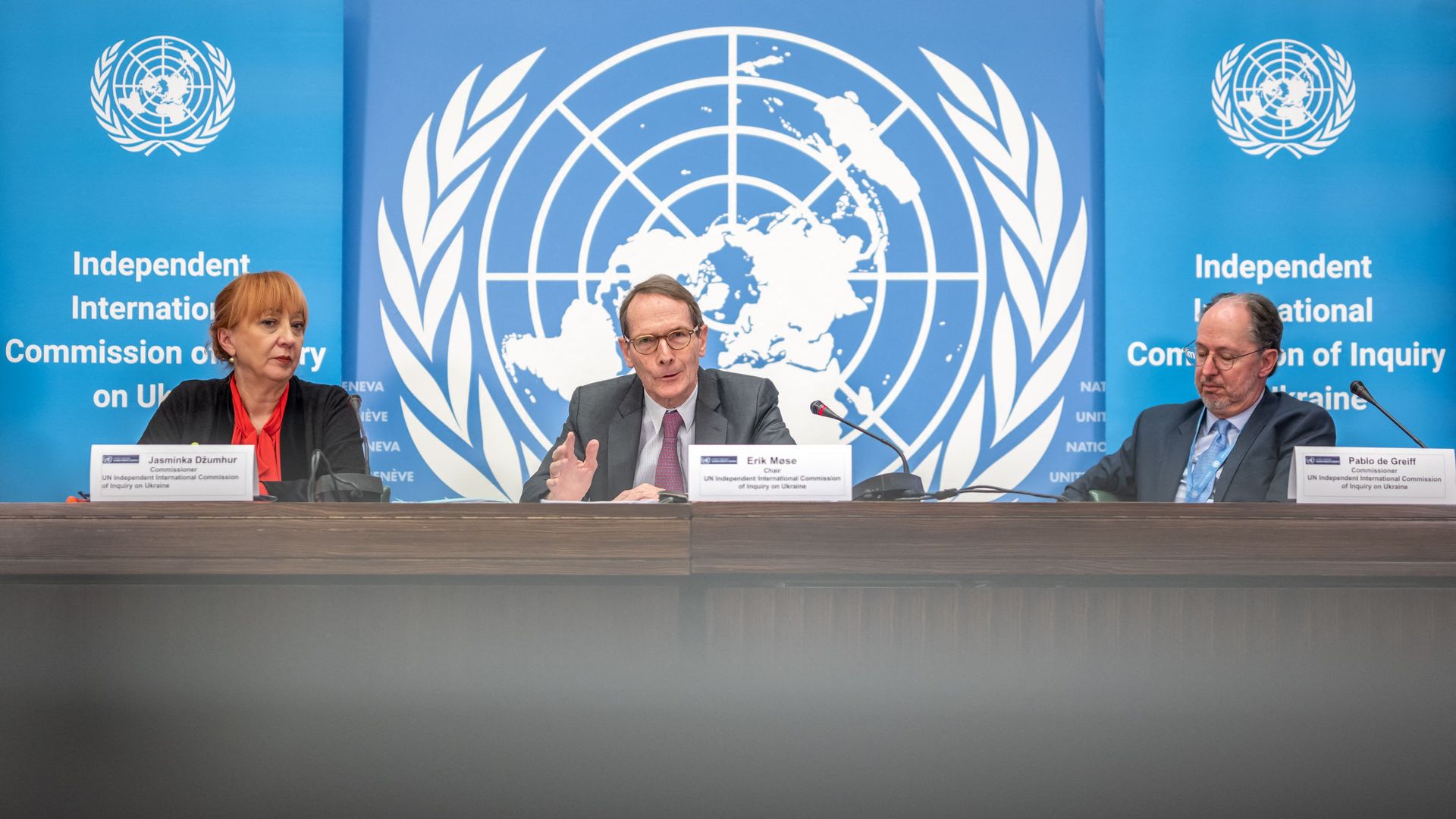 Russian forces in Ukraine have committed an array of violations that amount to war crimes and possible crimes against humanity, a United Nations commission said in a report released Thursday.
The big picture: Russia's violations of international human rights and international humanitarian law — many of which constitute war crimes — include willful killings, torture, rape, forced transfers and the deportation of children, per the report.
Details: The findings cover a period from the start of the invasion in Feb. 2022 to mid-Jan. 2023, in nine regions of Ukraine, said Erik Møse, chairman of the Independent International Commission of Inquiry on Ukraine, at a press briefing Thursday.
"Human losses and the general disregard for the life of civilians, as regularly reported by the High Commissioner for Human Rights, are shocking," Møse said of the war in Ukraine.
The commission established a "pattern of widespread unlawful confinement" by Russian forces, targeting "wide categories of civilians" in both Russia and Ukraine, commissioner Pablo de Greiff said at the press briefing.
"Conditions of detention were generally inhuman. Victims were men and women of all ages, as well as children," he added.
Russian armed forces have also committed indiscriminate and disproportionate attacks while failing to take precautions to minimize harm.
Such attacks have "impacted objects which are purely civilian in nature, such as residential buildings, hospitals, shops and places with large concentrations of civilians," Møse said.
According to the Office of the High Commissioner for Human Rights, attacks such as these have caused 90.3% of the war's casualties, he added.
Worth noting: The commission also found a "small number of violations committed by Ukrainian armed forces," the report stated.
What to watch: The commission found that Russia's wave of attacks on Ukraine's energy infrastructure last fall, as well as Russian authorities' use of torture, could amount to crimes against humanity, per the report.
The commission recommended further investigation into the matter.
The report notes that the International Criminal Court is "investigating alleged war crimes, crimes against humanity, and genocide in Ukraine."
Go deeper