"Standby" apartments offer cheap rent with sudden departures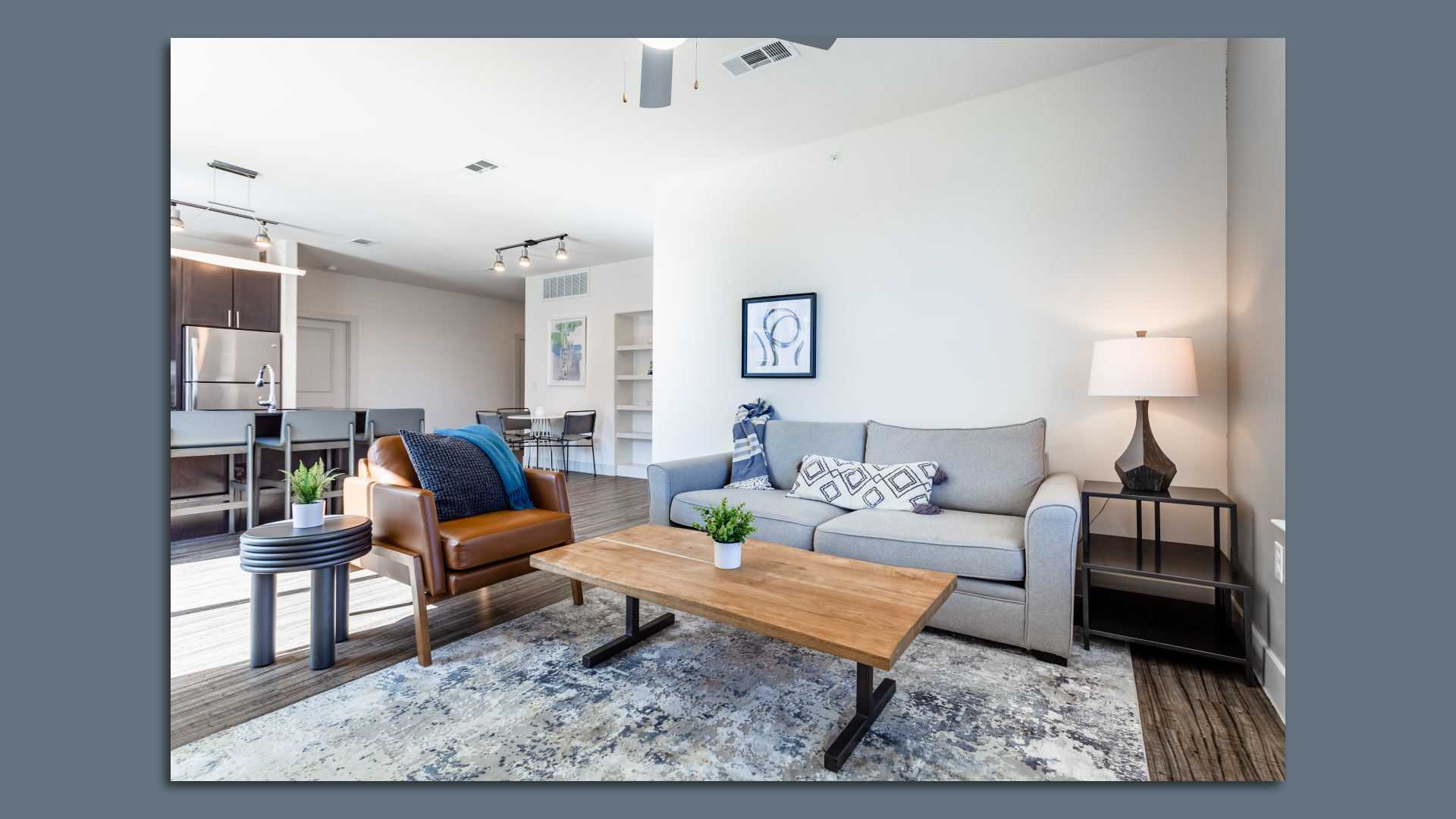 A fully furnished apartment in a great city for $1,295 per month — 33% below the national median — with no lease, no security deposit and all utilities included. Sound too good to be true?
Of course, there's a catch: You might have to move with three days' notice.
Details: "Standby" living is a new residential offering from Landing, a subscription-based nationwide rental network of furnished apartments.
Designed for the post-pandemic, work-from-anywhere economy, the concept is similar to flying standby: You can get an apartment cheaply, but you might get bumped by a higher-paying customer.
Why it matters: Living on standby isn't for everyone, but it's an affordable option for people seeking maximum flexibility — including remote professionals, contract workers on temporary assignments or those relocating to a new city.
Empty nesters could also find it an appealing way to explore the country.
How it works: Landing's standard members pay $199 annually for access to rent one of the company's 20,000 apartments in more than 375 cities.
Rent is month-to-month, starting at a minimum of 30 days, with the best rates for those who commit to six months. Members can relocate any time to another apartment — or another city — with two weeks' notice.
Rents vary widely, depending on the market and the size of the apartment. In Chicago, for example, they range from $1,300 to $9,400, while in Dallas they're anywhere from $1,500 to $13,000.
Landing furnishes and manages the apartments on behalf of building owners.
What's next: Landing recently launched a lower-priced "Standby" membership.
Standby members have access to the same fully furnished listings (except in New York and California, where short-term rentals are restricted).
Yes, but: The apartments they're occupying remain available for standard Landing members to book.
If a standard member wants their apartment, Standby members get three days' notice to transfer to a different Landing apartment at no additional cost.
If Standby members opt to move to another home, they can also give three days' notice, but they'll have to pay a $150 cleaning fee.
What they're saying: "We wanted to experience a lot of new places and not be locked into a six-month contract," said consultant Allison Lawrence, a Standby renter whose current one-bedroom apartment overlooks downtown Austin, Texas.
Her unit would typically go for $2,500 to $3,500, she told Axios. "It's definitely a steal."
After nearly two months, she and her husband recently got their first "bump" notice, but were lucky to get two weeks' notice. They plan to move to another unit in Austin, but are eyeing New Orleans in the future.
Another Standby renter, Ulysses Solis, is an avid skier who has stayed in several homes in Salt Lake City this winter. He's been bumped every couple of weeks.
It's cheaper than staying in a hotel that costs $300 to $400 per night, he said. "Even if I stay just three or four days, it pays for itself," he tells Axios.
His pro tip: Pack lightly and don't shop for groceries at Costco.
The backstory: Landing was founded in 2019 by Bill Smith, who was frustrated by the time-consuming hassle and cost of finding a place to live while he was working temporarily in San Francisco.
"Every other transaction had moved online, whether it's transportation, getting groceries and even car buying. But home living hadn't changed," he told Axios.
So Smith, who sold his last company, Shipt, to Target for $550 million, decided to create a subscription service for all-inclusive, flexible living.
The big picture: Nearly 19 million Americans are planning to relocate due to flexible work arrangements.
💬 Joann's thought bubble: Having recently paid Airbnb $4,500 to rent a small cottage in central Florida for three weeks, I might be willing to try standby living someplace else.
After all, flexibility is what being a digital nomad is all about, right?
Go deeper