Saint Peter's, one year later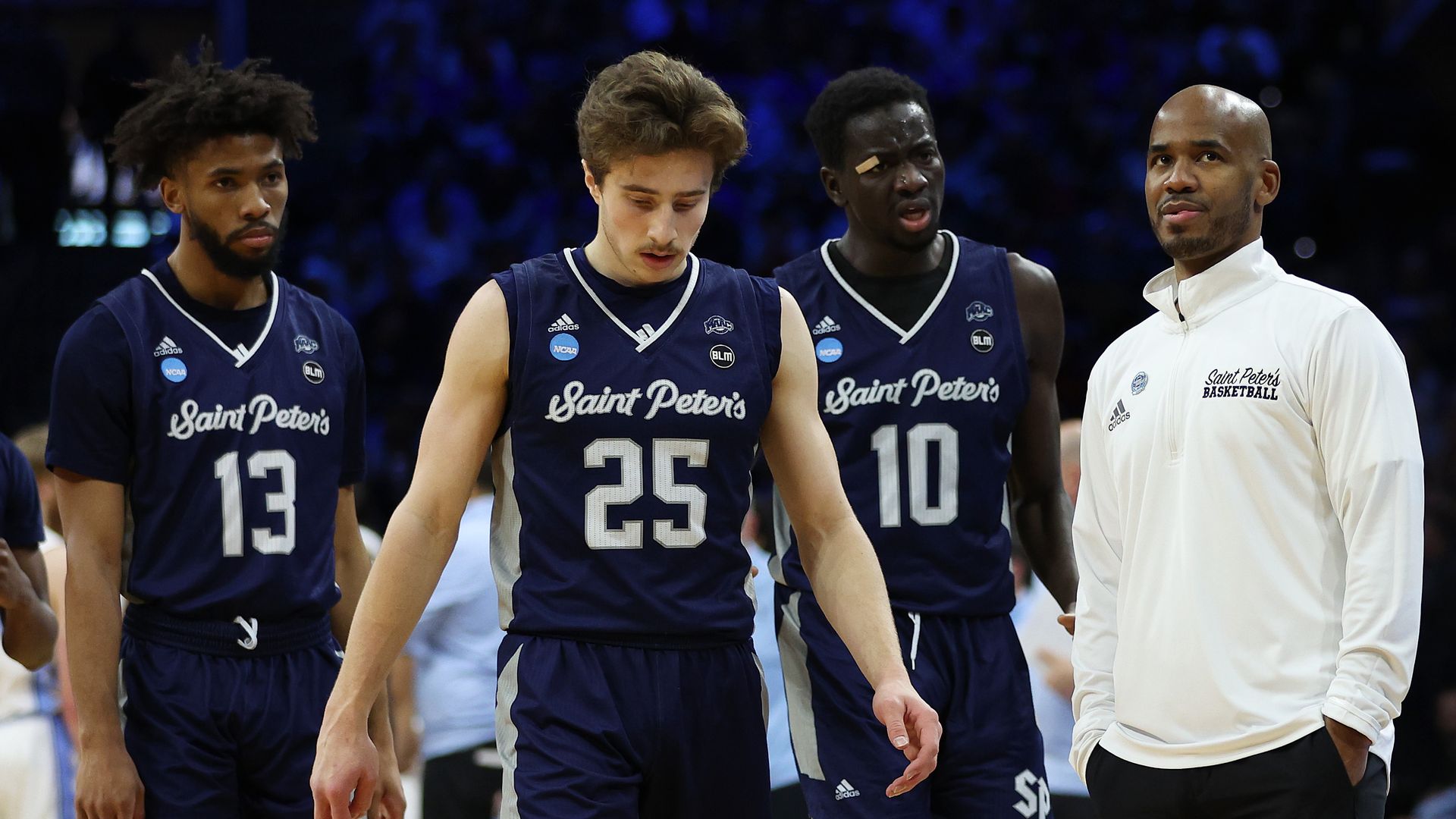 Saint Peter's made the most stunning Cinderella run in NCAA Tournament history last March. A year later, not a single member of that team is going dancing.
Catch up quick: The No. 15 Peacocks beat No. 2 Kentucky, No. 7 Murray State and No. 3 Purdue last year before falling to eventual runner-up North Carolina in the Elite Eight, becoming the first 15 seed to ever make it that far.
In the aftermath, many (including us!) waxed optimistic about the bright future of the program. Instead, the Peacocks experienced a mass exodus.
Head coach Shaheen Holloway was hired away by his alma mater, Seton Hall, starting a domino effect that saw eight of the team's 12 players transfer.
The departed: None of those eight players made this year's NCAA Tournament.
Daryl Banks III: Their leading scorer went to St. Bonaventure (14-18), where he also led the team in scoring. But the Bonnies lost in the second round of the A-10 Tournament.
KC Ndefo: He followed Holloway to Seton Hall (17-15), which started strong but fizzled late, losing in the first round of the Big East Tournament.
Doug Edert: The mustachioed darling of last March ended up at Bryant (17-13), which lost in the quarters of the America East Tournament.
Fousseyni and Hassan Drame: The identical twin brothers went to La Salle (15-19), which lost in the quarters of the Atlantic 10 Tournament.
Matthew Lee: Their assists leader went to Missouri State (17-15), which lost in the quarters of the Missouri Valley Conference Tournament.
Clarence Rupert: He went to Southern Illinois (23-10), which came closer than anyone else but lost to red-hot Drake in the MVC Tournament semis.
Marty Silvera: He became a standout at D-II Southern Connecticut State (18-12), ranking second in the nation with 79 steals. SCSU did not make the D-II field.
As for Saint Peter's … They replaced Holloway with Bashir Mason and added five freshmen and four transfers, but the new-look Peacocks couldn't replicate last year's success.
They went 14-18 and finished 10th in the 11-team Metro Atlantic Athletic Conference.
Had they run it back under Holloway (or just without the new ability to transfer so easily), maybe they would have returned to March Madness.
Then again, nothing is guaranteed when you play in a one-bid league:
Only 32 teams seeded No. 12 or lower have made the Sweet 16 since the field expanded to 64 teams in 1985.
Less than half (14) of them made it back to the tournament the following year, and only two made it past the Sweet 16.
The bottom line: Robert Frost famously wrote that "nothing gold can stay." But we'll always have the Peacocks' magical 2022.
Go deeper