Top Fed official says banking system remains "resilient" after bank failures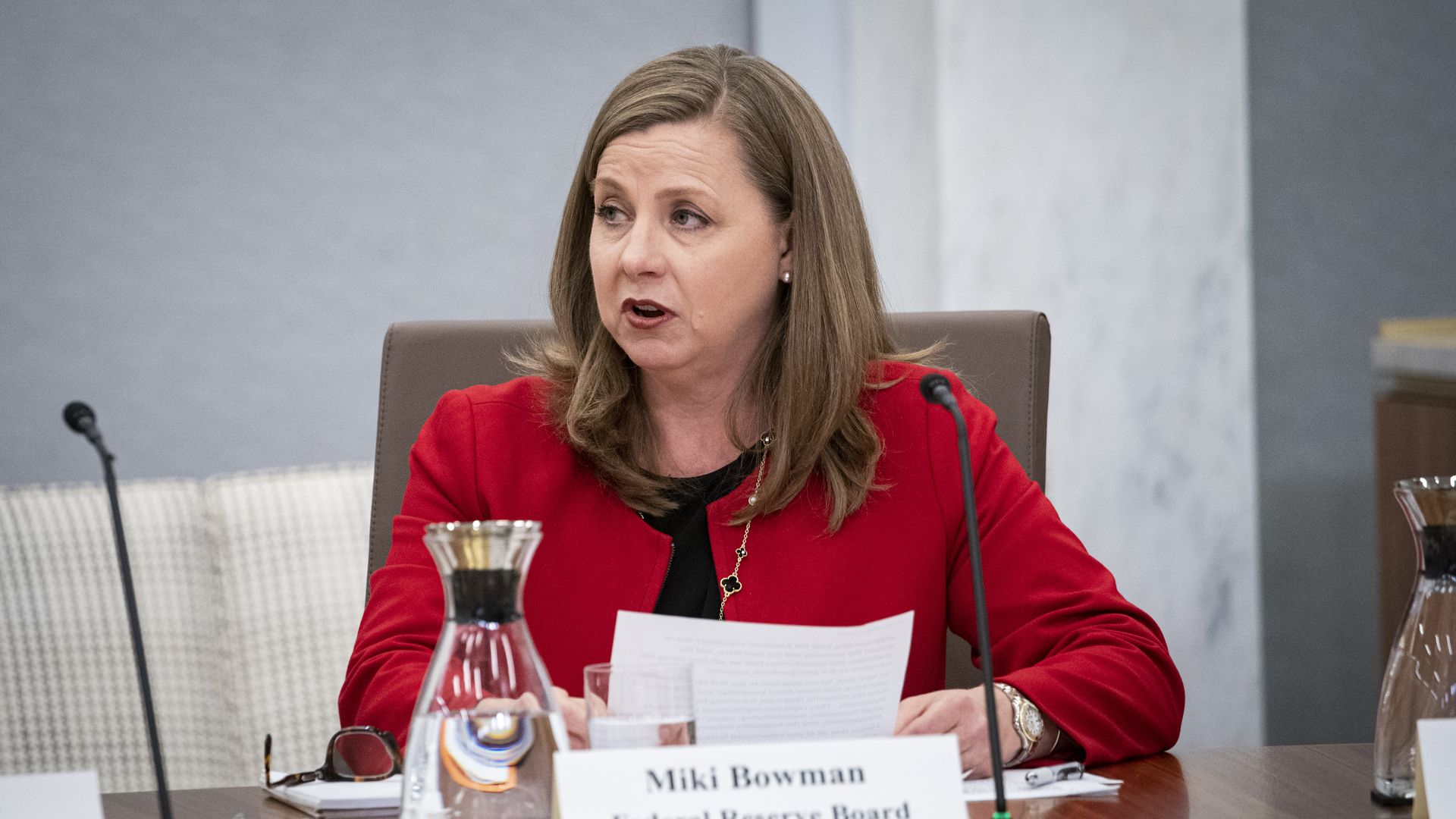 Federal Reserve governor Michelle Bowman on Tuesday said the U.S. banking system remained on solid footing in the first public speech from a policymaker after the high-profile failures of Silicon Valley Bank and Signature Bank.
Why it matters: Bowman made short remarks acknowledging the fallout from those bank closures, which forced the Fed and other regulators to step in with emergency measures, during a speech that focused on innovation in the banking system.
What they're saying: "The U.S. banking system remains resilient and on a solid foundation, with strong capital and liquidity throughout the system," Bowman said, adding that the Fed "continues to carefully monitor developments in financial markets and across the financial system."
Bowman did not reference what implications, if any, the bank failures would have on the Fed's interest rate policy decision later this month.
The Fed entered a "blackout period," which limits the extend to which officials can speak publicly, as Silicon Valley Bank was taken over by regulators last Friday.
Details: Bowman spoke at a conference hosted by the Independent Community Bankers of America, a trade association for small banks.
In the speech that focused on innovation within the banking system, Bowman said it was "absolutely critical that innovation not distract banks and regulators from the traditional risks that are omnipresent in the business of banking, particularly credit, liquidity, concentration, and interest rate risk."
"[M]any traditional risks can be mitigated with appropriate risk-management and liquidity planning practices, and effective supervision, and without stifling the ability of banks to innovate."
The big picture: Regulators have become targets in a blame game underway in Washington around what could have been done to prevent the banking crisis in the first place.
The Fed said on Monday that it would conduct a review of how Silicon Valley Bank was regulated and supervised, with results released publicly by May 1.
The Fed moved to loosen certain regulations for mid-sized banks in 2019. Bowman, who was appointed to the post by former President Donald Trump, voted in favor of that ruling — as did all other Fed officials, except Lael Brainard (who is now a top economic official at the White House).
Go deeper