Turkey's post-earthquake election poses Erdoğan's toughest test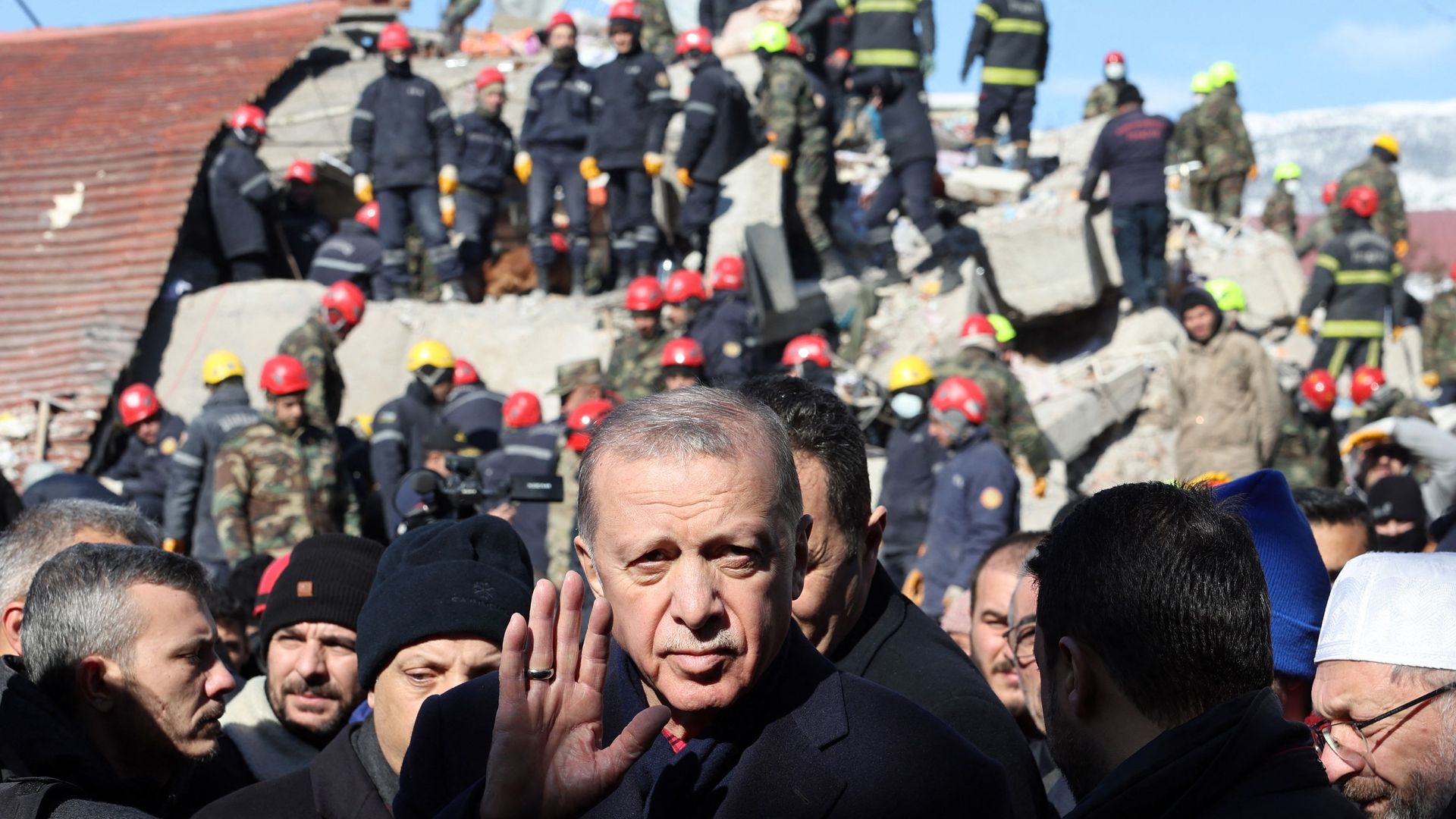 Turkish President Recep Tayyip Erdoğan will contend with a united opposition and an angry electorate in elections slated for May 14, three months after a devastating earthquake and amid ongoing economic turmoil.
Why it matters: Erdoğan has refashioned Turkish politics in his own increasingly authoritarian image over two decades, skillfully wielding Turkey's geopolitical clout abroad and eroding checks on his power at home. This election may be the opposition's best-ever chance to defeat him, but the 69-year-old strongman is unlikely to go down easily.
Driving the news: Six opposition parties this week settled on a joint challenger, Kemal Kılıçdaroğlu, leader of the center-left Republican People's Party (CHP).
The bridge-building former bureaucrat played a key role in uniting the CHP and the broader opposition, and earned the nickname "the Turkish Gandhi" for his physical appearance and calm demeanor.
But his critics say he lacks charisma or any track record of winning elections. The right-wing İyi Party initially insisted that Kılıçdaroğlu be replaced by the mayor of Istanbul or Ankara — both of whom defeated Erdoğan allies in 2019 — before begrudgingly endorsing him.
The opposition's joint manifesto pledges to return Turkey to a parliamentary system, safeguard free speech and the rule of law, and fight corruption.
Kılıçdaroğlu, 74, has also been among Erdoğan's chief critics in the wake of the Feb. 6 earthquake that left more than 45,000 dead and 1.5 million homeless inside Turkey.
State of play: Erdoğan has contended that no country could have been prepared for a disaster on this scale, but he admitted that the emergency response was far too slow.
Some critics argue that's in part because he'd hollowed out agencies like the Disaster and Emergency Management Authority, which is led by an Erdoğan-allied theologian.
Some of the buildings that collapsed were reportedly built shoddily but covered by zoning amnesties granted by Erdoğan's government. Turkish authorities have arrested dozens of contractors for alleged faulty construction, and dozens more people for "provocative" posts about the government's response.
The degree to which the public blames the president is hard to gauge, though anti-Erdoğan chants have rung out at soccer stadiums. His popularity had already been slumping thanks to out-of-control inflation, which, while down from last year's highs, sits at 55%.
Yes, but: Erdoğan retains a loyal base and deep influence over the media and state institutions.
Flashback: When his preferred candidate narrowly lost the 2019 Istanbul mayoral race, Erdoğan forced a re-run. "The opposition is saying, 'we need to win by a strong margin so he cannot play those games,'" says Özgür Ünlühisarcıklı, head of the German Marshall Fund's Ankara office.
What to watch: "Turkish elections are unfair, but they are real and competitive and the opposition has a real chance of winning," Ünlühisarcıklı adds.
With the major opposition parties behind Kılıçdaroğlu, "it's really hard for President Erdoğan to find votes that add up to 50% plus one," Ünlühisarcıklı says.
To reach a majority, though, Kılıçdaroğlu will likely also need at least the tacit support of the HDP, whose mostly Kurdish voters accounted for 12% of the electorate in 2018. The party has called for talks with the opposition bloc as it considers supporting Kılıçdaroğlu, but some in the coalition worry engaging with the pro-Kurdish party will alienate nationalist voters.
Yes, but: Erdoğan is a strong campaigner and will play on voters' fear and uncertainty about replacing their leader of two decades with an unwieldy coalition, says Ünlühisarcıklı.
"He will say, 'if you vote for me, you know who will govern the country. If you vote for them, you don't know what will happen.'"
Go deeper