The Indigenous congressional climate push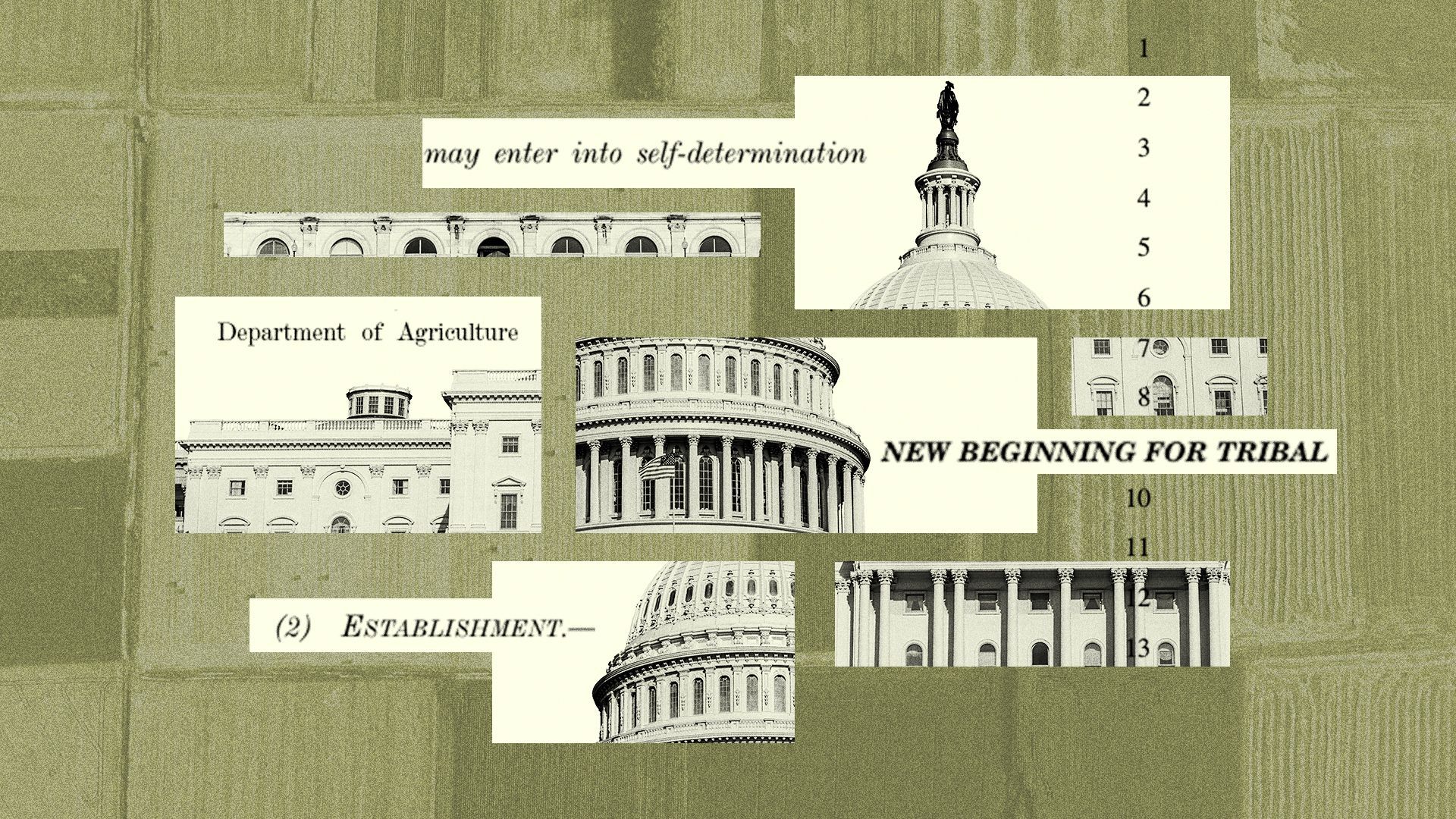 Tribal producers from across the country were among more than a dozen farm groups lobbying Capitol Hill lawmakers this week to empower farmers to address climate change in the 2023 farm bill.
The big picture: They join a network of tribal governments and organizations putting the onus on policymakers to prioritize climate action and Indigenous food sovereignty.
What they're saying: "Coming into this farm bill, of course, we've been left out of the conversation. We are here to put that voice forward," says Helga Garcia-Garza, executive director of Agri-cultura Network and La Cosecha CSA, who was one of the rally speakers.
She tells Axios they are urging Congress to support climate action and Indigenous food justice, particularly for those in areas being hit hard by climate change, like the tribal producers dependent on the ecosystems impacted by the disappearing Rio Grande.
"It brought a sadness to the real realities of climate change. How are we supposed to grow food in a healthy way, that's been done for generations, when we're facing that type of catastrophe?" says Garcia-Garza.
Zoom out: Carly Griffith Hotvedt, a citizen of Cherokee Nation and an associate director of the Indigenous Food and Agriculture Initiative (IFAI), tells Axios the farm bill is the largest funding mechanism that transfers federal dollars to Indian Country.
The IFAI is the research partner to the Native Farm Bill Coalition (NFBC), which recommends over 150 priorities for the 2023 farm bill to be more inclusive, says Hotvedt.
63 tribal-specific provisions were included in the 2018 farm bill, which is considered the first-ever instance of self-governance tribal opportunities brought to the USDA, per a 2022 NFBC report.
State of play: Indigenous-operated farms make up 3% of all farms in the U.S., according to the 2017 Census of Agriculture, while the number of farms with a tribal producer experienced a 7% increase from 2012 to 2017.
Threat level: Many tribes are seeing a lot more volatility in their food systems due to climate change, which deepens food insecurity and "nutritional dependence" brought on by federal policies "imposed on tribes over the last 200 years," says Hotvedt.
"Whether that's rising sea levels for some of our coastal tribes, whether that is 500-year rain events and flooding or droughts ... it's really about the health of the natural environment that's necessary for any type of food systems."
Meanwhile: Although the farm bill isn't a vehicle to return land to tribal jurisdiction, there are opportunities within it for land return, according to Abi Fain, director of policy and government relations at the Intertribal Agriculture Council, one of the co-stewards of the NFBC.
These include using the farm bill to give the Forest Service the legal authority to facilitate the transfer of federally managed forest lands back to tribal governments, and authorizing the USDA to grant a right of first refusal to tribal nations when USDA-owned lands are available for sale.
"For thousands of years, we've mastered land management practices in a way that sustain the resources we have and promote the abundance that comes from the lands," Fain tells Axios.
"But the frequent and historic lack of equitable access to some of those funding streams for conservation practices have really hurt the the ability to actually use the land that we have."
What we're watching: The NFBC's co-chair and executive director of the Intertribal Agriculture Council, Kari Jo Lawrence, testified on tribal producers priorities Wednesday at a Senate Committee on Indian Affairs oversight hearing.
She told lawmakers that the pilots authorized in the 2018 farm bill — one of which was the procurement portion of the Food Distribution Program on Indian Reservations, which allowed tribes to buy from local vendors —are a "step in the right direction," but should be expanded, or at least be made permanent.
The bottom line: "We need to have the flexibility through farm bill programs in order to do the things that we know will stretch those dollars and feed our people and take care of our lands and natural resources in a way that aligns with our Indigenous values as tribal people ourselves," says Hotvedt.
Go deeper